Queen's Close Aide Said Harry, Meghan Romance Would 'All End in Tears'
One of Queen Elizabeth II's most trusted and longest serving royal aides allegedly said that Prince Harry and Meghan Markle's future together would "all end in tears," a new biography has claimed.
Lady Susan Hussey, the queen's lady-in-waiting, who is also a godmother to Prince William, is claimed by Tom Bower to have made the comments about Harry and Meghan's relationship in his recently released biography of the couple: Revenge: Meghan, Harry and the war between the Windsors.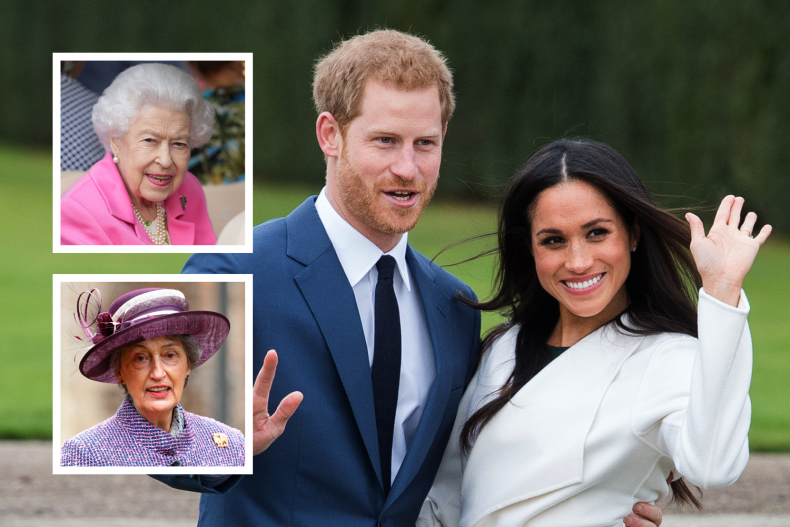 Bower's biography has made a number of sensational claims, including that the queen voiced her relief that Meghan wouldn't be attending Prince Philip's funeral in the weeks after the Sussexes interview with Oprah Winfrey was broadcast, and that Camilla, Duchess of Cornwall, may have been the unnamed royal who the couple claimed made racially insensitive comments about their future children.
At least one of Bower's claims has been questioned by a source close to the queen who previously told Newsweek that the monarch was "unlikely" to be thinking of anyone but Philip at the time of his funeral.
In a chapter of his book examining the engagement of Harry and Meghan, which took place in November 2017, Bower includes an account of an alleged lunch party attended by Hussey and theatrical professionals, who discussed the former actress' potential patronages, and at which she gave an assessment of the royal couple's future together.
"In London, Lady Susan Hussey had shortly before [New Years Day] enjoyed lunch with a group of theatre executives and directors," the author writes.
"While discussing the possibility that Meghan might become associated with the National Theatre after the wedding, Hussey became unexpectedly serious about the couple's future. 'That will all end in tears,' warned Hussey. 'Mark my words.'"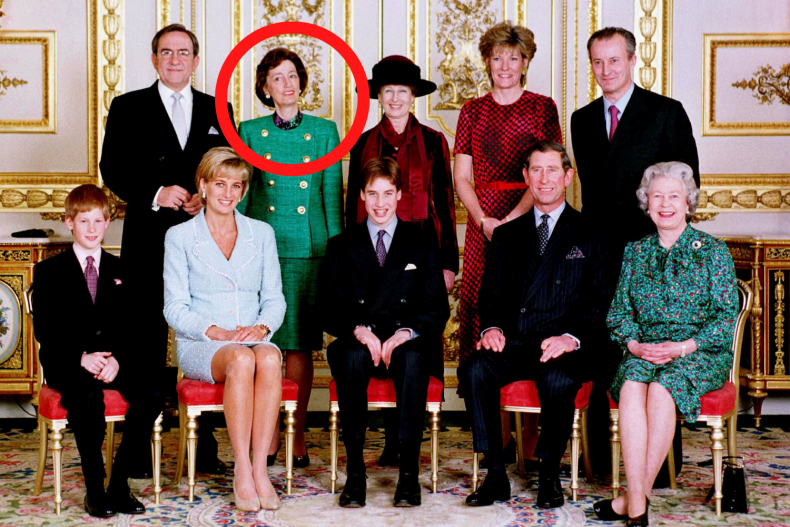 Hussey was married to former chairman of the BBC's board of governors Marmaduke Hussey and herself has a long established aristocratic background, being a daughter of the Earl of Waldegrave.
Hussey joined the royal household in 1960 as a lady-in-waiting to the queen, just eight years into the new monarch's reign and she has become an influential figure behind palace doors. In 2021, Hussey was chosen to accompany the queen alone in her car while she was being driven to Prince Philip's funeral.
Bower states that Hussey was among a group of advisers and friends close to the queen who were sent to visit Meghan at Kensington Palace before her wedding to show her the royal ropes.
After the engagement had been announced, a team was "assembled to introduce Meghan sensitively to the quirks and expectations of royal life and service to the nation," Bower writes.
"There would be, said the Palace, six months of listening and learning: 'She is going to proceed with humility,'" the author continued.
"Among the additional staff was Lieutenant Colonel Nana Kofi Twumasi-Ankrah of the Household and Lady Susan Hussey, a lady-in-waiting to the Queen since 1960.
"Hussey and other close companions of the Queen visited Meghan in Nottingham Cottage to offer help and advice."
This advice, Bower charts, did not seem to help prevent the years of royal struggle that would follow the May 2018 royal wedding.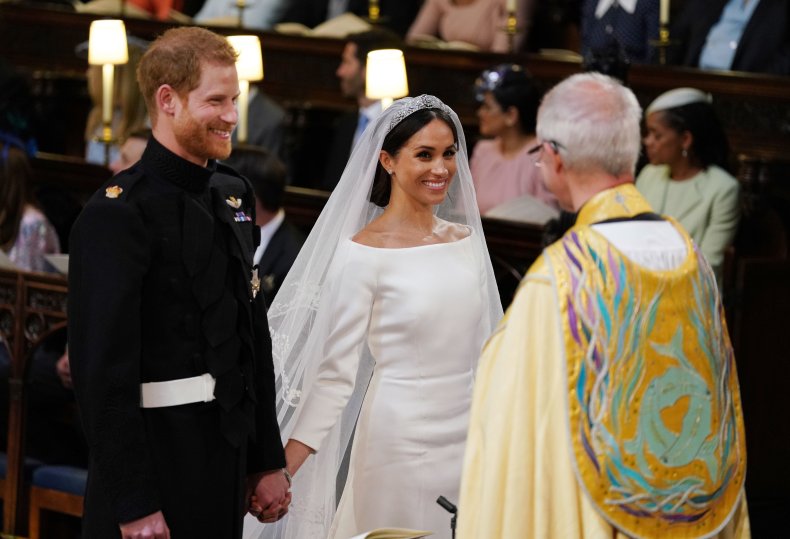 Among later claims in Revenge, an unflattering picture of Harry and Meghan is painted by the biographer who the Daily Mail dubbed the "Witchfinder General" and who is famous for his excoriating take-downs of his subjects.
One aspect of the Sussexes relationship that Bower looks at is Harry allegedly distancing himself from his old friends after meeting Meghan.
"Meghan had become a divisive agent," Bower writes following the couple's 2019 tour of South Africa where it became clear they were unhappy with their public roles and treatment at the hands of the press.
"To please her, Harry had split from his old friends," the author continues. "He had even changed his telephone number without telling his family."
When asked about the Sussexes public image post-separating from the royal family and how his book might affect it, Bower told the noted Harry and Meghan critic Piers Morgan on the show Piers Morgan Uncensored that he "wouldn't be sad" if it contributed to their downward trend because he believes they pose a "real threat to the royal family."
There have been no official comments from Harry and Meghan's team or Buckingham Palace regarding Bower's book.
Newsweek approached representatives of Hussey for comment.