Queen Elizabeth II Found Lockdown 'Joy' in Her Two Puppies—Angela Kelly
Queen Elizabeth II found special moments of "joy" throughout coronavirus lockdowns with her two puppies Muick and Sandy, aide Angela Kelly has revealed in a revised edition of her latest book.
The publication by Hello! of the extract of Kelly's The Other Side of The Coin: The Queen, the Dresser and the Wardrobe detailing what it was like to spend lockdown with the most famous woman of the world, follows increasing concern regarding the monarch's mobility amid a series of canceled engagements.
Of the queen's love of dogs and coping with lockdowns Kelly writes that "for Her Majesty, during the lockdowns, the puppies, Muick and Sandy, were a constant joy."
"They always brought a smile to everyone's faces. I was worried they would get under the queen's feet, but they have turned out to be a godsend."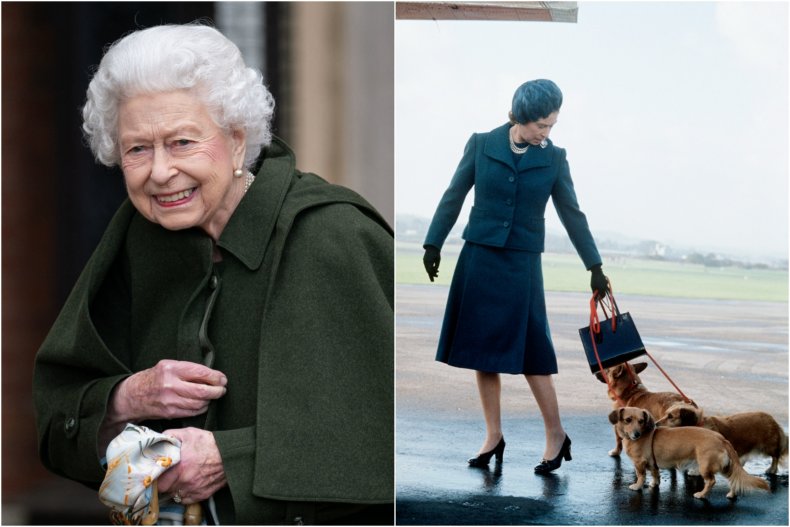 Any apparent concerns regarding the monarch, who will turn 96 on Thursday, and her mobility seem not to have been present in the mind of Kelly when writing the revisions, as she goes on to say that the dogs "are beautiful and great fun and the queen often takes long walks with them in Home Park."
At an engagement in February, the queen seemed to acknowledge her increased mobility issues by responding to a question asking how she was with, "as you can see, I can't move." It was at this time that the monarch was also regularly using a walking aid.
It had been reported that the queen was not going to acquire any more corgi dogs, a breed that has become synonymous with her, following the death of her corgi Willow in 2018. It was said that the monarch didn't wish to leave the responsibility for their care with others after her death.
This attitude was apparently discarded in 2021 when Prince Andrew gave his mother two puppies, one named Muick and the other Fergus. Muick is a corgi and Fergus a Dorgi—a corgi cross-bred with a dachshund.
Sadly, Fergus died three months after the queen took possession of him and so Andrew and his daughters, the princesses Beatrice and Eugenie, gave her another corgi named Sandy, revealed for the first time in Kelly's book.
The queen still owns one aged Dorgi named Candy, who has become well-known for her scene stealing antics in front of the camera.
When reviewing a collection of items relating to past jubilees at Windsor Castle in February, Candy made an unexpected cameo by greeting her royal mistress before the assembled press.
"And where did you come from?" the delighted queen asked the dog while stretching down to stroke her. "I know what you want!" intimating it was dinner time.
Wherever the queen goes in the U.K, so too do her beloved dogs. In her book Kelly recounts the puppies Muick and Sandy's first trip in the royal plane.
"They even went on their first royal flight when we flew to Balmoral in August 2021" she writes in reference to the queen's Scottish estate. "They were very well-behaved, with Louis the footman on hand..."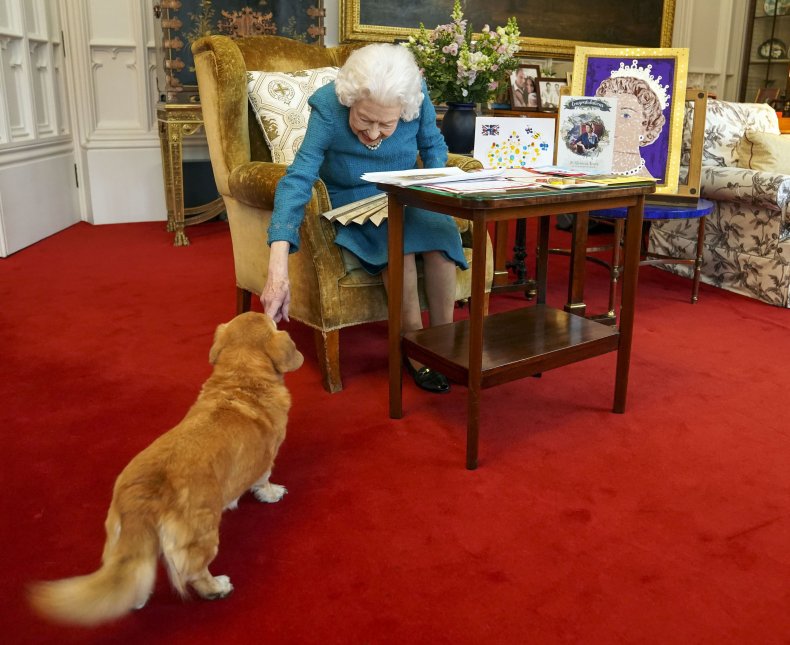 "Candy, who is an old hand at flying—she must have been on hundreds of flights in her lifetime—ambled about and kept an eye on the pups," Kelly continues.
"The puppies stayed close to the queen but occasionally sniffed around your feet as they hoped for a nibble of something tasty from our lunch."
The queen was famously given a corgi named Susan for her 18th birthday by her father. Until Muick and Sandy, all of the queen's other corgis had been descended from Susan in a complicated web of corgi genealogy which the monarch follows as keenly as those of her horses.
Kelly's book details other tidbits to whet the appetites of avid royal watchers including how members of the queen's staff coped during coronavirus lockdowns, how the monarch reacted on the day of Prince Philip's funeral and how Kelly herself had to pull double duty as the queen's dresser and hair stylist.
Looking ahead to the summer, Kelly recounts that she is busily preparing outfits for the queen's Platinum Jubilee. Reflecting on her work as the queen's closest aide and confidant she writes: "The work is varied and never stops, and long may it continue!"