Quinn Gallagher's bar, the Hooch Craft Cocktail Bar in Aspen, Colorado, has been flooded by negative reviews over the past few days after the 46-year-old was revealed to be Colorado Rep. Lauren Boebert's date during an incident involving the pair at a Denver theater.
Gallagher, who is believed to be a Democrat, and Boebert were kicked out of Beetlejuice: The Musical at the Temple Hoyne Buell Theatre on Sunday, September 10, for vaping, singing, using their phones, being loud, and groping one another. While the theater didn't name Boebert, security footage shows the Colorado Republican being escorted out with her date, Gallagher.
Boebert's campaign manager confirmed that the politician was kicked out of the theater. However, before CCTV showed events differently, she denied she was vaping, only admitting that she "pleads guilty to singing along, laughing, and enjoying herself."
However, in a weekend statement of apology, Boebert said: "The past few days have been difficult and humbling, and I'm truly sorry for the unwanted attention my Sunday evening in Denver has brought to the community. While none of my actions or words as a private citizen that night were intended to be malicious or meant to cause harm, the reality is they did and I regret that."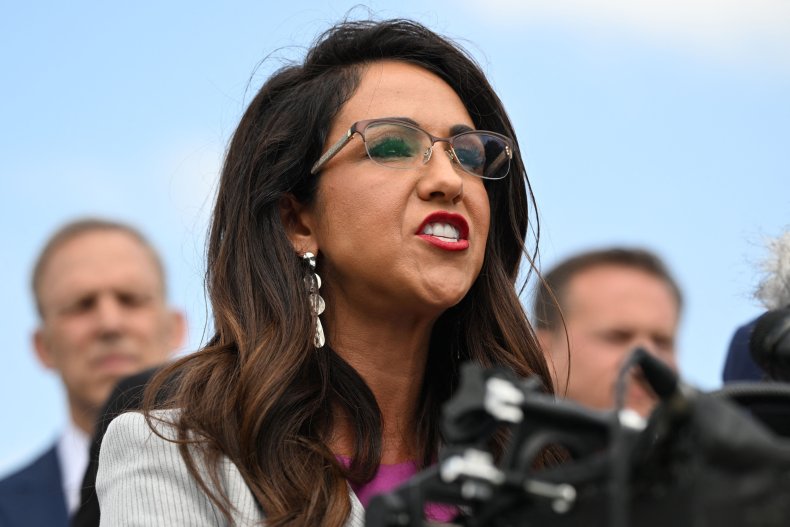 Boebert added: "There's no perfect blueprint for going through a public and difficult divorce, which over the past few months has made for a challenging personal time for me and my entire family. I've tried to handle it with strength and grace as best I can, but I simply fell short of my values on Sunday. That's unacceptable, and I'm sorry."
In the aftermath of the incident, the bar which Gallagher has co-owned with Pat Flanigan since 2022, according to The Aspen Times, was hit by a series of negative reviews on social media.
On Facebook, customers explicitly mentioned Gallagher's relationship with Boebert, which is reported to have started a few months ago, as a reason to dislike the bar. Many mention the fact that it was hypocritical of the bar to have hosted drag shows in the past, only for Gallagher then to date someone who has taken such a strong anti-LGBTQ+ and anti-drag stance.
The Hooch Craft Cocktail Bar has hosted events in support of the LGBTQ+ community, including a women's party for Aspen Gay Ski Week and a "Winter Wonderland Burlesque & Drag Show." In June 2022, Boebert had written in post on X: "Take your children to Church, not drag bars."
"Gotta love a place who will take your money but hang out with bigots who deem you worthless and vote against your very business existing," wrote a customer on the bar's Facebook page. "Save your money, skip this bar."
"Apparently whatever core values co-owner Quinn Gallagher claimed to possess were thrown out the window when he met Trailer Trash Queen Lauren Boebert," wrote another.
"Owners are hypocrites. Host drag shows while he dates a bigot who rallies against the people he caters to," posted a user on the page.
"This bar isn't safe for members of the LGBTQ community. Known ties to radical hate groups," another added.
Despite the recent slew of negative reviews, the Hooch Craft Cocktail Bar still has a commendable 4.4 rating on Google Maps.
Boebert, a two-time congresswoman, is now running for reelection in Colorado's 3rd District. She filed for divorce from her husband of two decades, Jayson Boebert, in May this year. The two have four sons together.
Newsweek contacted Boebert's team for comment by email on Monday. The email address provided by the Hooch Craft Cocktail Bar was unavailable on Monday morning.