Quintin Jones Sues Texas Parole Board After Clemency Petition Denied
Quintin Jones, a Black Texas inmate scheduled to be executed on Wednesday, has filed a lawsuit against members of the state's Board of Pardons and Paroles, alleging their decision to deny his clemency petition was racially biased.
Jones is scheduled to receive the lethal injection after 6 p.m. CDT (7 p.m. ET)for the fatal beating of his 83-year-old great-aunt. He was 20 when he killed Berthena Bryant in her Fort Worth home in 1999 after she refused to lend him money, prosecutors said. He then took $30 from her purse to buy drugs.
Advocates have been urging Texas Gov. Greg Abbott to spare Jones' life, saying the 41-year-old is deeply remorseful and has turned his life around in more than 20 years on death row.
Some members of his and Bryant's family, including her sister Mattie Long, have called for Jones' execution to be stopped. "Because I was so close to Bert, her death hurt me a lot. Even so, God is merciful," Long said in an affidavit that was included in Jones' clemency petition asking the parole board and Abbott to commute his sentence to life without parole.
"Quintin can't bring her back. I can't bring her back. I am writing this to ask you to please spare Quintin's life."
His twin brother Benjamin Jones said he and Long have "long forgiven Quin."
"The world will not be better off if Quin is executed," he said in his declaration. "Please don't cause us to be victimized again through Quin's execution."
But on Tuesday, the parole board voted unanimously to deny the petition. Abbott could still delay the execution for 30 days, according to the Texas Tribune, but he has never taken such action without a board recommendation.
Abbott has only granted clemency to one inmate, a white man named Thomas "Bart" Whitaker, since he took office in 2015.
Jones' attorney Michael Mowla filed a civil rights lawsuit against the parole board's seven members early Wednesday, alleging that the recommendation for clemency in Whitaker's case, but not Jones', raises concerns that the decision was "compromised by racial discrimination," according to a tweet posted by Keri Blakinger, a reporter at the Marshall Project, a nonprofit news organization.
"The same grounds for clemency that were found to be meritorious in Whitaker's case are present and equally strong in Mr. Jones' case," Mowla wrote in the court filing.
In a motion to stay the execution, Mowla wrote: "The Board's decision creates unequal treatment of two similarly situated clemency applicants, and this Court should temporarily stay Mr. Jones' scheduled execution to ensure the Board decision was not corrupted by an impermissible consideration of race."
Whitaker was set to die in February 2018 for orchestrating the murder of his mother and brother. His father Kent Whitaker, the sole survivor of the attack, advocated for his son's life to be spared and Abbott granted clemency less than an hour before his execution was scheduled to take place, following a unanimous parole board recommendation.
Months later, Texas went ahead with the execution Christopher Young, a Black man, despite a plea from his victim's family that his life be spared. Young's attorney had also attempted to stop his execution by alleging racial discrimination played a role in the board's decision.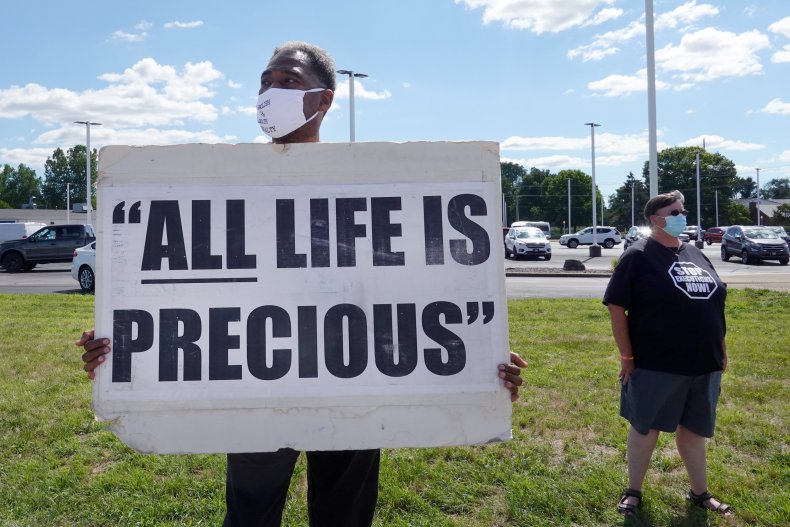 Jones also asked the U.S. Supreme Court on Monday to stop his execution with his attorney arguing that he cannot be executed because he is intellectually disabled, and that his death sentence is based on discredited science that branded him a psychopath and presented him as a future danger.
Mowla has also argued that Jones received inadequate representation in his trial, where he says his history of drug and alcohol abuse from the age of 12 along with physical and sexual abuse he suffered were never considered.
Prosecutors have argued that Jones' death sentence was justified because he has a violent history, including participating in two other murders.
In a video published by The New York Times earlier in May, Jones asked Abbott for "a second chance at life," saying he was not the same person who killed his great-aunt and that would use the rest of his life in prison "to better myself and to better others along the way."
A petition calling for Jones' execution to be halted has amassed more than 165,000 signatures as of early Wednesday.
Suleika Jaouad, an author who began corresponding with Jones a decade ago, has advocated for Jones' execution to be stopped, along with others including actors Mandy Patinkin and Sarah Paulson and Missouri Rep. Cori Bush.
"We are a nation that prides itself on second chances. Quintin Jones is clear-eyed that he deserves to be in prison for the rest of his life," Jaouad tweeted on May 10.
"He hasn't forgotten his crime, and he's not asking us to forgive or to forget. But he is seeking redemption."
If Jones' execution goes ahead, he will be the first inmate put to death in Texas since Billy Wardlow was executed in July last year. The hiatus is the longest Texas—the nation's busiest capital punishment state—has gone without an execution in 40 years.
Abbott's office and the parole board have been contacted for comment.