Nine Predictions for Radiohead's Ninth Album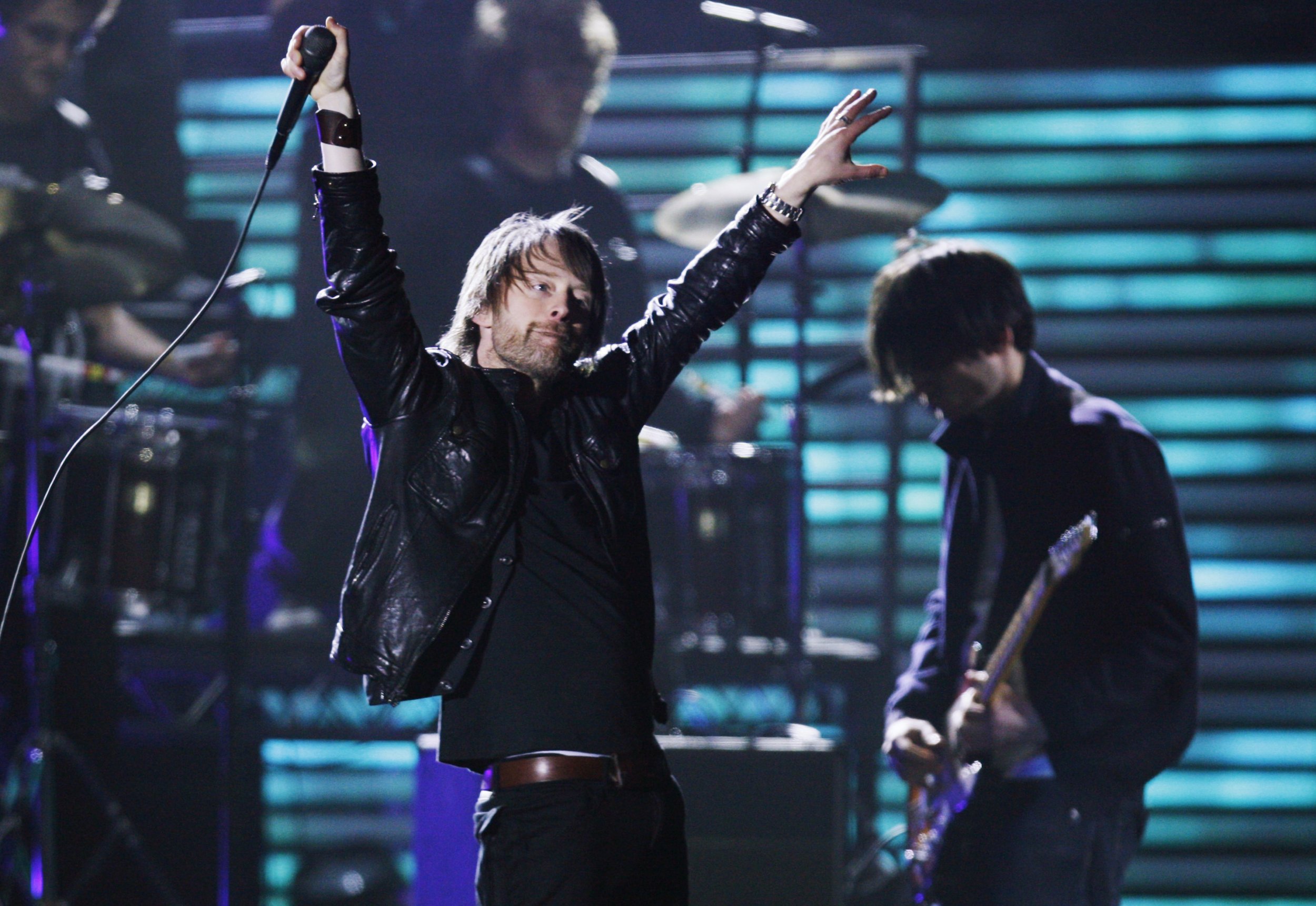 After the May 8 release of A Moon Shaped Pool, we used Genius to revisit our predictions from February and annotate what we got right—and where we missed the mark.
Hear that? That's the sound of Radiohead popping its head out of hibernation and finally prepping its ninth studio album.
The British band recently formed a new company, echoing a move used to distribute two of its previous releases. Radiohead also spent much of 2015 in the studio. Plus, it's headlining a set at Primavera Fest in June, where the group will perform the new album in its entirety.
So an album is coming, and likely soon. Here's what we hope, think and know about the new LP.
1. It'll be a surprise release.
Before Beyoncé changed the game with that digital drop—and long before U2's iPhone gambit—Radiohead helped pioneer the idea of a surprise release, dropping In Rainbows on fans in 2007 with just 10 day's notice and a pay-what-you-want download scale. The King of Limbs, released in early 2011, was equally unorthodox—the band announced the album the week of its release and the LP came with a special "newspaper edition" option. Through these experiments, Radiohead found that harnessing the Internet's potential for surprise generates far more excitement than the conventional months-long promotional cycle. It's a lesson everyone from Drake to Wilco has heeded (and one Radiohead will likely continue to employ).
2. You won't be able to stream it.
The band's frontman, Thom Yorke, began speaking out against streaming platforms and their shoddy revenue models well before Taylor Swift and Adele spurned Spotify. As of 2016, Radiohead's In Rainbows and Yorke's solo album The Eraser have been removed from Spotify, while Yorke's Tomorrow's Modern Boxes never streamed there in the first place. Yorke's issues with Spotify almost certainly haven't been resolved, and Radiohead (like Swift and Adele) is a powerful enough musical entity to dictate the terms of how its music is, and is not, made available.
3. Thom Yorke will get political.
Look at the political climate. ISIS dominates international headlines. Extremism has taken hold in the U.S. presidential election. And fear of terrorism is at its highest since the early 2000s. That's when Radiohead wrote Hail to the Thief, an album teeming with references to sociopolitical anxiety and rigged elections. Plus, there's Yorke's increasing interest in climate change (more on that below). Radiohead is not the sort of band to write patriotic anthems, but some of its best lyrics channel deep-seated political dread.
4. There will probably be some references to an environmental apocalypse.
If you've kept up with Yorke's Twitter feed, you'll know that his tweets reflect his interest in environmental activism (he frequently retweets environmentalist Bill McKibben). In recent months, Yorke performed at the United Nations Climate Change Conference and endorsed candidates of the British Green Party. One of the new tracks that he's been playing is reportedly titled "Silent Spring," an apparent reference to Rachel Carson's 1962 environmental tome.
5. There will be strings.
A few months ago, composer Robert Ziegler tweeted some photos of Radiohead members in the studio with a full-piece string orchestra. Then we heard the band's rejected Spectre theme, which is swathed in orchestral accompaniment. It's a promising direction; Yorke's falsetto sounds great with strings.
6. The album will include one or two songs we've heard before, in some form.
Radiohead has a tendency to hold onto songs for years and occasionally incorporate them in a set list before recording the right take or finding a place for them on an LP. "Nude," from 2007's In Rainbows, had been floating around since the late 1990s; "Morning Mr. Magpie" (in a very different, acoustic version) debuted long before The King of Limbs. (A longtime fan favorite, "True Love Waits," still hasn't surfaced in studio form.) This time, Radiohead has a trove of songs that have popped up in concert and could appear on a new album. The question isn't whether they will resurface, but which ones.
7. It will have a (somewhat) lengthier run time than King of Limbs.
The King of Limbs was Radiohead's shortest album to date, at eight tracks in 37 minutes. (Yorke's 2014 solo outing, Tomorrow's Modern Boxes, was around the same length.) That in itself isn't a bad thing, but the brevity contributed to the critical perception that Limbs was somehow underwhelming, a solid but clearly minor Radiohead release. (Worse, only four or five of the eight songs were really stellar.) Chances are, your favorite Radiohead album clocks in between 42 and 55 minutes. Length is hardly the most important factor, but if Radiohead wants to come back strong, it will record enough songs to narrow it down to 10 great ones.
8. The opening track will be extremely good.
From "Airbag" to "Everything in Its Right Place" and "15 Step," Radiohead knows how to craft an excellent album opener. Even the band's more divisive records start off very strong: the eerie and intricate "Bloom," the clanging minimalism of "Packt Like Sardines In A Crushd Tin Box." I suppose it's possible that the ninth LP will break this pattern, but that seems unlikely, doesn't it.
9. It's going to come out soon.
Maybe very soon? The band intended to finish the album in the fall of 2015. This month marks the fifth anniversary of The King of Limbs, which is the band's longest-ever gap between studio albums. Plus, the formation of a new company—potentially to distribute the new record—has brought anticipation to a fever pitch. What's clear is that Radiohead's ninth album seems to be completed or near completion and could well be in our hands by the end of winter.