Tom Clancy's Rainbow Six Extraction launches this week, with a release time that varies depending on where you live.
Ubisoft's cooperative shooter is undoubtedly the biggest release of 2022 so far, and promises to take the Tom Clancy brand in a radical new direction. While previous games that bore this label have flirted with science fiction ideas (like the dystopian future of The Division), Rainbow Six Extraction pushes the boat out even further by including extra-terrestrials.
Rather than being another tactical Player vs Player (PvP) experience — like the traditional Rainbow Six outings — this one will have you joining a squad of three to complete various objectives in areas that have been infested with alien nests. Each play session (or "incursions" as they are known here) will be broken up into distinct sections, with procedurally generated enemy spawns and item placements.
If that all sounds a bit familiar, it's because Rainbow Six Extraction is following in the footsteps of multiplayer titles like Left 4 Dead, Back 4 Blood, Aliens: Fireteam Elite or the recent Anacrusis. As with those games, the emphasis here is entirely on teamwork, strategically managing hostile hordes, and escaping with as many survivors as possible.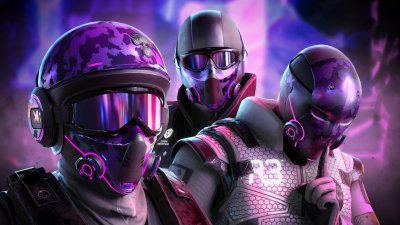 What Platforms Is 'Rainbow Six Extraction' Available On?
Earlier this month, it was announced that Rainbow Six Extraction will be launching on both the Xbox and PC Game Pass services.
That being said, it is also going to be available on PlayStation consoles, Google Stadia and the Amazon Luna cloud service. The release time is identical for each of these platforms, with the exception of the Amazon Luna version (which comes out a little earlier in PST zones).
When Is the 'Rainbow Six Extraction' Release Time?
Ubisoft has revealed that Rainbow Six Extraction will be out on Xbox, PC, Google Stadia and PlayStation consoles at 12 a.m. local time on Thursday, January 20.
This means that, unlike with the globally synchronized launch of Halo Infinite, some territories will be able to play it earlier than others. For instance, those in GMT zones will get to midnight five hours before those in ET zones.
As for the Amazon Luna version of Rainbow Six Extraction, that one will be available from 9 p.m. PST on January 19 (or 12 a.m. ET on January 20).
The other thing worth noting is that, if you have already ordered the title (either through Ubisoft Connect, the Epic Games Store, the PlayStation Store or the Xbox marketplace), then you can pre-load it now so that's it's ready to launch at midnight.
Meanwhile, those who are planning on redeeming it through the Game Pass service will need to wait until it officially unlocks before they can start installing.
To clarify, here are all of the different times relevant to Rainbow Six Extraction's release.
Rainbow Six Extraction Pre-Load: Available now
Rainbow Six Extraction Launches (For Xbox, PlayStation, PC and Google Stadia): 12 a.m. local time on January 20
Rainbow Six Extraction Launches (For Amazon Luna): 9 p.m. PST on January 19 / 12 a.m. ET on January 20.