Ralphs Employee Pepper Sprays Shopper After Mask Row Turns Violent
A Ralphs Employee pepper-sprayed a customer who allegedly assaulted a worker over a face mask dispute in Los Angeles.
The Mid-Wilshire Ralphs customer was asked by a store worker to wear a face mask or leave the store, but the customer responded by assaulting her with his shopping cart.
A Ralphs worker then pepper-sprayed the customer and called the police, though it is unclear if the worker who used the pepper-spray was the worker who was allegedly assaulted.
A witness told CBS Los Angeles: "I was just coming down to the end of an aisle and all of a sudden I heard some commotion and people were getting in the aisle.
"I looked down there and there was this guy just yelling at someone, and then all of a sudden you see him, you know, take the handles of his cart and just try to ram this woman."
Video footage of the incident—which took place on South La Brea Avenue—shows the man who allegedly assaulted the worker lying on the ground next to a shopping cart with milk spilled on the floor. Another man who is not wearing a mask tells the person filming that they are taking away his right to buy food.
According to CBS Los Angeles, paramedics took the man to hospital as a precaution and it was not immediately clear if he will face criminal charges.
Ralphs official mask policy is: "We encourage all our customers to wear a mask when they visit our stores."
However, in the City of Los Angeles, Mayor Eric Garcetti has issued an order requiring the public to wear face coverings "when they leave their homes and will be near other people."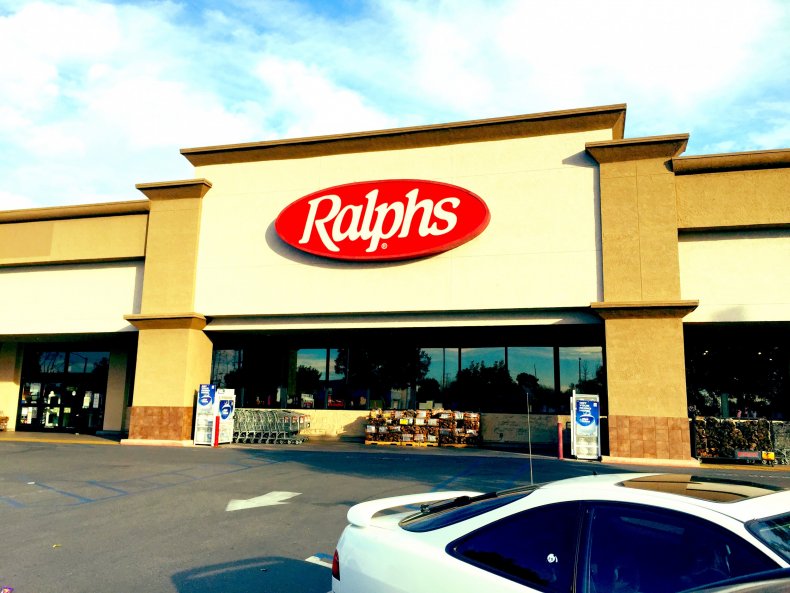 The incident at Ralphs is the latest in a series of stories of customers refusing to wear masks at grocery stores, with some turning to violence in protest.
In a Walmart in Florida, a man pulled out a gun when he was challenged by another shopper over not wearing a mask. At another Florida Walmart, a shopper refused to wear a mask and called those doing so cult members.
Following a number of customer disputes over masks, Walmart made wearing masks mandatory at all its stores from July 20. In a statement, Walmart said: "As the number of confirmed cases has spiked in communities across the country recently, so too have the number and types of face-covering mandates being implemented.
"To help bring consistency across stores and clubs, we will require all shoppers to wear a face-covering starting Monday, July 20."
While face mask policies vary by state and city, and by businesses, the Centers for Disease Control and Prevention (CDC) recommends wearing a mask to help slow the spread of the coronavirus.
On Tuesday, July 14, the CDC published a press release calling on Americans to wear masks, in which CDC Director Dr. Robert R. Redfield said: "We are not defenseless against COVID-19."
"Cloth face coverings are one of the most powerful weapons we have to slow and stop the spread of the virus—particularly when used universally within a community setting. All Americans have a responsibility to protect themselves, their families, and their communities."
Newsweek has contacted Ralphs for comment.