Democratic Senator Raphael Warnock leads his Republican opponent Herschel Walker among Georgia's independent voters as well as among the state's voters overall in a new poll—suggesting that the incumbent is well positioned to maintain his seat in November's election.
In January 2021, Warnock narrowly defeated GOP Senator Kelly Loeffler in a special runoff election, helping Democrats flip the Senate blue. As the legislative chamber remains evenly split, with Vice President Kamala Harris holding the power to cast tie-breaking votes, Warnock losing his seat in November without Democrats simultaneously picking up another would shift control of the Senate back to the Republicans.
New polling carried out by AARP from July 5 to 11 showed Warnock ahead with independent voters in Georgia as well as with the state's electorate overall. In the survey, Warnock had the support of 48 percent of independent voters, compared with 45 percent who said they'd back Walker, a former football star who has been endorsed by former President Donald Trump. That's a 3-point lead for the incumbent Democrat among independents in Georgia.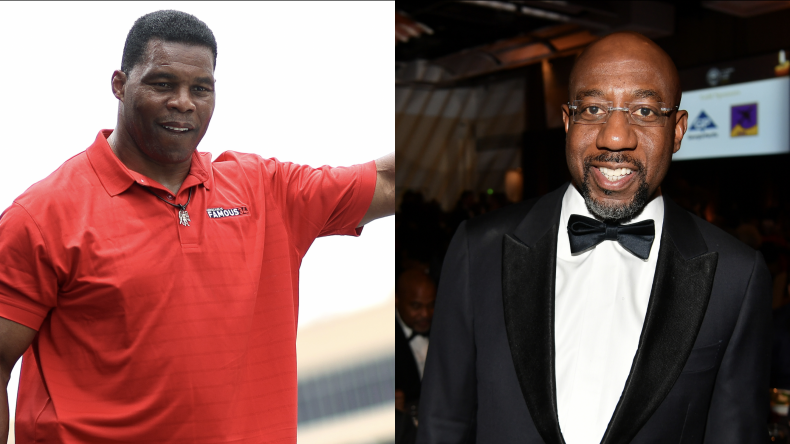 Similarly, Warnock led by 3 points among voters overall. The Democrat had the backing of 50 percent of all likely voters, compared with 47 percent who supported Walker. The poll surveyed 1,197 voters.
A late-June poll by Quinnipiac University showed Warnock with a substantially wider lead. In that survey, the senator received support from 54 percent of registered voters and Walker garnered the backing of just 44 percent—a difference of 10 points. That poll surveyed 1,497 voters and has a margin of error of plus or minus 2.5 points.
The current Real Clear Politics average of Georgia polls, which takes into account data from January through late June, shows a close race, however. Warnock narrowly leads by about 1.6 percent. The senator has the support of about 47.8 percent of Georgians, and Walker is backed by about 46.2 percent.
Warnock won his seat in 2021 with 51 percent of the vote to Loeffler's 49 percent. Just ahead of that runoff, President Joe Biden became the first Democratic presidential candidate to win in Georgia since 1992, beating Trump by less than 12,000 votes.
Democrats aim to maintain their momentum in Georgia in the 2022 midterm election. Meanwhile, Republicans hope to win back Warnock's seat and get back control of the Senate.