Twitter Reacts As Raphael Warnock Becomes Georgia's First Black Senator
Raphael Warnock is set to represent Georgia in the U.S. Senate, becoming the first Black senator in the state and the 11th in the country.
"We were told that we couldn't win this election," Warnock said after media outlets called the runoff election in his favor. "But tonight, we proved that with hope, hard work and the people by our side, anything is possible."
Warnock spoke of having roots "planted deeply in Georgia soil" while describing his "improbable journey" to the Senate.
"A son of my late father, who was a pastor, a veteran and a small businessman, and my mother who was a teenager growing up in Waycross, Georgia, used to pick somebody else's cotton," he said. "But the other day, because this is America, the 82-year-old hands that used to pick somebody else's cotton went to the polls and picked her youngest son to be a United States senator."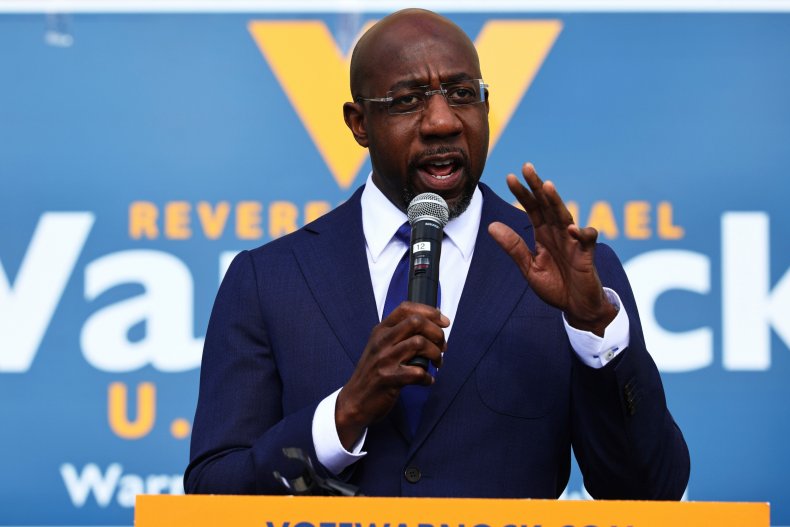 A senior preacher at the Ebenezer Baptist Church, Warnock is the first Black person to reach this office in the former Confederate state—a fact that has been warmly welcomed on Twitter.
Bernice King, activist and daughter of the late Martin Luther King Jr, said the victory in Georgia represented the "dawning of a new day."
"The votes of Black people have been suppressed in this nation for a very long time," she tweeted. "This is the dawning of a new day."
MSNBC's Joy Reid tweeted: "There is poetry in history. @ReverendWarnock will be just the 11th Black U.S. Senator, Georgia's first and the 4th from the South. The first two served during Reconstruction from the then-liberal, anti-slavery Republican Party. The third emerged from the anti-Obama Tea Party."
Podcast host Jemele Hill added: "I don't know who needs to hear this but Reverend Raphael Warnock was polling at 9% when the Atlanta Dream and WNBA players threw their full support behind him and elevated his national profile. Now he's Georgia's first black Senator."
"The fact that Mitch McConnell—a man with an unrelenting commitment to undermine America's first Black president—could lose his veto power over American democracy bc of Raphael Warnock, Jon Ossoff and Stacey Abrams is some kind of American justice," said political commentator Ben Rhodes.
Nick Bryan of BBC News tweeted: "In US history, there have been almost two thousand US Senators. Raphael Warnock would become only the 11th Black Senator."
CNN's Van Jones said the race was "black joy versus a certain kind of white rage. And black joy won."
Politician and voting rights activist Abrams congratulated her "dear friend," tweeting: "Congratulations to our next U.S. Senator, @ReverendWarnock. Last January, I endorsed my dear friend in his quest to serve. Soon, he will walk those august halls & cast votes as a leader with courage, justice and integrity."
She added: "God bless you and keep you in your service to us all."
Tennis champion Billie Jean King thanked Georgia voters with a quote from the late John Lewis.
"'The vote is precious. It is the most powerful non-violent tool we have in a democratic society, and we must use it.' - Rep. John Lewis Congratulations to
@ReverendWarnock, the first Black Senator from GA, & the first Black Democrat from the South. Thank you, Georgia voters!"
Jon Ossoff has also declared victory against the Republican incumbent David Perdue in the other Georgia runoff.