Rapper T.I. Punched Chainsmokers Member in Face Over Kiss, Singer Says
The Grammy-award-winning musical duo The Chainsmokers' Andrew "Drew" Taggart claimed on TikTok Tuesday night that rapper T.I. punched him in the face over a kiss on the cheek.
In a video posted to The Chainsmokers' account titled "When meeting T.I. goes wrong," Taggart is seen posing with T.I. for a photo at a party before the clip cuts to the pair in a car after.
"T.I. just literally punched me in the face," Taggart said as his counterpart, Alex Pall, laughed. "We're in a vibe and I, like, gave him a kiss on the cheek, it was totally my fault."
"And he was like, 'don't do that,' and I was like, 'okay,' and he pushed me off, and I was like, 'alright, my bad,'" Taggart continued. "He punched me in the face, and I was like, 'okay, I'm sorry,' and he was like, 'alright, cool, we're good.' It was the weirdest interaction ever."
As he and Pall laughed, Taggart said, "First of all, T.I. is fully in the right here. I was like, feeling the vibes way too hard, and I kissed T.I. on the cheek, and he punched me in the face for it. It's fully fine."
T.I. or Tip, whose real name is Clifford Joseph Harris Jr., responded on Wednesday morning in an Instagram live. He started off his video laughing, saying, "First of all, I love The Chainsmokers, okay? So let's just get that straight."
"I have nothing negative to say, we just had to work through some stuff, you know what I mean? We got to a much better place. I have nothing but good things to say about them. I won't go into too much detail," he laughed again, "but I love The Chainsmokers, man."
Tip added, "I think the most important thing to take away is afterwards. We had a drink, we took a shot, and we moved on. I like The Chainsmokers, not to get no sugar though."
The rapper mentioned the incident again later on in the livestream, saying that people were commenting that he punched someone.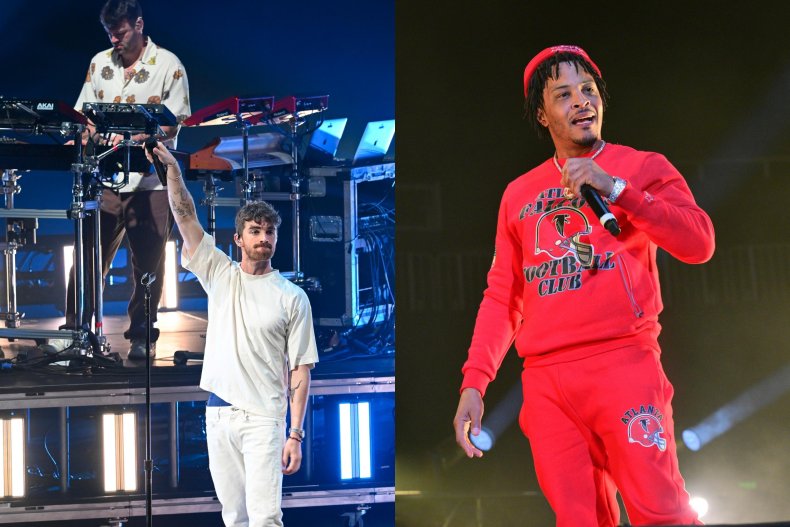 "That's not... Y'all stop it. We had a minor kerfuffle," he chuckled. "It was nothing." The Atlanta native said that Taggart "stepped over a line" and he had to remind him to step back.
"That was it," the Grand Hustler artist said. "It wasn't that major. It wasn't malicious."
T.I. became the most recent recipient of the Georgia Outstanding Citizen Award and was honored for his civic and philanthropic contributions to his community last week at the Georgia State Capitol in Atlanta.
In his acceptance speech, Tip said, "Life is way too short not to try to make this world a better place. Once we leave, people won't remember the clothes we wore or the things we have."
Newsweek reached out to a representative for The Chainsmokers for additional comment.