Ray J Claims Kim, Kanye Sex Tape Drama in New Hulu Show Was 'A Lie'
In episode two of the new The Kardashians series on Hulu, viewers witnessed Kim Kardashian brought to tears when her estranged husband Kanye West delivered her a hard drive from her ex Ray J, which allegedly contained unreleased footage of the reality star's infamous sex tape.
However, Ray J has since disputed the events in the episode, calling them "a lie."
Kardashian dated singer Ray J in 2005 and was thrust into the spotlight when their now-infamous sex tape was leaked in 2007.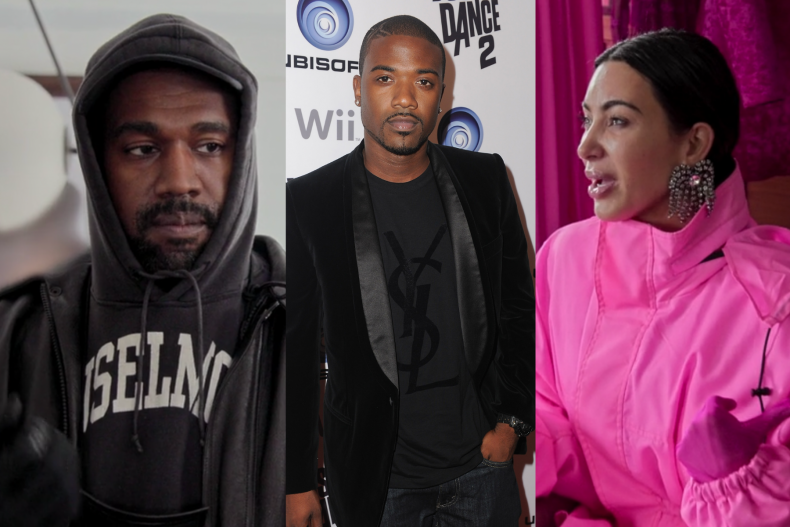 The tape is still affecting her life to this day and in the premiere of The Kardashians, the 41-year-old is seen grappling with the prospect of her children being exposed to the tape online.
Her 6-year-old son Saint saw a picture of his mother while playing the online game Roblox and showed it to her and upon further examination, Kardashian realized the joke of her crying face discovered by her son was related to reports of further sex tape footage.
This then prompted the events of the next episode, recorded in October, which saw West deliver a computer and a hard drive to Kardashian as she prepared to host Saturday Night Live.
A touching scene shows the Donda rapper speaking with his former mother-in-law, Kris Jenner, as he revealed that he had just flown to New York City from Los Angeles, where he got "something for Kim."
Kardashian then tells her mom, sister Khloe and some others present: "I wanted to show you guys because I was just gonna cry... So Kanye flew home last night and he came back this morning. I want to show you guys what he got me."
Unzipping a small suitcase, she continued: "He got me all of the sex tape back. He flew home and he got the computer and the hard drive. And [he met] with Ray J at the airport and he got it all back for me."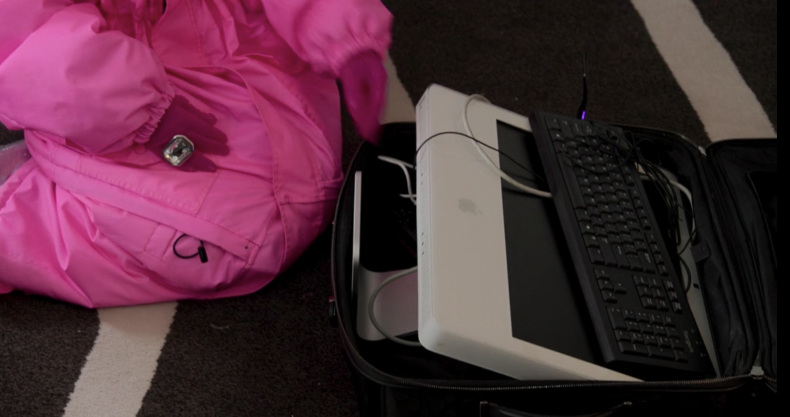 Speaking in a confessional, Kardashian, who shares four children with West, said: "I know Kanye did this for me, but he also did this for my kids. I want to shield them from this as much as I can.
"And if I have the power to, or if Kanye has the power to, like that is the just the most important thing to me. I'm just so emotional because of it, and it just means a lot to me."
The scene was a tender moment between the former couple who were in the midst of a messy divorce. Kardashian filed for divorce from West in February 2021 after almost seven years of marriage. She was declared legally single in March of this year.
However, Ray J himself has now spoken out against this episode.
On Instagram, the celebrity news account Hollywood Unlocked shared a clip of Kardashian opening the suitcase from the episode and Ray J commented: "All of this is a lie smh—can't let them do this anymore—so untrue."
The comment appears to have been deleted now but screenshots remain on Reddit and Hollywood Unlocked.
Newsweek has contacted Kim Kardashian's representative for comment.
West, who has legally changed his name to Ye, previously spoke about this time on the Hollywood Unlocked podcast where he criticized his ex for kissing her now-boyfriend Pete Davidson in front of him on SNL, after he retrieved the hard drive for her.
"How you gonna bring me to SNL and then kiss the dude you dating right in front of me?" he said.
"I met this man at the airport, then got on a red eye, came back and delivered [a laptop containing the video] to her at 8 a.m. in the morning," the rapper said.
"And then I gave it to her, and she cried when she saw it. You know why she cried when she seen it on the laptop? Because it represents how much she's been used. It represents how much people didn't love her and they just saw her as a commodity. She's the most famous person in the world."