Read Donald Trump's Lawsuit Against Bob Woodward in Full
Former President Donald Trump is suing journalist Bob Woodward, alleging he did not agree for their pair's interviews to be released as an audiobook.
In a $49 million suit against the veteran Washington Post reporter, publisher, Simon & Schuster, and its parent company, Paramount Global, Trump accused Woodward of carrying out "systematic usurpation, manipulation, and exploitation of audio" connected to interviews he agreed to take part in with Woodward.
Woodward released his book Rage in 2020, which included a series of reports based on interviews with Trump. Woodward then released an audiobook of the recorded interviews, called The Trump Tapes, in October 2022.
Trump accuses Woodward of attempting to "capitalize" on his voice by releasing the audiobook, claiming that he only agreed that the interviews should be used for Woodward's book Rage.
The suit, filed in the Northern District of Florida on Monday, can be read below:
In the legal filings, the former president alleges that he told Woodward "numerous times" that the interviews between December 2019 and August 2020 were only to be used by the reporter for his book Rage and not for "any other purpose," including providing, marketing, or selling the interviews to the public, press, or the media.
"Woodward decided to exploit, usurp, and capitalize upon President Trump's voice by releasing the Interview Sound Recordings of their interviews with President Trump in the form of an audiobook," the lawsuit says.
"When it came to treating President Trump fairly, Mr. Woodward talked the talk, but he failed to walk the walk," it adds.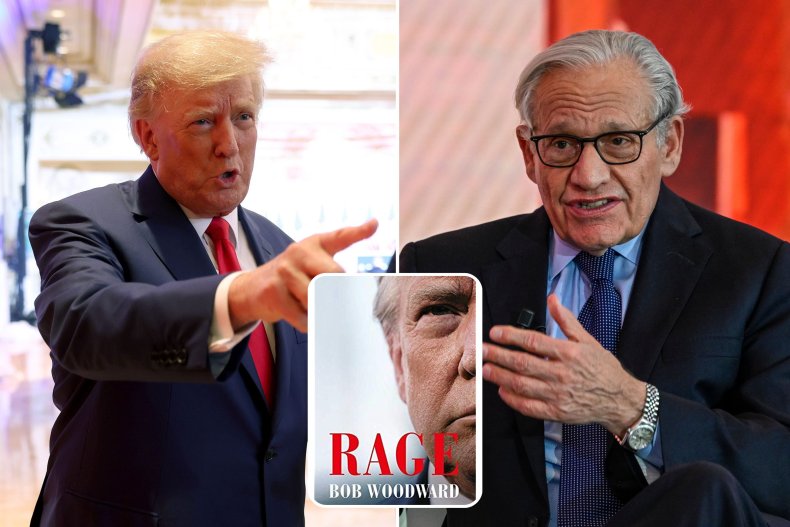 In a joint-statement, Woodward and Simon & Schuster said Trump's lawsuit is "without merit" and they will "aggressively" defend against it.
"All these interviews were on the record and recorded with President Trump's knowledge and agreement," the statement said.
"Moreover, it is in the public interest to have this historical record in Trump's own words. We are confident that the facts and the law are in our favor."
Trump also discussed the lawsuit in a post on Truth Social late on Monday night.
"I am continuing my fight against the corrupt, dishonest, and deranged Fake News Media by filing this lawsuit against a man whose image is far different from the fact, Bob Woodward, his publisher Simon & Schuster, and their parent company, Paramount Global, for misappropriating, manipulating, and wrongfully profiting from my Voice," Trump wrote.
"Woodward and his corporate bosses not only tried to profiteer from doctoring tapes, which were only to be used for the 'written word,' namely help in accuracy for his book.
"This was an open and blatant attempt to make me look as bad as possible. They have instead been exposed for the liars and forgers that they are," Trump said. "I will always champion TRUTH and battle against the evil forces of disinformation and Fake News!"
Update, 1/31/23, 5:45 a.m. ET: This article has been updated throughout.