Trump Argues the Value of Hearing His Own Voice in $49M Bob Woodward Suit
Former President Donald Trump has launched a $49 million lawsuit accusing journalist Bob Woodward of unfairly attempting to "capitalize" off the sound of Trump's voice.
A suit filed by Trump's legal team on Monday alleges that Woodward, publisher Simon & Schuster and its parent company Paramount Global did not have permission to release 20 recorded interviews in which the former president agreed to take part for the 2020 book Rage.
Trump alleges that although he had given permission to be recorded for "the sole purpose" of the book, it did not extend to his "valuable" voice recordings being released for The Trump Tapes audiobook.
"This case centers on Mr. Woodward's systematic usurpation, manipulation, and exploitation of audio of President Trump gathered in connection with a series of interviews conducted by Mr. Woodward," the suit states.
"The Defendants proceeded with such publication knowing that President Trump's voice is one of the most recognizable voices in the world," it continues. "Hearing his words from his mouth or as directly articulated by him, is much more valuable and marketable than Woodward's interpretation of the interviews in Rage."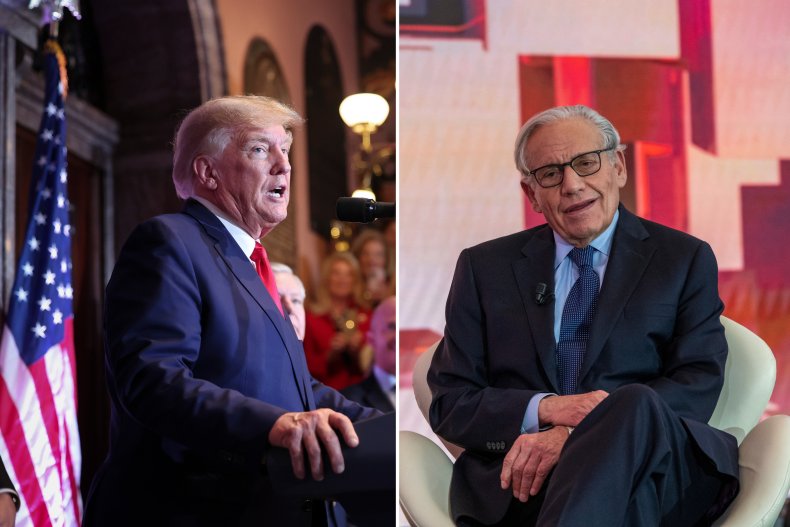 The suit argues that the October 2022 audiobook was published "to capitalize and benefit from President Trump's voice to the detriment of President Trump's ability to publish his own voice given his position as author." It argues that the former president "repeatedly stated" to Woodward that he was agreeing to be recorded "for the sole purpose" of writing one book.
Trump is seeking minimum compensation of $49.98 million, based on the assumption that at least 2 million units of the audiobook sold for a retail price of $24.99 each.
The former president is also demanding that the court issue a declaratory judgment stating that "President Trump has a full copyright interest in the Interview Sound Recordings, Audiobook, and Derivative Works at issue."
Rage, and by extension The Trump Tapes, was released as a followup to Woodward's 2018 book Fear: Trump in the White House. The lawsuit filed on Monday incorrectly states that Fear was published in 2019 and Rage in 2021.
Simon & Schuster promoted The Trump Tapes as an opportunity to hear "the exclusive, inside story of Trump's performance as president—in his own words as he is questioned, even interrogated by Woodward," according to a page on the publisher's website.
Woodward, best known for his groundbreaking reporting on the Watergate scandal, also co-authored a third book concerning the Trump presidency.
Peril, co-written by journalist Robert Costa and released in September 2021, focused on the final days of Trump's administration and the transition of power to President Joe Biden.
Despite agreeing to take part in a large number of interviews, Trump has repeatedly lashed out at Woodward's reporting, calling Rage a "political hit job" and describing Woodward as "craggy smug face" upon the release of Peril.
Newsweek has reached out to Trump's office and Simon & Schuster for comment.