A clip of actress and comedian Rebel Wilson deriding Will Smith's marriage earlier this month is going viral, as viewers who saw Smith slap Chris Rock on stage at the Oscars look for clues to explain the shocking outburst.
On March 13, Wilson hosted the British Academy Film Awards (BAFTA) in London, where Smith won the Leading Actor award for his performance in King Richard—the same film that won him the Best Actor Oscar on Sunday. Before he received the Oscar, a joke from presenter Chris Rock about Jada Pinkett Smith's shaved head—the result of her battle with alopecia—prompted her husband to storm on stage and smack Rock in the face.
The mega-viral moment has led viewers to track down previous wisecracks at the expense of Smith and his Hollywood marriage, which has attracted persistent fascination in the public eye.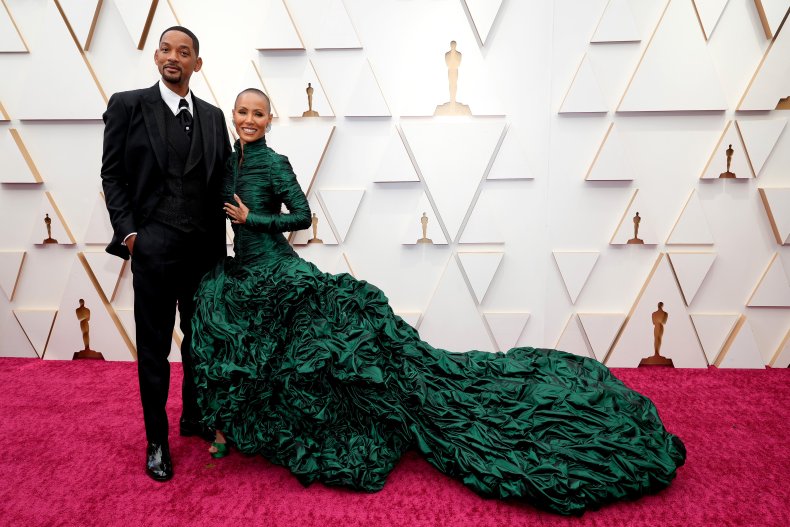 In the resurfaced clip of Wilson at the BAFTAs—posted to Reddit's "Facepalm" forum where it has received more than 16,000 votes—she joked that despite Smith's award for King Richard, she believed "his best performance in the past year has been being okay with all of his wife's boyfriends."
The comment elicited groans from the crowd, to which Wilson added: "What? Come on, he didn't show up."
Smith missed the BAFTAs, instead attending the Critics' Choice Awards in Los Angeles, which took place on the same day. The film's director Reinaldo Marcus Green accepted the BAFTA on his behalf.
Will and Jada Pinkett Smith have been married for 24 years, but their relationship has drawn particular attention for some unconventional choices in the last two years. In 2020, Pinkett Smith spoke openly on her Facebook Watch show Red Table Talk about dating singer August Alsina while she and her husband were temporarily separated.
During an interview with GQ in November 2021, Smith said, "For the large part of our relationship, monogamy was what we chose, not thinking of monogamy as the only relational perfection."
Smith also addressed his marriage on CBS Sunday Morning on the same day the BAFTAs aired. "There's never been infidelity in our marriage," he said. "Jada and I talk about everything and we have never surprised one another with anything ever."
The BBC received complaints following Wilson's night hosting the event, although it did not specify which jokes had agitated viewers. Other cracks by Wilson took aim at Meghan and Harry's Oprah interview as well as Prince Andrew.
In a statement on its complaints page, the broadcaster said: "Comedy is one of the most subjective areas of programming and views will always differ on what's acceptable, and what's appropriate at different times of the day. It's never our intention to offend viewers and we always think very carefully about what we broadcast to ensure that it isn't outside of the expectations of the majority of the audience."