Recall Candidates Debate Again—But Where Are Newsom, Elder, Jenner?
California Governor Gavin Newsom and his top Republican rival heading into next month's gubernatorial recall election are both expected to skip a debate scheduled to take place in Sacramento Wednesday evening.
Newsom is fighting to stay in office through the end of his term but could be removed early if more than 50 percent of California voters decide to recall him in the statewide September 14 special election. The Democratic governor has not appeared at any of the recall debates held thus far and is not expected to participate in the Wednesday debate hosted by KCRA-TV and The San Francisco Chronicle.
Newsom's campaign told Politico earlier this summer that, instead of participating in debates with his Republican challengers, the governor would be "leading our economic recovery and tackling our state's most pressing challenges—like homelessness, disparities in education, and our aging infrastructure."
A spokesperson for Newsom's campaign reiterated those comments when contacted by Newsweek last month after the first recall debate was announced.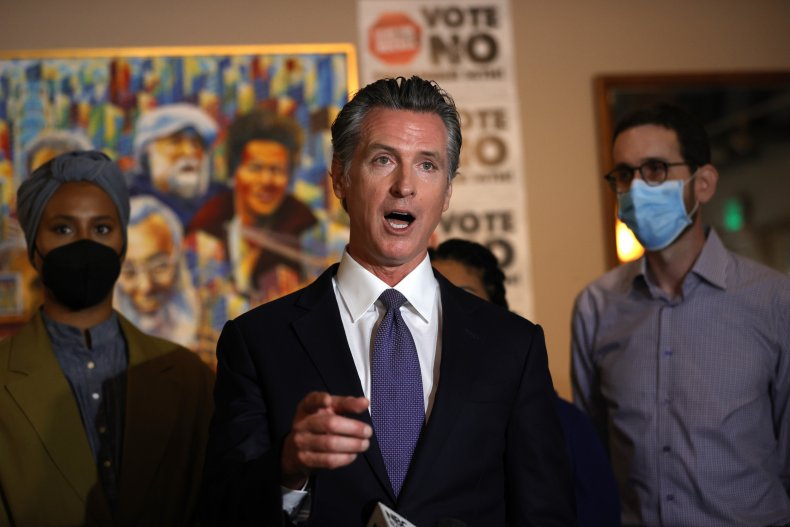 Less than three weeks remain until voters decide whether to keep Newsom in office. If he is recalled, the candidate who receives the greatest number of votes will succeed him.
Forty-six candidates appear on the recall ballot, 24 of whom are Republicans and nine of whom are Democrats. Conservative radio personality Larry Elder has, in recent voter surveys, emerged as the top Republican candidate, polling several points ahead of most others in his party.
Like Newsom, Elder has not participated in any of the recall debates. Ying Ma, the communications director for Elder's campaign, told Newsweek Elder is interested in debating only Newsom.
"This is an election about recalling Gavin Newsom, not a circular firing squad among the replacement candidates," Ma told Newsweek last week. "Larry would be glad to debate Newsom any time."
Reality television personality Caitlyn Jenner is also expected to be missing from Wednesday's debate stage. Pollsters have reported Jenner polling between 2 and 7 percent among likely voters in surveys conducted this summer, putting her several points behind Elder.
Newsom, Elder and Jenner were all invited to participate in the Wednesday debate but declined those invitations, according to KCRA.
Newsweek reached out to Jenner's campaign for comment but did not receive a response in time for publication.
Without Newsom in attendance, Kevin Paffrath will be the only recall candidate running as a Democrat to participate in the debate. Paffrath, known by his YouTube username "Meet Kevin," is listed on the recall ballot as a financial educator and analyst. In two voter surveys conducted earlier this month, Paffrath emerged as a candidate some voters said they would consider supporting in the recall. He polled at 27 percent among likely voters in a SurveyUSA poll and at 13 percent—10 points behind Elder but several points ahead of other Republican candidates—among likely voters in a YouGov poll.
Paffrath's participation Wednesday evening will mark the first time a Democrat has appeared at a debate for the September 14 recall election.
Three Republicans—businessman John Cox, former San Diego Mayor Kevin Faulconer and state lawmaker Kevin Kiley—are expected to join Paffrath on the debate stage.
During a conversation with Newsweek Wednesday morning, Paffrath said his campaign was "saddened" to learn Elder and Jenner were not planning to participate.
"It seems that they're too afraid to debate, which is unfair to Californians," Paffrath told Newsweek. He said he is hopeful voters will come away from the debate with a greater awareness of his campaign.
"We want to use this debate to make sure Californians know this is not just Elder versus Newsom—this is Elder versus Newsom versus Kevin Paffrath," he said.