Recall Leader Claims 'In Crisis' Gavin Newsom Is 'Throwing Money at the Problem'
Critics of embattled California Governor Gavin Newsom say the Democrat's recent spending proposals are evidence of a politician doing what he can to "dig his way out" amid a recall effort aimed at removing him from office.
"This is just a governor in crisis," said Orrin Heatlie, the lead proponent of the Recall Gavin 2020 campaign. The campaign collected enough valid signatures to qualify for a recall by its mid-March deadline, though an exact election date has not yet been set.
"He is trying everything he can—pulling out all the stops and spending everything he can, throwing money at the problem, trying to dig his way out of this recall," Heatlie told Newsweek.
Newsom traveled throughout the state last week championing his latest budget proposals, which are valued at an estimated $267.8 billion. About $100 billion of that spending will be part of the "California Comeback Plan" to support the state's economic rebound from the coronavirus pandemic.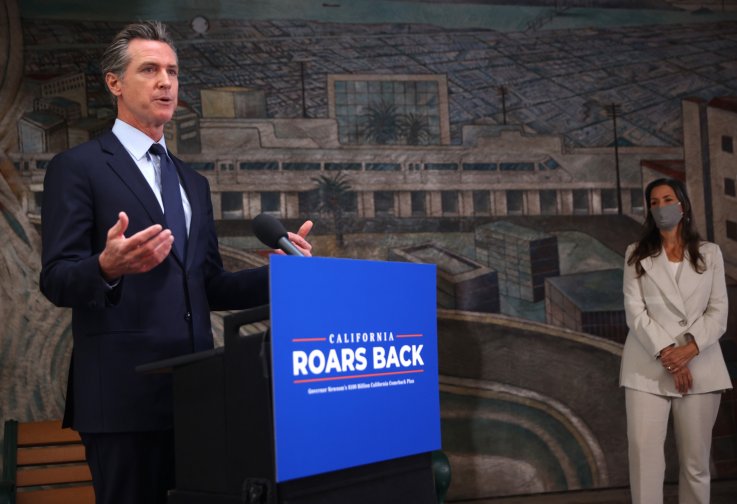 California Gov. Gavin Newsom (L) speaks during a press conference as Oakland Mayor Libby Schaff (R) looks on at The Unity Council on May 10, 2021 in Oakland, California.
Justin Sullivan/Getty Images
Newsom described his revised budget proposal during a May 14 news conference as "historic, unprecedented, generational and transformational."
"This is a jumpstart for our local economies, and it's how we'll bring California roaring back," he said in a news release.
According to Newsom's revised budget, the spending it includes was made possible by California's nearly $76 billion surplus, and an additional $27 billion expected to come from President Joe Biden's American Rescue Plan.
Newsom's office said the surplus marks a "stark contrast" to budget deficits predicted last spring when the state was in the early throes of the pandemic.
"Together, the surplus and federal funds will allow the state to make additional investments to support all sectors of the state, and improve the lives of all Californians," according to the revised proposal.
The $100 billion economic recovery component includes investments in broadband and transportation infrastructure, wildfire response tools, homelessness prevention and homeless housing, and more. It also includes stimulus checks for qualifying California residents, grants for small businesses, and relief for residents who are behind on their rent or utility bills.
According to the governor's office, the "California Comeback Plan" is set to be the largest recovery package in the state's history. The wider budget proposal includes items such as increased funding for K-12 education, financial support to protect the state's water supply and clean energy investments.
Newsom said the surplus provided the state with an opportunity to move forward with one-time spending opportunities.
"We're trying to do things the state has talked about but never been able to accomplish because we never had the resources to do it," Newsom said during his May 14 news conference. "These historic budget revenues and operating surpluses are not the new norm—we're not naive about that. And that's why we want to batten down the hatch."
Newsome's potential challengers in the forthcoming recall election were quick to criticize his spending plans.
John Cox, a Republican businessman whom Newsom previously defeated in his bid for governor, suggested in a statement he shared on social media that legislators who support Newsom's proposals are "out of touch."
"Politicians have lost touch with reality when they celebrate record spending proposals and Gavin Newsom is the poster-child for out-of-touch politicians," Cox's statement read. "We should be slashing taxes and making California more affordable and not ballooning the size of our government."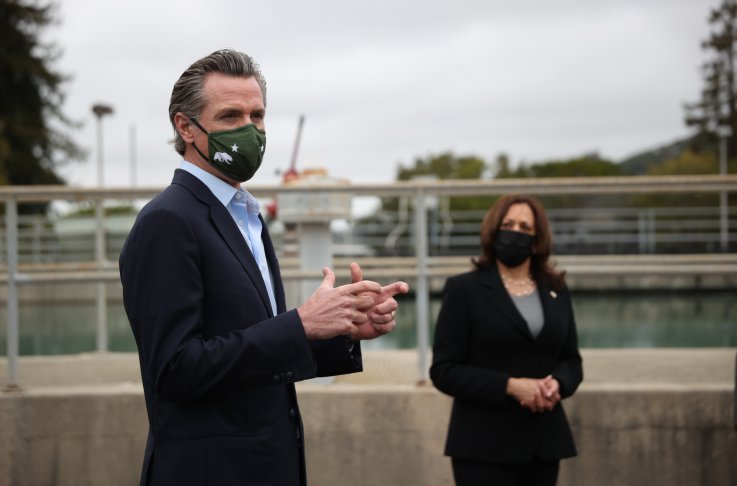 Vice President Kamala Harris (R) looks on as California Gov. Gavin Newsom speaks while touring the Upper San Leandro Water Treatment Plant on April 5, 2021 in Oakland, California.
Justin Sullivan/Getty Images
Kevin Faulconer, the former mayor of San Diego who announced his gubernatorial run earlier this year, drew comparisons between his own economic strategy and that of Newsom's in a statement shared with Newsweek.
"Californians need permanent tax relief, one-time gimmicks are not enough," Faulconer said. "My campaign is calling for the largest middle class tax cut in California history with a plan to cut taxes for 99 percent of households across the state. Gavin Newsom opposes our proposal. His failed leadership has made our state unaffordable, but we're going to change that by recalling him this year."
Heatlie told Newsweek there were specific elements of Newsom's budget proposals that struck him as odd, such as traffic violation fine forgiveness for low-income residents. The revised budget proposal said $300 million from the American Rescue Plan will go to "eliminate debt owed on existing fines and fees for traffic and non-traffic infraction tickets issued between January 1, 2015 and June 30, 2021" for qualifying low-income residents.
"It flies in the face of equal application of law, of equal protection under the law," Heatlie said. "If I run a stop sign, it should be the same penalty for me running a stop sign versus somebody else running a stop sign."
Newsom, who was elected in 2018, is set to become the first California governor to face a recall election in nearly 20 years. The effort to remove Newsom from office has been largely driven by the Recall Gavin 2020 campaign, which collected signatures from California residents through mid-March in the hope of qualifying for a recall election.
The recall campaign's website lists a series of reasons for seeking Newsom's removal that include the Democrat's positions on gun safety laws, taxes, immigration and more. But a spokesperson for the campaign told Newsweek in December that Newsom's attendance at a friend's birthday dinner last fall—which violated Newsom's pandemic recommendations for California residents, who were told to avoid gathering with people outside their households—resulted in a surge of support for the recall campaign.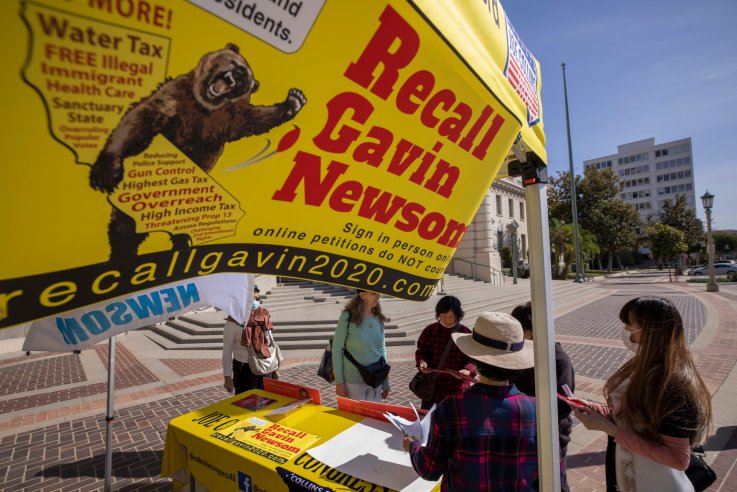 Conservative activists gather signatures in a recall effort against California Governor Gavin Newsom near Pasadena City Hall, in Pasadena, California on February 28, 2021.
DAVID MCNEW/AFP via Getty Images
"That was a tidal wave that started to crest over the horizon," recall spokesperson Randy Economy told Newsweek at the time. "You can live a sheltered life as a politician, but you can't hide from the people."
California Secretary of State Shirley Weber's office confirmed earlier this month that the recall campaign collected more than 1.7 million valid signatures—some 200,000 above the nearly 1.5 million threshold for recall. A recall election date has not yet been set, but experts have predicted it will take place in the late summer or fall.
In mid-March, Newsom launched his own campaign in response to the recall, which he described as a "partisan" and "Republican" effort. Though this is the first recall attempt to qualify for a ballot since former California Governor Gray Davis was removed from office in 2003, Democratic strategists told Newsweek a recall election was unlikely to succeed in removing Newsom from office.
Since the pandemic and resulting economic fallout has been credited with fueling the frustrations aimed at Newsom, some Democratic policy experts predicted the state economy will be mostly reopened and residents will be vaccinated in large numbers by the time a recall election takes place.
According to a recent poll conducted by the Institute of Governmental Studies at the University of California Berkeley, the number of California residents who plan to vote against removing Newsom from office appears to be increasing.
The poll found that 36 percent of respondents wanted Newsom out of office, while 15 percent were undecided and the remaining 49 percent did not plan to vote in favor of Newsom's removal.