Reddit Launches Its Own Version of Spotify Wrapped With Personalized Annual Review Feature
Reddit has just launched a personalized year-in-review feature, reminiscent of Spotify Wrapped or the newly unveiled Instagram Playback.
Reddit has obviously done annual roundups before, looking over global aggregate data to identify the most popular threads, Ask Me Anything (AMA) interviews and topics from a given year. In fact, the 2021 recap is already available and includes lots of fascinating insights, like the fact that users primarily come to the site for cryptocurrency advice, and to watch livestreams of beehives.
While that part of the feature isn't particularly ground-breaking (and feels similar to what Google already does with its year-in-review), the new personalized recap is a first for Reddit.
Basically the app's equivalent of Spotify Wrapped, it provides a fun snapshot of your activity from over the last 12 months. This is all presented in a visually dynamic slideshow that will tell you things like how far you have scrolled through subreddits (measured in banana length), if you were among the first to get involved with any big trends, how often you interacted with others on the platform, and if you found any niche topics that really grabbed your attention.
It will also characterize you as a specific type of redditor, by assigning you a "secret ability." This is comparable to how Wrapped allocates badges to its premium subscribers, based on their listening habits.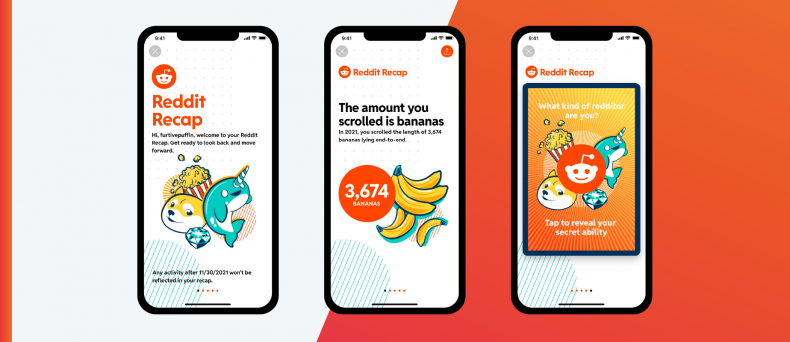 Much like Spotify's feature, Reddit's personalized recap has a fixed cut-off date, so it won't take into account all of your browsing activity from 2021. Instead, it only measures what you have done between January 1 and November 30 on the app.
The personalized Reddit Recap feature went live at 12 p.m. EST on Thursday (December 9). You will be able to easily access the slideshow using your mobile device, provided that you are already logged into your Reddit account. You can then swipe through the different cards to find all the unique bits of trivia and stats.
There will also be an option to share these insights on other social media platforms (like Facebook or Twitter), with or without your username being displayed.
Overall, Reddit has an incredibly strong year in 2021, with people generating over 366 million posts and over 2 billion comments. Not only that, but it developed into a go-to source for financial advice, as evidenced by the GameStop stock boom that was primarily driven by users on the website. For more information about how Reddit has grown this year, check out our separate coverage here.