Regal Blames Lack of Films for Potential Bankruptcy Filing
Movie goers might soon see some Regal Cinemas closing their doors. The popular theater, owned by Cineworld, is the latest cinema chain to consider filing bankruptcy as box office takings continue to plummet since the COVID-19 pandemic. The theater blames a lack of films as the reason behind its financial strain.
The pandemic hit Cineworld hard and forced many theaters to close for extended periods as lockdowns were put in place. Theaters that remained open had to operate at a reduced capacity because of social distancing requirements.
Cineworld confirmed on Monday that it is considering filing for Chapter 11 bankruptcy in order to restructure its U.S. theaters. The Wall Street Journal reported that Cineworld is working with law firm Kirkland & Ellis and consultants AlixPartners for advice on the bankruptcy process.
The announcement comes after Cineworld warned last week of there not being enough hits to attract movie goers. CNN reported that the company has struggled because of the pandemic. It lost $2.7 billion in 2020 and $566 million in 2021. The company is valued at $69 million but is saddled with $5 billion in debt, according to the BBC.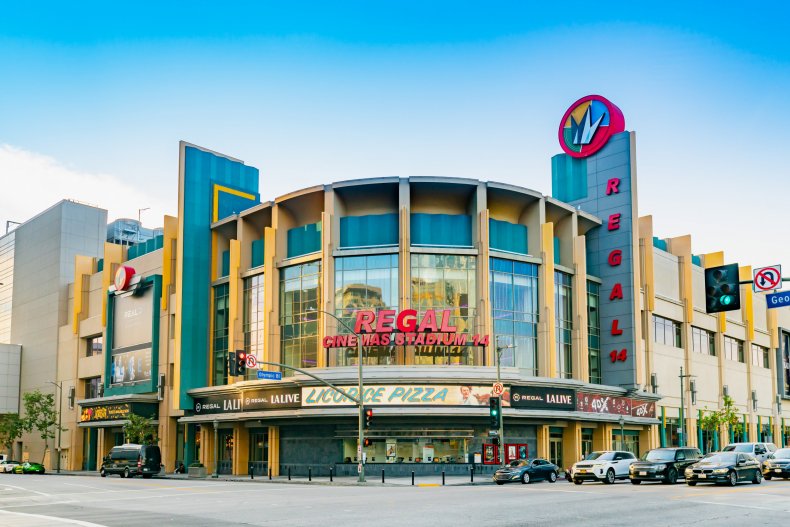 Bullet Train starring Brad Pitt opened in theaters August 5, but according to CNN, another blockbuster film isn't slated to debut until November 11, when Black Panther: Wakanda Forever hits screens.
A report from Comscore, an American media measurement and analytics company, showed global box office takings hit a record of $42.5 billion cushioned by major hits such as Avengers: Endgame and Frozen 2.
Several films have performed strongly this year, including Jurassic World Dominion ($984.7 million), Minions: The Rise of Gru ($833.6 million) and Top Gun: Maverick, which brought in over $1.4 billion at the box office and ranked in the list of the highest-performing movies of all time.
However, box office takings are still declining, with numbers down by one-third compared to 2019. Comscore also reported that this year, there is a 38 percent drop in film releases from 2019.
Cineworld tweeted Monday that its cinemas were open for "business as usual."
The pandemic wasn't the only force working against cinemas worldwide. Cinemas also have been competing with streaming services. In 2020, Universal Pictures faced criticism from several cinemas when it released "Trolls: World Tour" online when theaters were forced to close during the pandemic. Cineworld then signed a deal with Warner Bros. in which both parties agreed to show films in theaters before they are streamed.
Cineworld shares tumbled 60 percent last week after The Wall Street Journal reported that it was preparing to file for bankruptcy "within weeks." Shares recovered on Monday.
The BBC reported that the company would not comment on whether it was also considering filing for bankruptcy in the U.K., where it owns Picturehouse Cinemas.
Newsweek reached out to Cineworld for comment.