Rallies are set to take place across the country on Wednesday to protest the expected impeachment acquittal of President Donald Trump by the Senate.
From Miami and New York to Los Angeles and Seattle, 'Reject the Cover-Up' protests will stretch to all four corners of the continental United States. Scheduled to take place at 5:30 p.m. local time, they will follow a 4 p.m. vote by the GOP-controlled chamber to acquit the president of articles of impeachment for abuse of power and obstruction of Congress.
"We're now at over 160 events planned and expect tens of thousands of rally-goers across the country," Press Secretary for Stand Up America Ryan Thomas told Newsweek.
"We're mobilizing thousands of protesters across the country to make it clear that voters are watching, and we'll remember who chose cowardice over patriotism," said Sean Eldridge, founder and president of Stand Up America, a liberal activist group that's one of several organizations leading the protests.
Democrats failed to muster enough votes on Friday to subpoena documents and witnesses, such as former national security adviser John Bolton, despite receiving support from Republicans Mitt Romney of Utah and Susan Collins of Maine. Democrats have accused their GOP colleagues of conducting a "cover-up" and a "sham" trial for not wanting witnesses, particularly amid additional claims regarding Trump's Ukraine dealings that have surfaced in recent weeks.
A trial without trying to obtain more evidence from first-hand witnesses, Democrats have argued, would render an acquittal "meaningless."
"Senate Republicans have thrown all democratic norms and decades of precedent out of the window by preventing witnesses from testifying before the Senate," Eldridge added. "Any 'acquittal' made after blocking key evidence is not an exoneration, it's a cover-up."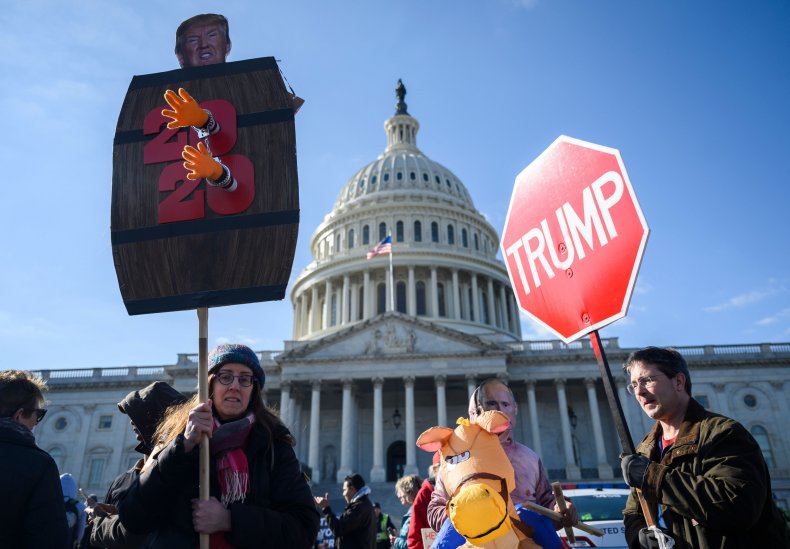 Four hours divided equally between each side will be afforded to the House impeachment managers and the president's defense on Monday, starting at 11 a.m., for closing arguments. Senators will then have the opportunity to make floor speeches until Wednesday afternoon, leading up to the final vote.
Trump will deliver the State of the Union address Tuesday evening in the House. White House Legislative Affairs Director Eric Ueland told reporters Friday that the inability to acquit Trump before his annual speech to Congress will not interfere "with his ability to deliver a strong and confident State of the Union message."
The more than 100 protests across the country are being organized by progressive grassroots organizations Stand Up America, Common Cause and Public Citizen, along with support from a coalition of similar groups, including By the People, Indivisible, Greenpeace, March For Truth, Need to Impeach, Sierra Club and Women's March. Conservative anti-Trump group Stand Up Republic will also be involved.
Many of the protests will occur near or outside the offices of Republican senators, who voted against witnesses because they believed more evidence was not needed to reach a conclusion on Trump's innocence. They deemed the impeachment process as a political and illegitimate endeavor by Democrats.
While an increasing number have conceded that Trump pressured Ukraine into investigating Democrats, including former Vice President Joe Biden, while withholding military assistance, they believe his actions are not impeachable.
"The question then is not whether the president did it, but whether the United States Senate or the American people should decide what to do about what he did," Sen. Lamar Alexander (R-Tenn.), who is not seeking reelection this year and was one of two GOP wildcards on witnesses, said in a statement. "I believe that the constitution provides that the people should make that decision in the presidential election that begins in Iowa on Monday."
Sen. Lisa Murkowski (R-Alaska) was the other Republican wildcard.
"Given the partisan nature of this impeachment from the very beginning and throughout, I have come to the conclusion that there will be no fair trial in the Senate," she explained in a statement. "I don't believe the continuation of this process will change anything. It is sad for me to admit that, as an institution, the Congress has failed."