Mike Gallagher Pushes Sanctions Against Olympic Organizers With Peng Shuai Bill
Rep. Mike Gallagher (R-WI) has introduced legislation that could see the United States punish senior members of the world's Olympic governing body over their handling of a high-profile rape allegation by Chinese tennis star Peng Shuai.
Contents of the Free Peng Shuai Act seen by Newsweek could have direct implications for International Olympic Committee (IOC) President Thomas Bach, who was scheduled to meet Peng in person this January ahead of the Beijing Winter Games, which open in 16 days.
Bach and other IOC officials would be subject to sanctions under the Global Magnitsky Act if found to have abetted the Chinese government's attempt to suppress Peng's claim against Zhang Gaoli, 75, the former vice premier whose name is now tied to the country's most prominent #MeToo case to date.
Peng, 36, was not seen or heard from for more than two weeks after making her allegation against Zhang in a November 2 social media post, which, along with her verified account, was scrubbed 30 minutes later. The former world doubles no. 1 has made a handful of managed appearances since, including a dubious impromptu interview with Singapore's Chinese-language newspaper Lianhe Zaobao, in which she denied having accused anyone of sexual assault.
Peng has not appeared or spoken in public without the presence of a Chinese official since her original allegation. On Monday, former Houston Rockets center Yao Ming told a Beijing press conference that Peng was "in pretty good condition" when he met her in December.
Meanwhile, the IOC's two video calls with Peng have been panned for failing to address the central matter of Peng's case and therefore did little to calm global concerns, in particularly those of Peng's peers at the Women's Tennis Association (WTA).
In December, Bach asked concerned parties to respect Peng's privacy, without acknowledging her decision to take the story public on China's largest social media platform, Weibo, in front of its 570 million active monthly users.
Peng's name remains a censored keyword on the website, but most telling is the continuing one-way flow of information on external platforms such as Twitter. None of Peng's latest developments, including her denial in Lianhe Zaobao, have appeared on China's news sites or social media services.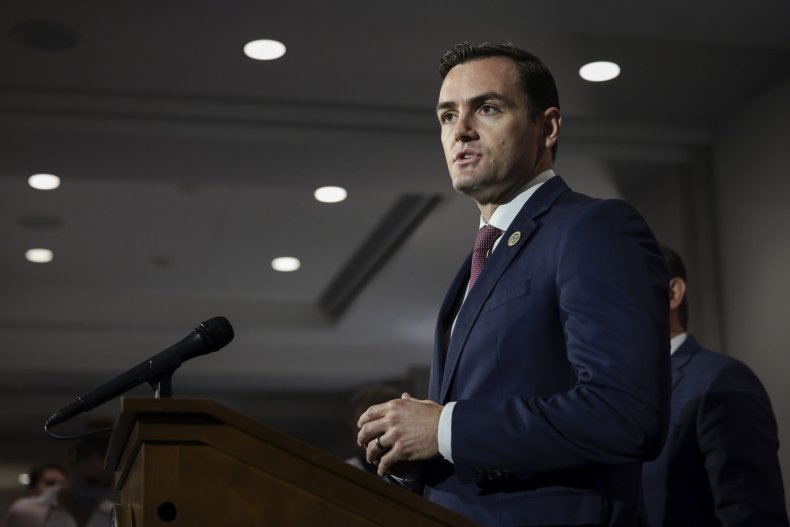 "Peng Shuai's disappearance demonstrates the dangers facing the thousands of athletes who are about to travel to Beijing for the Olympics. The IOC knows this, but rather than stand up for athletes, it has chosen its own self-interest and been complicit in the [Chinese Communist Party] CCP's human rights abuses," Gallagher said in a statement.
"Boycotting the Olympics is not enough. It's time to sanction IOC President Thomas Bach and any other IOC official who helped cover up Peng's disappearance," he said.
The congressman's legislation, introduced in the House of Representatives on Tuesday, would require President Joe Biden to determine whether Bach or other IOC officials had "materially assisted the Government of the People's Republic of China in the disappearance of Peng Shuai."
Reached by Newsweek on Thursday, the IOC defended an approach it has called "silent diplomacy."
"We had to decide how to proceed. You normally have two options: a public statement with the hope that this will resolve the situation, possibly combined with public pressure. Or you become active yourself in order to find a solution through discreet dialogue. This is what is called silent diplomacy," a spokesperson said in a written statement.
"Based on our own experience and that of other organisations and governments, this option is the most promising. We tried to contact Peng Shuai through the Chinese sports organisations with which we are in regular contact, with her physical integrity as our top priority," said the IOC, which noted its efforts resulted in two video conferences and an in-person meeting "in the next couple of weeks."
"Silent diplomacy and face-to-face contact need to be respected by the public," the committee said.
The WTA, backed by its members, has been among the most vocal organizations calling on Beijing to allow a full and transparent investigation into Peng's allegation. In December, WTA Chair Steve Simon went as far as suspending all competitions in China and Hong Kong.
"In good conscience, I don't see how I can ask our athletes to compete there when Peng Shuai is not allowed to communicate freely and has seemingly been pressured to contradict her allegation of sexual assault," Simon said at the time.
With the Winter Olympics on the horizon—in a personally significant year for Chinese leader Xi Jinping—Beijing seems to want Peng's allegation to disappear for good. In China, it already has.