A Republican group will air an ad Monday morning on MSNBC, slamming President Donald Trump and Vice President Mike Pence for being unconcerned about the "corruption" of foreign leaders and government officials paying the president by spending money at his resorts and properties.
The video, paid for by Republicans for the Rule of Law, opens by highlighting how Pence "railed against the Clintons" for accepting millions of dollars in contributions from foreign leaders to their family foundation while Hillary Clinton served as Secretary of State. Continuing, it pointed out that Pence "hasn't said anything about" foreign dignitaries spending significant sums of money at properties owned by The Trump Organization.
"The president's luxury hotel seems to be the place for foreign governments," the ad continues, with a news voice over. The clip then features a montage of reporting on Saudi Arabian and Bahraini bookings at the president's properties. It also highlights how Trump has garnered more than 30 new trademarks in China since taking office.
In conclusion, the ad points out that Pence saw the Clinton Foundation's acceptance of foreign and corporate donations as a "conflict of interest" while he has simply responded, "who cares," when asked about international leaders paying to directly enrich the Trump family.
Republicans for the Rule of Law legal advisor and spokesman Chris Truax pointed out that "enriching those who hold power" is not one of the responsibilities of the federal government laid out in the Constitution.
"Americans know this, and even the appearance of corruption damages our institutions and our faith in government. It was wrong when, as secretary of state, Hillary Clinton allowed the non-profit Clinton Foundation to accept cash from foreign governments," Truax said in a statement emailed to Newsweek. "It's doubly wrong when President Trump allows foreign governments to pour money into his for-profit hotels. And when President Trump allows the U.S. government to pour money into his hotels, it crosses the line between the appearance of corruption and corruption itself," he continued.
Truax argued that members of Trump's cabinet "would be in jail" if they behaved in the same manner as the president. "Not allowing politicians to line their own pockets with taxpayer money is Democracy 101," he pointed out.
As the ad highlights, Trump's businesses have seen a spike in foreign contributions since he took office. The governments of numerous Middle Eastern nations, and in particular Saudi Arabia, have booked expensive stays at the president's luxury hotels in New York, Chicago and Washington, D.C. Several foreign governments also relocated the venues of embassy parties to Trump properties after the president's election.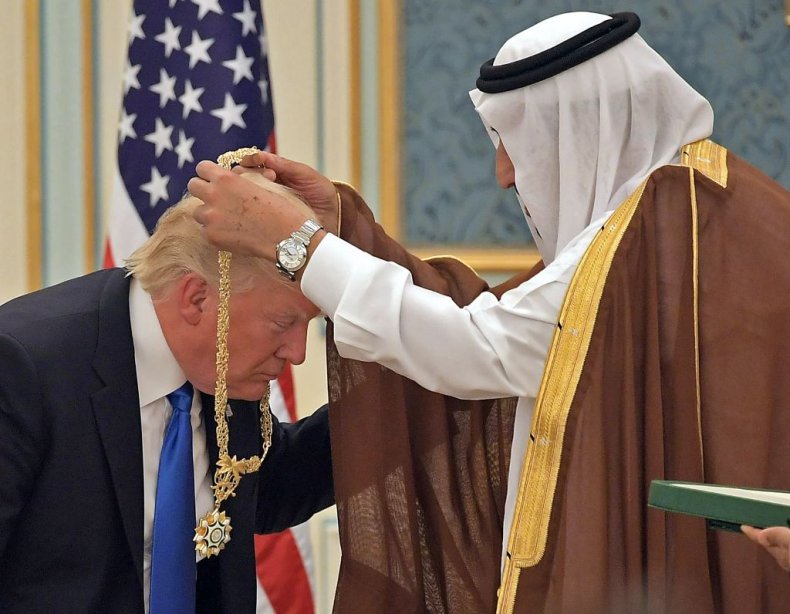 Legal experts argue that these payments to the president's business directly violate the Emoluments Clauses of the Constitution, which bar elected leaders from receiving foreign gifts.
"The Foreign Emoluments Clause is the core anti-corruption clause of Art I. The Domestic Emoluments Clause is the core anti-profiteering clause of Art II," Constitutional legal scholar Laurence Tribe, a professor at Harvard University, explained in a tweet earlier this month. "Congress' consent (or lack of it) is key to the first. It's irrelevant to the second. Trump is violating both."
Trump famously declined to place all of his assets in a blind trust, as previous presidents have to avoid conflicts of interest while in office, before his inauguration in 2017. Instead, he resigned from his positions and handed control of Trump Organization businesses to his sons, Donald Trump Jr. and Eric Trump.
As Tribe pointed out, concerns extend to domestic payments to Trump's properties as well. An April report by Quartz and the Center for Responsive Politics highlighted how the Republican National Committee, pro-Trump super PACs and Trump's personal reelection committee had spent at least $4.7 million at Trump hotels, golf courses and restaurants. Prior to the president launching his campaign at the end of 2015, political spending at Trump Organization businesses had not surpassed $80,000 within a two-year election cycle.
"He can't be taking that money," Democratic Representative Jamie Raskin of Maryland said in an interview with CNN this month. "It's absolutely impeachable for the president to be violating the Emoluments Clauses."