Republican Group Releases Ad Describing Trump As 'Unfit, Unwell, Unacceptable'
The conservative group Republicans for the Rule of Law (RRL) will air a national TV ad during Fox & Friends on Thursday calling President Donald Trump "unfit, unwell, unacceptable" for his suggestion at the April 23 White House daily coronavirus briefing that the virus might be cured by exposing bodies to radiation and injecting disinfectant.
"50,000 people have died and this is our president," the ad says via on-screen text before cutting to footage of Trump from the April 23 briefing.
"So, supposing we hit the body with a tremendous, whether it's ultraviolet or just very powerful light," he says turning to Dr. Deborah Birx and adding, "I think that hasn't been checked, but you're going to test it."
"And then I said," he continues, "'Supposing you brought the light inside the body,' which you can do either through the skin or uhhh, in some other way. And I think you said you're going to test that too," Trump says, turning once more to Dr. Birx. "Sounds interesting."
"Then I see that disinfectant knocks it out in a minute, one minute. And is there a way we can do something like that by injection inside or almost a cleaning?"
The video then shows Dr. Birx looking forward, her hands folded in her lap without acknowledging the president's question.
"You can apply light and heat to cure," Trump says, still looking at Dr. Birx.
"I'm not a doctor," Trump says, "but I'm like a person who has a good you know what," with his right index finger gesturing towards his head.
"Unfit, unwell, unacceptable" the text on the video reads.
Although Trump later asserted that his comments about radiation and injecting disinfectants were "merely being sarcastic," his remarks compelled manufacturers of cleaning products to warn consumers against ingesting household cleaners.
After Trump's comment caused calls to poison control centers to spike in New York, Michigan, Illinois and Maryland. Maryland's Republican Governor Larry Hogan said his state received "hundreds of calls" from residents asking if it was safe to ingest cleaning products.
Sarah Longwell, a spokeswoman for Republicans for the Rule of Law, said in a statement given to Newsweek, "It's dangerous for the President to use the global reach of his press conferences to speculate wildly about untested cures for coronavirus."
"Instead," Longwell continued, "he should focus on the more than 50,000 Americans who lost their lives, and coordinating a federal response to the pandemic that includes widespread testing and ensuring our hospitals and healthcare workers have the equipment they need to save lives. America deserves better leadership."
Newsweek reached out to the White House for comment.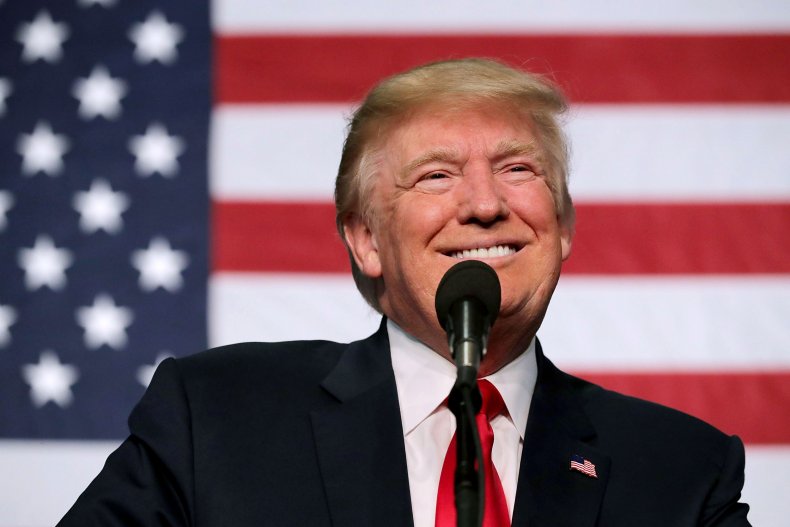 After receiving widespread criticism for his remarks, the president wrote via Twitter, "What is the purpose of having White House News Conferences when the Lamestream Media asks nothing but hostile questions, & then refuses to report the truth or facts accurately."
White House Press Secretary Kayleigh McEnany defended the president's remarks stating, "President Trump has repeatedly said that Americans should consult with medical doctors regarding coronavirus treatment... Leave it to the media to irresponsibly take President Trump out of context and run with negative headlines."
When asked on Sunday about Trump's comments by CNN commentator Jake Tapper, Dr. Birx said, "I think it bothers me this is still in the news cycle. I think we're missing the bigger pieces of what we need to be doing as an American people to continue to protect one another."
RRL was created in 2019 by the conservative political group Defending Democracy Together. Both groups say Trump has violated national founding principles requiring the president to comply with the law.
RRL has released several ads over the past year raising concerns about Trump's leadership and urging Congressional Republicans to hold Trump accountable. Their penultimate ad criticized Trump's false assertion made on April 13 that he alone can decide when to re-open states shut down to stop the spread of coronavirus.