Joe Harding Returns All Disney Donations Over 'Don't Say Gay' Bill Reaction
Joe Harding is cutting his ties with Disney after announcing he's returning the political campaign donations it gave him.
The Florida politician introduced the recent Parental Rights in Education bill, known more commonly as the "Don't Say Gay" bill, which Disney has now come out against.
Reacting to the reaction, Harding has announced he is returning Disney's campaign donations because it has listened to the "woke mob" who opposed the bill.
The bill (HB 1557) was officially signed last week and limits children in kindergarten through to Grade 3 having "classroom discussions about sexual orientation or gender identity."
It's been met with a huge backlash from democratic politicians and the LGBTQ+ community, and eventually Disney spoke out against the bill after an employee walk out.
In a press release, Harding announced that he has chosen to return $3,000 in donations to Disney because of its public criticism of the legislation.
"As a company whose primary audiences are young children and families, Disney has let us down through its complicity with the false narratives pushed by liberal media, who have repeatedly mischaracterized the content of my legislation," Harding said his the statement.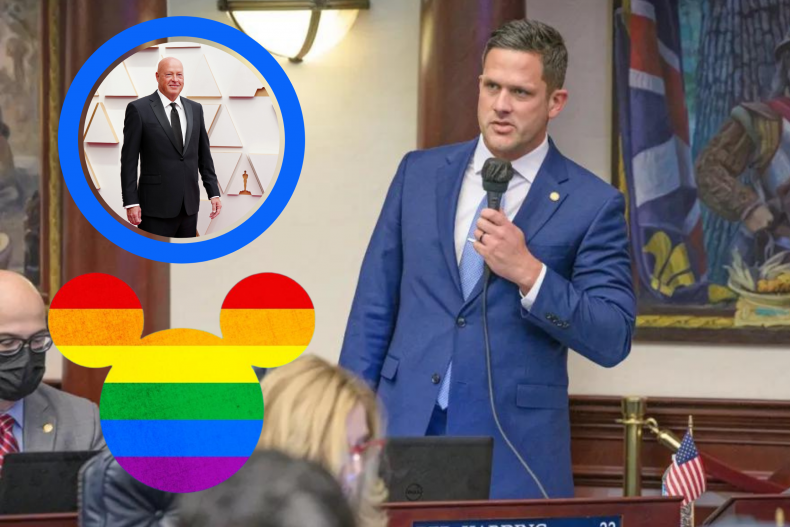 He continued: "Some radical elements of our society are embracing an idea that parents are unsuited to be parents and that schools have a primary role in determining when and how young children are exposed to sexual topics. I invite Disney to reconsider its position and join forces with those of us who support parents first."
After the LGBTQ+ community initially criticized Disney for its failure to speak out against the bill, Walt Disney Company CEO Bob Chapek apologized for not being a "stronger ally in the fight for equal rights."
He also announced that Disney would pause all of its political donations in Florida.
On Wednesday, Harding criticized Chasten Buttigieg, Pete Buttigieg's husband, on Twitter. Harding called Chasten "sick" for "teaching gender theory to 5-year-olds."
The Member of the Florida House of Representatives, Harding appeared on news channel Newsmax on Tuesday and accused Disney of "listening to the woke mob" that also "run the Democrat party."
"Taking a stand, enough is enough. If you are a company that's built around parents and kids in Florida, and from all over the country, and you're gonna take a stand like you have, then I don't want any part of it," he told former White House Press Secretary Sean Spicer, host of Spicer & Co. on Newsmax.
Newsweek have reached out to Harding for further comment.