Republican-Run House Has Become a 'Playground,' Ex-GOP Congressman Says
Amid backlash from Representative Marjorie Taylor Greene's recent "national divorce" comments, David Jolly, a former Florida congressman, warned on Saturday that the GOP-run House has "become a bit of a playground."
While speaking with MSNBC's Katie Phang, Jolly said, "In many ways, he's [House Speaker Kevin McCarthy] been overrun by unserious legislators. And I actually worry about that. I think the House has become a bit of a playground, and not able now to respond to an international or national crisis, but for some of the leadership you occasionally see from those that have been there for a while."
"And the ignorance of Marjorie Taylor Greene's comments is a perfect reflection," he added. "Lady, last I checked, Georgia is trending blue. So, Marjorie, if you want a national divorce, welcome to all your new Democratic colleagues. I hope you can work well with [California Governor] Gavin Newsom because of how stupid of a comment can you make?"
Greene took to Twitter on Monday to announce that she wants a "national divorce" of red and blue states. She also defended the "divorce" plan during an interview with Fox News host Sean Hannity on Tuesday night and said that the move was necessary because conservatives were tired of being "bullied by the left."
"From the sick and disgusting woke culture issues shoved down our throats to the Democrat's traitorous America Last policies, we are done," the Georgia congresswoman wrote in her Monday tweet.
Following her comments, she was then hit with criticism from former GOP Representative Liz Cheney of Wyoming.
"Let's review some of the governing principles of America," Cheney tweeted on Monday, tagging Greene. "Our country is governed by the Constitution. You swore an oath to support and defend the Constitution. Secession is unconstitutional. No member of Congress should advocate secession, Marjorie."
After initial feedback, Greene offered more details about what this separation would look like. She said her plan for a national divorce would require a "much smaller federal government."
"We would immediately alleviate the need for departments like the Department of Education. States would have full control of their public education," the congresswoman offered on Tuesday. The GOP lawmaker added that red states would not have to "abide by climate cult lies."
"Of course interstate trade, travel, and state relations would continue. However in red states, they could have different rules about store product placement on national store's shelves," she concluded.
Newsweek has reached out to Greene's spokesman, Nick Dyer, for comment.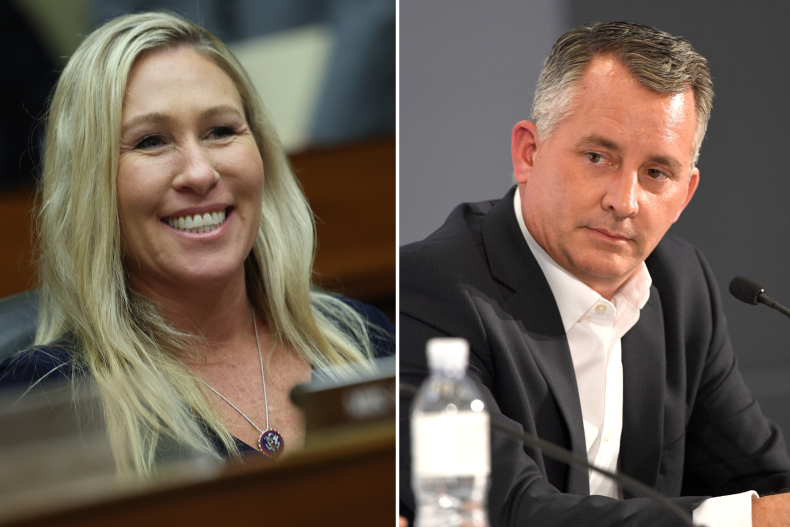 Meanwhile, political analyst Craig Agranoff told Newsweek on Saturday that Greene is "completely pandering to her base" with her tweets.
"This is where paying attention in school comes in handy," Agranoff said. "It is not legally possible for any state/s to unilaterally secede from the United States of America. The U.S. Constitution does not provide any provisions for states to secede. The Supreme Court also ruled in 1869, in Texas v. White, that states cannot secede from the Union."
He added: "Any attempt by a state to secede would be considered unconstitutional and would likely be met with a strong response from the federal government. Secession would also have significant economic and social consequences for the seceding state/s and the rest of the country."
Agranoff concluded, "It is worth noting that secession has been a topic of political discussion in the United States for many years, and some people may advocate for it as a means of achieving political goals. However, any serious attempt at secession would likely face numerous legal, political, and practical challenges."