Senate Republicans Use Biden's Reasoning in Rare Defense of Nancy Pelosi
In a rare move, more than half of the Senate GOP issued a statement in support of House Speaker Nancy Pelosi's controversial trip to Taiwan.
In a joint statement, 26 Republican Senators—including Senate Minority Leader Mitch McConnell—backed the Democrat for her decision to make a stop on the island, despite warnings from the Chinese Communist Party that it would take "forceful action" should Pelosi go through with the stopover.
"For decades, members of the United States Congress, including previous Speakers of the House, have travelled to Taiwan," the Republicans said. "This travel is consistent with the United States' One China policy to which we are committed. We are also committed now, more than ever, to all elements of the Taiwan Relations Act."
On Tuesday, Pelosi became the first high-ranking U.S. official to visit Taiwan in 25 years. The last House speaker to stop on the island was Republican Newt Gingrich in 1997.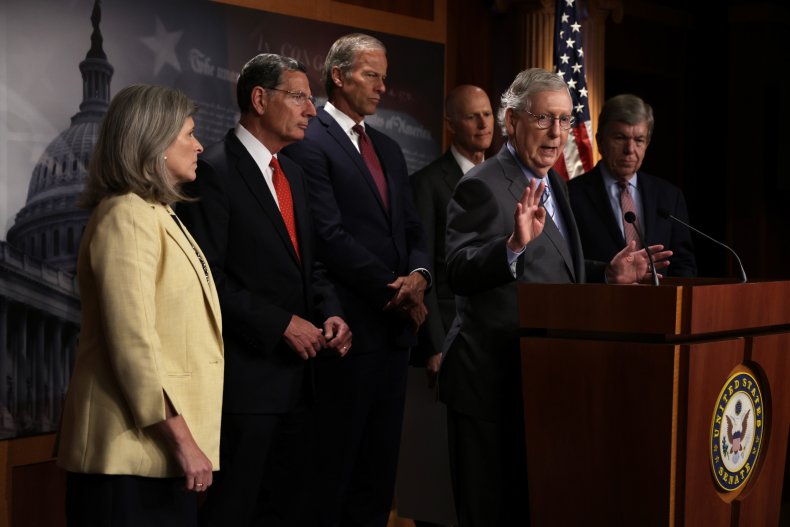 The reasons that the GOP senators cited looked similar to the same reasons the Biden administration has used to downplay the importance of a trip from Pelosi.
A day earlier, before her stop in Taiwan had been confirmed, National Security Council spokesman John Kirby told reporters that should she decide to visit the island, "it's not without precedent."
"I think we've laid out very clearly that if she goes—if she goes—it's not without precedent. It's not new. It doesn't change anything," Kirby said. "We've not ramped up the rhetoric. We've not changed our behavior."
He added that President Joe Biden has made clear that Pelosi and other members of Congress make their own decisions about their overseas travels, although Biden has also cautioned his fellow Democrat that a trip to Taiwan is "not a good idea."
Pelosi, who is an ardent defender of Taiwan, has received bipartisan support over the planned stop in Taipei, but Beijing has repeatedly cautioned her not to make the trip to what it sees as a breakaway province from its One China Policy.
On Tuesday, she defended her decision to visit the island, saying that "it in no way contradicts longstanding United States policy" and that "America's solidarity with the 23 million people of Taiwan is more important today than ever, as the world faces a choice between autocracy and democracy."
Here is the full list of Republican senators who backed Pelosi's trip to Taiwan:
Senator Kevin Cramer of North Dakota
Senator Dan Sullivan of Alaska
Senator Mitch McConnell of Kentucky
Senator John Thune of South Dakota
Senator Jim Inhofe of Oklahoma
Senator Jim Risch of Idaho
Senator Roy Blunt of Missouri
Senator John Cornyn of Texas
Senator John Barrasso of Wyoming
Senator Ben Sasse of Nebraska
Senator Marsha Blackburn of Tennessee
Senator Thom Tillis of North Carolina
Senator Tommy Tuberville of Alamba
Senator Steve Daines of Montana
Senator Susan Collins of Maine
Senator Deb Fischer of Nebraska
Senator Todd Young of Indana
Senator Joni Ernst of Iowa
Senator Rob Portman of Ohio
Senator Shelley Moore Capito of West Virginia
Senator Mike Crapo of Indiana
Senator Richard Burr of North Carolina
Senator John Boozman of Arkansas
Senator Tim Scott of South Carolina
Senator Chuck Grassley of Iowa
Senator Pat Toomey of Pennsylvania
Correction 08/03/22 12:53 p.m. ET: An earlier version of this story said Tillis was from North Dakota.