Only 27% Of Republicans Think Climate Change Is a 'Major Threat' to the United States
According to a new poll, less than a third of Republicans think that climate change is a "major threat to the well-being of the United States."
A survey conducted by the Pew Research Institute asked respondents about several "serious global threats," including Russian influence, the Islamic State (ISIS) and North Korea's nuclear program.
Global climate change was far and away the most divisive issue: Only 27 percent of Republicans and Republican-leaning independents agreed it was a threat, compared to 84 percent of Democrats and Democratic-leaning independents.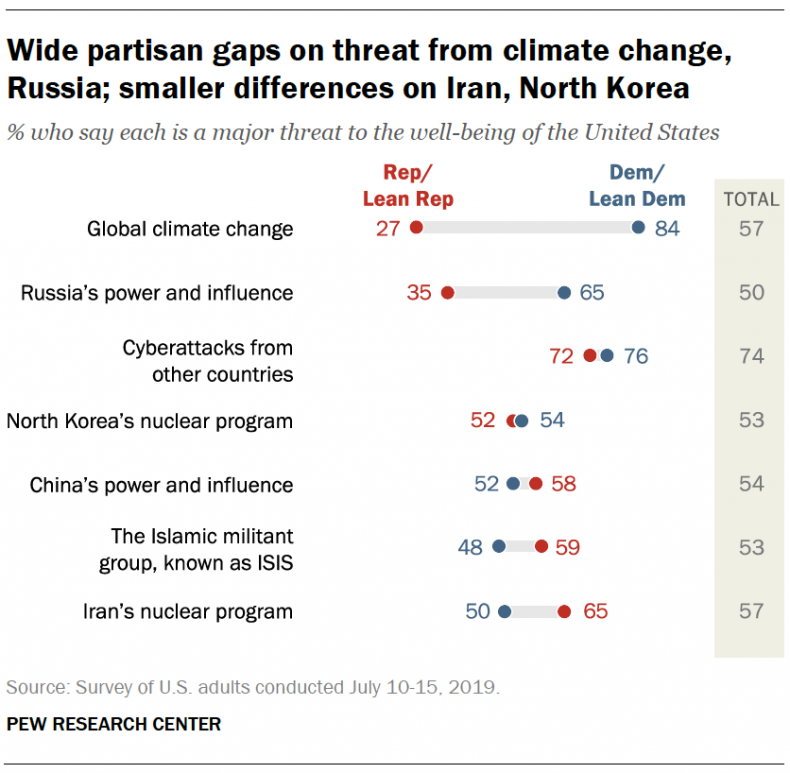 Overall, though, the issue ranked as the biggest crisis for most respondents, with 57 percent saying it put the U.S. at risk. That's 2 percent less than were concerned with climate change in a 2017 Pew survey.
That might not be surprising, given the debates about the Green New Deal in Congress. Senate Majority Leader Mitch McConnell, who says he does believe in climate change, claimed the Green New Deal would "[kill] off entire domestic industries [and wind] down millions of jobs—basically [outlaw] the only sources of energy that working-class and middle-class families can actually afford."
Gov. Jay Inslee of Washington State, currently a Democratic candidate for president, has made the environment a central part of his campaign, with a "community climate justice" plan for America to transition to clean economy.
On the other hand, President Trump has called climate change a "Chinese hoax" designed "make U.S. manufacturing non-competitive."
Analyst Rod Schoonover resigned from the State Department after the White House censored his written testimony to Congress arguing that climate change is a credible threat to national security.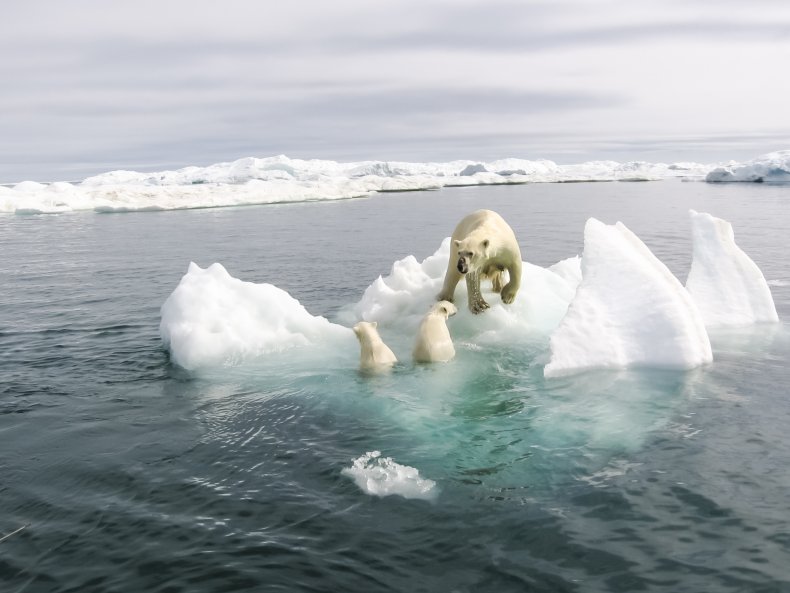 "It's upsetting that in our country discussion of climate change falls into a political debate instead of following the evidence," Meredith Hastings, a professor of earth, environmental and planetary sciences at Brown University, tells Newsweek.
"People should form their own opinions, but based on the evidence—not based on what a politician has told them to think. That's what happened in this country, but it's not how it plays out in every country. It doesn't always fall on party lines."
Hastings, who also works with the Institute at Brown for Environment and Society, says Americans can already see the impact of climate change in their own lifetimes.
"The evidence is all around us. People are experiencing climate patterns that very different from their parents and grandparents—from their own childhoods," she says. "That some people don't want to tune into their own experiences with climate in their own backyard is frustrating."
Concern about Russia's power and influence also broke along party lines, with 65 percent of Democrats saying it was a major threat, versus just 35 percent of Republicans.
Most Americans from both parties are worried about cyber attacks from other countries, including 72 percent of Republicans and 76 percent of Democrats.
The Pew poll surveyed 1,502 people, with 691 respondents saying they identified as Republican/Republican-leaning and 683 identifying as Democrats or leaning that way.