A congressional delegation led by Republican lawmakers met with Taiwanese President Tsai Ing-wen and senior security officials early on Wednesday, local news outlets said.
The six senators and congressmen, whose identities have yet to be officially confirmed, were said to be in a diplomatic convoy that arrived at Taiwan's Presidential Office at 9:30 a.m. local time, roughly 15 minutes after Tsai.
The group of 13 people, including seven aides, arrived in Taipei via Manila late on Tuesday in a U.S. Navy jet—a customary mode of transport, according to a Pentagon statement released later the same day.
Taiwan-based Mirror Media and Hong Kong's South China Morning Post have named the Republicans as Senators John Cornyn (TX), Mike Lee (UT), Tommy Tuberville (AL) and Mike Crapo (ID). Republican Congressman Jake Ellzey (TX) is reportedly among the delegates, but the sixth American lawmaker—also from the House—remains unnamed.
Taiwan's Foreign Ministry told Newsweek on Tuesday that the specifics would be kept private at the request of the delegation, whose visit was arranged by the American Institute in Taiwan—the de facto embassy in Taipei.
Taiwanese public broadcaster PTS said the group was scheduled to meet with Tsai, members of her National Security Council as well as senior Defense Ministry officials. Bilateral relations, trade and national security were on the agenda, the station said.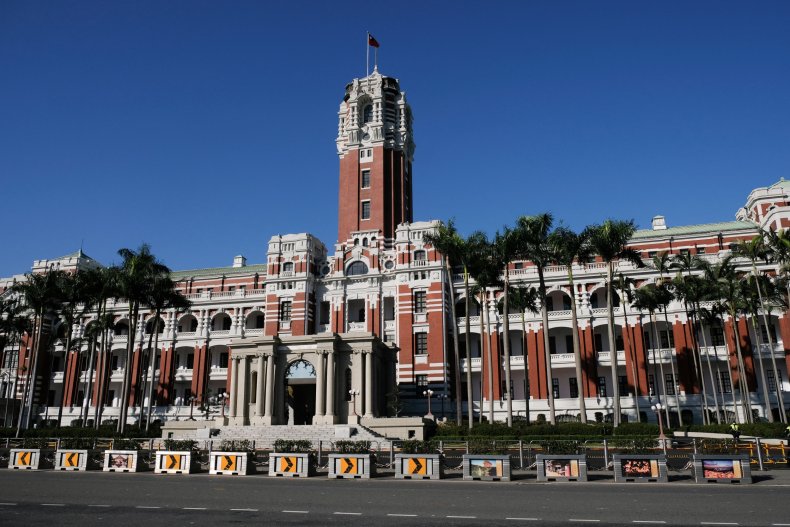 In Washington on Tuesday, State Department spokesperson Ned Price referred questions about the nature of the visit to the members of the delegations themselves, while John Kirby of the Department of Defense told a press gaggle that congressional visits to Taiwan were "fairly routine" and in line with the Taiwan Relations Act, the 1979 legislation that requires the United States to assist the island with its self-defense.
The Republican-led group is the second congressional delegation to visit Taiwan this year, after Senators Chris Coons (D-DE), Tammy Duckworth (D-IL) and Dan Sullivan (R-AK) made a brief stop in Taipei in early June. Their arrival this week comes as Beijing continues to raise the tone of cross-strait rhetoric, while the Biden administration prepares for what will be only President Joe Biden's third personal conversation with Chinese leader Xi Jinping next week.
In Congress, meanwhile, Republicans are leading several legislative attempts to bolster the island's defenses against an enemy that plans to take Taiwan "without a fight," according to Taipei's latest defense white paper, which also said the Chinese military was already capable of performing a full blockade of the island in the event of an armed conflict.
Just last week, Republicans lawmakers in the Senate Committee on Foreign Relations introduced the Taiwan Deterrence Act, which seeks to give Taiwan a conditional $2 billion in foreign military financing between 2023 and 2032. Two days earlier, Senator Josh Hawley (R-MO) introduced the Arm Taiwan Act, which seeks a $3 billion special fund for the Pentagon to assist the island's asymmetric capabilities.
Taiwan Deterrence Act co-sponsors included Senators Cornyn and Crapo, both of whom are reportedly part of the congressional delegation currently visiting Taipei.
Newsweek contacted Cornyn's office for comment.
Chinese Foreign Ministry spokesperson Wang Wenbin said at a regular press conference on Wednesday that Beijing had filed a diplomatic protest with Washington, calling on the U.S. to stop all forms of official engagement with Taiwan.
A day earlier, China's Defense Ministry spokesperson Tan Kefei accused the U.S. of "gross interference" in its internal affairs, while Shi Yi—spokesperson for the People's Liberation Army Eastern Theater Command, across from the island—said Chinese troops would conduct combat patrols in the Taiwan Strait as a response.