Republicans Who Oppose Trump Travel Ban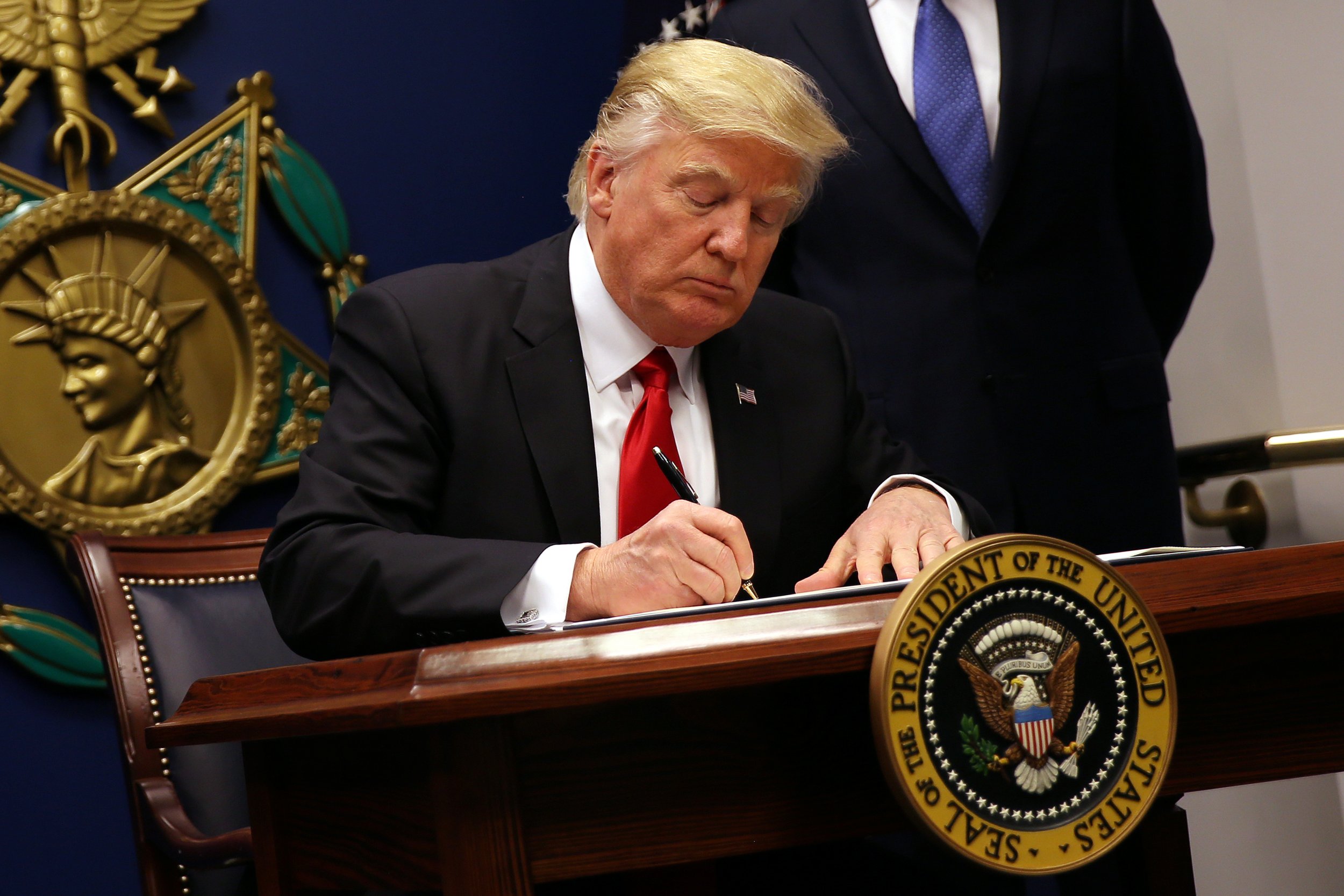 A number of Republican lawmakers are among those who have voiced criticism of President Donald Trump's travel ban since he signed an executive order Friday barring Syrian refugees and immigrants from seven predominantly Muslim countries from entering the United States. Over the weekend, Americans gathered at airports in multiple cities around the country to protest the ban. Trump has defended his actions, and even blamed a Delta computer outage for the chaos that erupted at airports.
Related: Protests held across America against Trump's ban
Along with a majority of Democratic lawmakers speaking out in opposition to the ban, a flurry of criticism came from within Trump's own party before the weekend's end—and it continues to grow. Here's the list so far of Republican senators and House members of the House who have expressed discontent or at least reservations about the order, along with their statements. We will update if more information becomes available.
Republican Senators
Lamar Alexander (Tenn.)
"This vetting proposal itself needed more vetting. More scrutiny of those traveling from war-torn countries to the United States is wise. But this broad and confusing order seems to ban legal, permanent residents with 'green cards,' and might turn away Iraqis, for example, who were translators and helped save lives of American troops and who could be killed if they stay in Iraq. And while not explicitly a religious test, it comes close to one which is inconsistent with our American character," he said in a January 29 statement.
John Barrasso (Wyo.)
"America has long needed to tighten the vetting process for those seeking to come here. However, a religious test or ban is against everything our country stands for. We need to remember that some of our best sources of information that keeps our nation and our troops safe comes from our Muslim friends and allies," he said, according to The Washington Post.
Bill Cassidy (La.)
"I am pleased to see that this order is being refined to address this, and I look forward to it being further refined," he said in a January 29 tweet.
Susan Collins (Maine)
"The worldwide refugee ban set forth in the executive order is overly broad and implementing it will be immediately problematic," she said, according to the Bangor Daily News.
Bob Corker (Tenn.)
"The administration should immediately make appropriate revisions," Corker said, according to the Times Free Press, adding, "and it is my hope that following a thorough review and implementation of security enhancements that many of these programs will be improved and reinstated."
Joni Ernst (Iowa)
"In our efforts to protect our nation from ISIS, we also must ensure we are not inadvertently penalizing our allies in the fight against radical Islamic terrorism—especially those who have supported U.S. military efforts in Iraq," Ernst said, according to The Des Moines Register. "We are a welcoming nation, a nation of immigrants—of all religions and from countries across the world. But we must be vigilant in our efforts to ensure the protection of our homeland."
Jeff Flake (Ariz.)
"President Trump and his administration are right to be concerned about national security, but it's unacceptable when even legal permanent residents are being detained or turned away at airports and ports of entry. Enhancing long term national security requires that we have a clear-eyed view of radical Islamic terrorism without ascribing radical Islamic terrorist views to all Muslims," he said on January 28.
Cory Gardner (Colo.)
"While I am supportive of strengthening our screening processes and securing our borders, a blanket travel ban goes too far. I also believe that lawful residents of the United States should be permitted to enter the country. I urge the Administration to take the appropriate steps to fix this overly broad executive order," he said, as reported by The Denver Post.
Lindsey Graham (S.C.) and John McCain (Ariz.)
In a joint statement on January 29, the two senators said: "It is clear from the confusion at our airports across the nation that President Trump's executive order was not properly vetted. We are particularly concerned by reports that this order went into effect with little to no consultation with the Departments of State, Defense, Justice, and Homeland Security. Such a hasty process risks harmful results. We should not stop green-card holders from returning to the country they call home. We should not stop those who have served as interpreters for our military and diplomats from seeking refuge in the country they risked their lives to help. And we should not turn our backs on those refugees who have been shown through extensive vetting to pose no demonstrable threat to our nation, and who have suffered unspeakable horrors, most of them women and children. Ultimately, we fear this executive order will become a self-inflicted wound in the fight against terrorism."
(Trump later accused McCain and Graham, who were GOP presidential candidates in 2008 and 2016, respectively, of being "weak on immigration" and "looking to start World War III.")
Orrin Hatch (Utah)
Dean Heller (Nev.)
"I share the President's desire to protect our nation from harm.I agree that better vetting and border protection measures are necessary. That's why I support the thorough vetting of individuals entering our country. However, I am deeply troubled by the appearance of religious ban. The use of an overly broad executive order is not the way to strengthen national security. I encourage the Administration to partner with Congress to find a solution," he said in a series of tweets on January 29.
Johnny Isakson (Ga.)
"I do think in the case of the immigration issue that the mandate over the weekend was not very well vetted and the people designed to carry out the mandate didn't know what the mandate was, and when asked some of the questions it didn't sound like the White House knew what it was exactly," he said, according to The Washington Post.
Related: Obama supports protests, says 'American values are at stake'
James Lankford (Okla.)
Mike Lee (Utah)
"I do have some technical questions about President Trump's Executive Order titled 'Protecting the Nation From Foreign Terrorist Entry Into the United States.' My staff and I will continue to reach out to the White House for clarification on these issues," he said, according to The Salt Lake Tribune.
Jerry Moran (Kan.)
"Keeping Americans safe should be our federal government's top priority. Strengthening our immigration system is critical to that end, and it's common sense to have appropriate vetting procedures in place for individuals wishing to travel to our country. While I support thorough vetting, I do not support restricting the rights of U.S. citizens and lawful permanent residents. Furthermore, far-reaching national security policy should always be devised in consultation with Congress and relevant government agencies," he said in a January 30 statement.
Rob Portman (Ohio)
"It is not a ban, however, I think it was not properly vetted. So you have an extreme vetting proposal that didn't get the vetting it should have had, and as a result, in the implementation, we've seen some problems," he told CNN on January 29, adding that the country should "slow down" and "tighten things up" in a way consistent with American values and national security. He said, "We've got to do it in a way that makes sense."
Marco Rubio (Fla.) and Tim Scott (S.C.)
Ben Sasse (Neb.)
"The President is right to focus attention on the obvious fact that borders matter. At the same time, while not technically a Muslim ban, this order is too broad. There are two ways to lose our generational battle against jihadism by losing touch with reality. The first is to keep pretending that jihadi terrorism has no connection to Islam or to certain countries. That's been a disaster. And here's the second way to fail: If we send a signal to the Middle East that the U.S. sees all Muslims as jihadis, the terrorist recruiters win by telling kids that America is banning Muslims and that this is America versus one religion. Both approaches are wrong, and both will make us less safe. Our generational fight against jihadism requires wisdom," he said in a January 28 statement.
Pat Toomey (Pa.)
"I support the administration's decision to increase vetting and temporarily suspend the admission of certain individuals from states that sponsor or provide safe havens to terrorists, or are too weak to prosecute terrorists within their borders. Terrorists have successfully infiltrated refugee populations entering Europe and gone on to commit heinous acts of barbarity.... Unfortunately, the initial executive order was flawed—it was too broad and poorly explained. This apparently resulted in denied entry into the United States for lawful permanent residents and others who should have been allowed immediate entry. Fortunately, the administration has clarified that this order does not apply to Green Card holders and that the Secretaries of State and Homeland Security have the ability to grant exceptions which certainly should apply to, among others, foreign nationals who served the U.S. military in various support roles," he said in a January 30 statement.
Thom Tillis (N.C.)
Republican House Members
Justin Amash (Mich.)
Susan Brooks (Ind.)
Larry Bucshon (Ind.)
Bucshon said he supports the temporary restrictions until the United States has a verifiable vetting system. But he added that the ban should not affect legal permanent residents or those whose refugee status or visas have previously been approved, The Indianapolis Star reported.
Barbara Comstock (Va.)
Carlos Curbelo (Fla.)
Charlie Dent (Pa.)
"This is unacceptable," Dent said, according to Philly.com. He urged "a more thoughtful and deliberate policy."
John Faso (N.Y.)
"After careful review of the recent executive order regarding immigration policy, I believe that the order was neither well drafted nor well implemented. Given recent events both here and abroad, we need to take steps to strengthen our nation's security; however, this is most effectively pursued through thoughtful and deliberative legislation. While I acknowledge that the president may act in the event of a national security threat or emergency situation, this process was rushed and led to confusion," he said, according to The Washington Post.
Brian Fitzpatrick (Pa.)
Rodney Frelinghuysen (N.J.)
Jaime Herrera Beutler (Wash.)
"Our nation should be able to uphold its tradition of allowing those law-abiding foreign nationals—some of whom have put their own lives on the line to provide assistance to the U.S. on the battlefield—to proceed with their journeys," she said, The Seattle Times reported.
Will Hurd (Texas)
Speaking to CNN, he called the ban "the ultimate display of mistrust."
John Katko (N.Y.)
Adam Kinzinger (Ill.)
"I support a comprehensive look at our vetting process, and I believe it's something every new administration would be expected to do. However, reports of green card holders and those who assisted us in the war on terror being denied or delayed entry is deeply concerning. Such detention is unacceptable and must be remedied immediately," he wrote in a January 29 post on Medium.
Related: Why the immigration ban led celebrities to delete Uber in protest
Raúl Labrador (Idaho)
"The Administration...could have done a better job of implementing this executive order. They failed to provide clear guidance on the policy which caused substantial confusion at the ports of entry. I urge the Administration to revisit the order's applicability to legal permanent residents of the United States, and exercise great care before taking future action," he said in a January 29 statement.
Leonard Lance (N.J.)
Dan Newhouse (Wash.)
"It is reasonable to conduct a review of prospective and existing visa holders and refugees to make sure they do not pose a security risk. However, the manner in which this Order is being implemented at airports and other points of entry appears that some innocent people, including some who have performed brave and valuable service to our anti-terror efforts, are having their lives needlessly disrupted. I encourage the administration to review its order in consultation with its national security team to ensure our enforcement resources are being targeted where they can be most effective and to allow those law-abiding green card holders and visa holders who clearly aren't a threat to security to return to their jobs and communities here in America," he said, according to Northwest Cable News.
Erik Paulsen (Minn.)
Jim Renacci (Ohio)
Ileana Ros-Lehtinen (Fla.)
"I object to the suspension of visas from the seven named countries and of the US Refugee Admissions Program because we could have accomplished our objective of keeping our homeland safe by immediate implementation of more thorough screening procedures. I do note, however, that at least some individuals will continue to be admitted during this suspension period on a case by case basis and that the suspension period is temporary. In no case should this order be applied to individuals to whom visas have already been issued, are already permanent legal US residents, or have already been granted refugee status," she said in a January 29 statement.
Frank LoBiondo (N.J.)
"The hasty execution of such efforts have created wide-spread confusion, frustration and misrepresentation of what America stands for. This was avoidable and I urge the Trump Administration, working with appropriate federal, state and local agencies, to quickly reassess," he said in a statement.
Edward Royce (Calif.)
"Pausing the intake of refugees from terror hot spots is the right call to keep America safe. I hope cases of individuals with visas traveling as this executive action went into effect—including some who served alongside U.S. troops—will be resolved quickly," he said, according to The Washington Post.
Mark Sanford (S.C.)
"I'm hearing a voice of concern that things are moving from weird to reckless in their view," Sanford said, according to The Post and Courier. "And that even if you're going to enact this policy, the way in which it was done just seems bizarre."
Jim Sensenbrenner (Wis.)
"In terms of the pause itself, it's important to emphasize that this isn't about religious affiliation, it's about national security and keeping Americans safe. This is a temporary ban so the government can ensure we have sufficient screening policies in place. While the majority of people seeking to enter the United States are peaceful, it only takes one individual to wreak havoc. I will never support a blanket ban on any religious group, but we have to do everything we can, consistent with our values as Americans, to protect the freedom and security of the American people," he said in a January 29 statement.
Elise Stefanik (N.Y.)
Steve Stivers (Ohio)
"While I agree with the President that we must improve our visa vetting process in order to better protect Americans, I believe the executive order risks violating our nation's values and fails to differentiate mainstream Islamic partners from radical Islamic terrorists—setting back our fight against radical Islam," he said in a January 29 statement.
Pat Tiberi (Ohio)
"Regarding the administration's temporary order, there are questions that need to be answered on how it is being implemented. Together with Congress, we should reevaluate our visa vetting process so that we effectively strengthen national security, uphold our values and protect our freedoms, while ensuring we are welcoming individuals and families fleeing persecution," he said, as reported by Cincinnati.com.
Fred Upton (Mich.)
"I fully support strengthening our screening processes and securing our borders, but this Executive Order needs to be scaled back. It has created real confusion for travelers and those who enforce the laws. I have heard from a number of local folks with valid concerns for themselves or loved ones as well from global companies that have legitimate worries relating to the international travel of their employees. A wiser course would have been to work with Congress to ensure that all visitors to our nation are properly vetted with appropriate documentation," he said, according to The Washington Post.
Lee Zeldin (N.Y.)
"I support the temporary entry restriction from certain nations until the administration, Congress and the American people know with confidence that any individual being granted admission does not pose a threat to our security... Every American has sympathy for the innocent person who is looking to come to America for a better life, but the process must without exception prioritize America's national security first... With all that being said, I will be closely monitoring the execution of this EO to make sure that any misapplication is corrected immediately," he said in a January 29 statement.
Dozens more Republicans, including House Leader Paul Ryan and senators Tom Cottom (Ark.) and Chuck Grassley (Iowa), support the measure because they say it's Trump's job to keep Americans safe and know who enters the country. Some, like Senate Majority Leader Mitch McConnell, have reservations in fully favoring the ban, but have offered only minimal criticism. Others remained silent.