Republicans to Receive a Trophy and Certificate for 'Participation in a Cover-Up' Impeachment Trial
Ahead of the impeachment trial's question-and-answer period commencing Wednesday afternoon, liberal activist group Need to Impeach will hand out a certificate and present a trophy to all GOP senators for their "participation in a cover-up" and not supporting witnesses.
The move will seek to exert pressure on Republicans, specifically those who are considered wildcards when it comes to supporting trial witnesses, such as former national security adviser John Bolton.
"Independent how they feel about impeachment, Americans need to hear the truth from every witness," Need to Impeach Executive Director Nathaly Arriola told Newsweek. "They need to understand the end product is they'll have participated in a full-blown cover-up of a president who is clearly criminal."
Need to Impeach was founded by billionaire Tom Steyer, a candidate seeking the Democratic Party's nomination this year for president and who's long advocated for President Donald Trump's removal from office.
The certificates and gold trophies, which sarcastically congratulate lawmakers for their "Senate participation in a shameless cover-up," will be presented to each of the 53 Senate Republicans around noon, the same time that progressive advocacy group MoveOn will host a "Swarm the Capitol" protest inside the Hart Senate Office Building.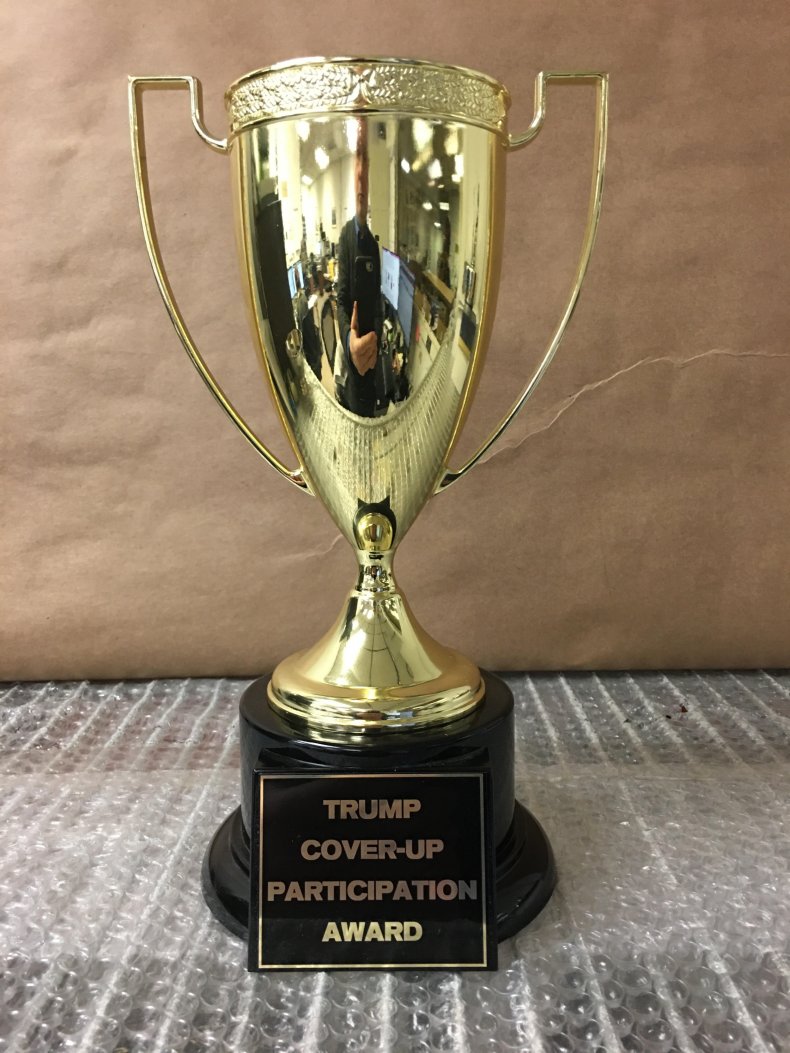 The delivery of the participation awards will also take place an hour prior to the chamber launching a question-and-answer segment that will last two days.
The schedule tees up a debate and subsequent vote to subpoena witnesses on Friday, the outcome of which remains in flux as Democrats look to gain more GOP support. Republicans Mitt Romney of Utah and Susan Collins of Maine have already signaled they'd like to—at the very least—summon Bolton, whose unpublished manuscript of his forthcoming book reportedly states Trump withheld aid from Ukraine in exchange for a desired investigation into former Vice President Joe Biden and his son, Hunter.
That means Democrats need two more GOP defectors, causing all eyes to turn to Sens. Lisa Murkowski of Alaska and Lamar Alexander of Tennessee, who've so far held their cards close. Republicans remained tight-lipped after emerging from a closed-door meeting about witnesses Tuesday afternoon with Senate Majority Leader Mitch McConnell (R-Ky.).
Reports emerged soon thereafter that while McConnell warned his members they currently lack the votes to block witnesses, it's likely they'll prevail victorious and defeat Democrats' efforts to subpoena Bolton and others, such as acting White House chief of staff Mick Mulvaney.
"I'm going to finish listening to the questions and answers and decide whether I think we need more evidence," Alexander said.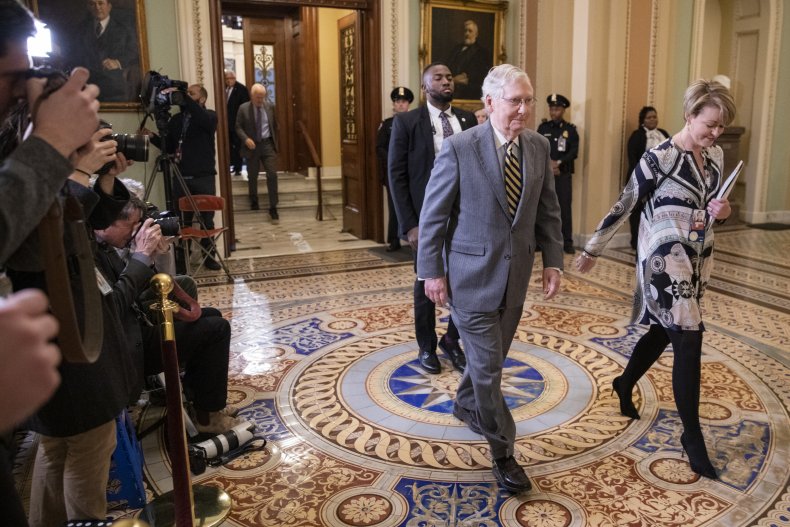 Various proposals have been floated in recent days, such as a witness exchange of Bolton for Hunter Biden or viewing Bolton's manuscript in a classified setting, but it appears as though members of both parties have gripes over each plan, leaving it unclear if either could muster enough support.
"Anything short of allowing witnesses to testify is an abdication of responsibility," Arriola said.
Need to Impeach gave out handheld mirrors to lawmakers in December before the House voted to impeach Trump so that they could "look at [themselves] in the mirror." And the group is far from the only outside organization that has sought to exert pressure on senators.
Stand Up America, a separate liberal activist group, told Newsweek that since the beginning of January, they've driven more than 25,000 calls alone to the offices of Republican Senators Collins, Murkowski, Romney, Alexander, Rob Portman of Ohio, Cory Gardner of Colorado and Martha McSally of Arizona.
In the time since the House impeached Trump December 18, the organization has driven more than 100,000 calls to GOP senators, as well as three moderate Democrats who are considered toss-ups on Trump's conviction: Joe Manchin of West Virginia, Kyrsten Sinema of Arizona and Doug Jones of Alabama.
"As the trial continues, we are continuing to ensure every senator hears directly from their constituents that they must call firsthand witnesses like John Bolton to testify," Stand Up America spokesperson Ryan Thomas told Newsweek. "Anything less than that is tantamount to a cover-up."
The graphic below, provided by Statista, illustrates American public sentiment on hearing witnesses at the impeachment trial.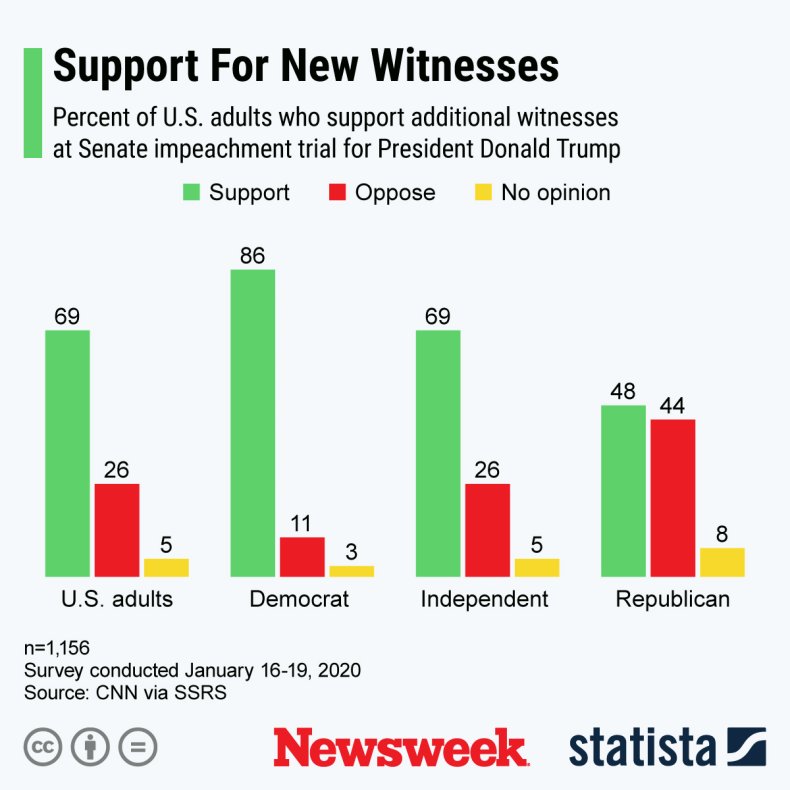 This article was updated to include an infographic.