Explorers in 22-Mile Cave Accidentally Find Dog Missing for Two Months
A group of Missouri spelunkers (cavers) managed to accidentally find a missing senior dog and come to its rescue, after the pup disappeared from the family two months ago.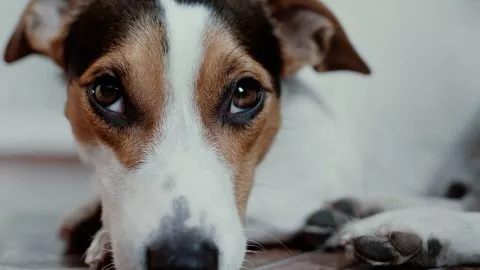 With no obvious immediate leads on the owner, rescuers even had to knock on doors in the local area in a bid to find her.
The Moore Cave system, where the dog was stumbled upon, is around 22-miles long and reported to be the 23rd longest cave in the U.S. The groups of cave explorers were deep within the cave, between Brewer and Perryville, when the dog was found.
According to reports, the cave has running water along with fish and crustaceans inside, but with "total darkness" in the cave, rescuers were left confused as to how the old dog was able to survive for so long.
Rescuers Rick Haley and Gerry Keene managed to maneuver Abby out of the cave in a duffel bag through a two-foot opening followed by 500 feet over a "tight, awkward, vertical climb."
"Our initial reaction was disbelief. The kids in the group were in front and found the dog and then told the trip leader 'Dad there's a dog here.' I have been involved in animal rescues from a cave before. Both previous times the owner contacted the cavers as they knew their animal had gone into the cave. This was very different in that we just came across her and no one knew she was there," Keene told Newsweek.
"She was totally cooperative," explained rescuer Rick Haley, who has over 32 years caving experience, in a social media post. Haley told Newsweek it took around an hour to free the lost dog.
Haley explained that Abby's nails were outgrown and long, indicating that she hadn't done much walking in the cave.
To track down the owner of the surprising dog, rescuers went door-to-door in the local area with a photo of Abby and the Biehle Assistant Fire Chief Robert Cahhon. A neighbor recognized the dog and put them in contact with Abby's owner, who said they hadn't seen her since June 9 and had assumed the dog was gone forever.
"Abby went missing on June 9th from our home. Abby and our other dog Summer took off on me late in the afternoon. Summer came back, Abby didn't. I knew something had happened to Abby because Summer won't leave her," owner Jeff Bohnert told Newsweek.
"I can see the cave area from my house, it is about a 1/4 across the field. There are many sink holes in the area I live that lead into the cave system. She could have fallen into one of them when they where out exploring around."
In the U.S., 10 million pets go missing each year, according to the American Humane Society, and many don't have the lucky fate Abby had. Instead, 23 percent are never returned to their owners, according to the Coalition for Reuniting Pets and Families.
"She is getting stronger everyday and acting more like normal. She started wagging her tail again today and let out a couple small barks. She is very skinny right now but is eating well and getting stronger each day. There aren't any obvious injuries which were thankful for," Bohnert confirmed to Newsweek.
"Abby is my daughter's childhood pet, she was super excited when I FaceTimed her and showed her Abby. She said 'how can this be, how can she still be alive?'"
Earlier this year, another dog was found in a surprising place after pup Flossie was rescued from a closed-off rabbit hole in her own backyard.
Terrier Flossie went missing on a Monday morning in Devon, England, but was found almost three days later, thanks to the combined help of her family, a neighbor, and fellow "earth dogs."
According to Vernon, Flossie had accidentally buried herself alive, after crawling down the rabbit hole. It was only when a neighbor heard a small bark from the hole in the ground that Flossie was discovered to be underneath and trapped.
Update 08/15/22 3:15 a.m. ET: This article was updated with comment from Rick Haley, Gerry Keene, and Jeff Bohnert.
{{#isDisplay}} {{/isDisplay}}