Restaurant 'Hires' Robot to Serve Tables Amid 'Exhausting' Worker Shortage
Across the country, restaurants are facing a shortage of workers, forcing establishments to take new measures to support their staff. Typically, these include benefits like offering higher pay and hiring bonuses—but some restaurants are betting on a more unconventional tactic to solve their labor woes.
At Sugar Mediterranean Grill, in Stockton, California, their newest "team member" is none other than a robot. And, while it sounds a bit strange, the practice is more common than you may suspect: a handful of restaurants nationwide have picked up the practice as a viable solution to their worker shortages.
As Sugar Mediterranean Grill's General Manager Ana Ortiz told CBS Sacramento 13, the machine has been a "lifesaver."
"You know, it helps us bring out all of the food," she explained. "The table that is closest to the patio, I press 'go' and it will take it right out."
"It makes sense for us right now because of the shortage of employees. This is the only solution we're finding," she added.
According to Ortiz, the lack of workers has been particularly tough for the establishment's current staff—a stress that the robot has helped to alleviate. "It is exhausting, but thank goodness our customers are really good. We haven't had any complaints," she told the news outlet.
The robot "employee" is structured like a high-tech stack of trays on wheels. As explained by CBS Sacramento, the bot rolls around the restaurant, delivering food from the kitchen to a designated area. From there, the human servers can simply grab the plates and take them to their respective tables.
In that sense, the robot is not so much of a replacement for human employees as it is a tool to expedite the meal service, especially during peak hours. "We love to see our people. We love to see their faces. We love to see them happy and after a while, they become family to us," explained Ortiz, noting that the servers are still integral to the business.
Newsweek has contacted the restaurant for further comment.
A handful of restaurants around the country have taken a similar approach. According to KIRO 7, in April, a restaurant owner in Hollywood, Florida spent $30,000 to outfit her establishment with three "robo-staff" members. Similarly, in May, it was reported by Patch that after an Ocean City, New Jersey restaurant only received six job applications for 60 open positions, they invested in a robot server to assist with the workload.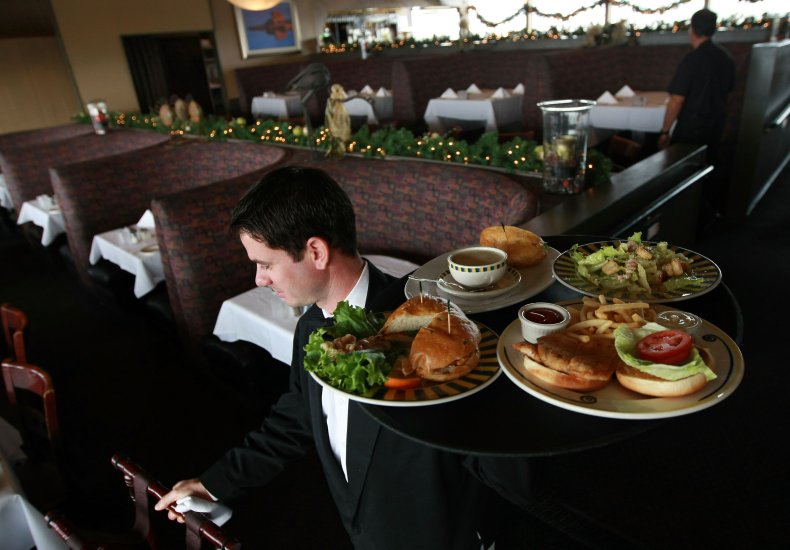 Meanwhile, conversations about the so-called labor shortage have prompted broader criticism of the restaurant industry, as more are speaking out against the poor working conditions and low wages endured by service workers. "I don't think it's a labor shortage," said president of the United Food and Commercial Workers International Union [UFCW] Marc Perrone. "I think it's a wage shortage—especially in retail."
"People were saying, 'I'm not willing to take the risk to go to work there, and maybe catch the virus, for as little as they're going to pay me now,'" he explained. "It's not a person shortage; it is in fact a gap in what employers want to pay and what workers are willing to work for."
New York Representative Alexandria Ocasio-Cortez also spoke out on the issue in a June tweet, criticizing the closure of a McDonald's location due to a lack of employees.
"'It's almost impossible to find workers,' say at-will employers refusing to offer living wages, sick/hazard pay, parental leave, or reliable schedules while rents, childcare costs, & student debt reach record highs," she wrote, drawing support on the app from progressive voices.