Restaurant Owner Faces Backlash for Receipt 'Propaganda' About 'Surcharge'
A now-viral tweet sparked a conversation when a customer showed the message on her bill from a restaurant located in West Hollywood, California, which included a 4 percent "surcharge."
The tweet, which was posted by Twitter user @LaureenNarro, received more than 43,000 likes and nearly 5,000 retweets since it was shared on Tuesday.
"A 4% surcharge has been added to your total bill to help offset the increasing costs of doing business, including higher minimum wage rates," text on the bottom of the bill read. "This is not for services provided and is not paid directly to service staff."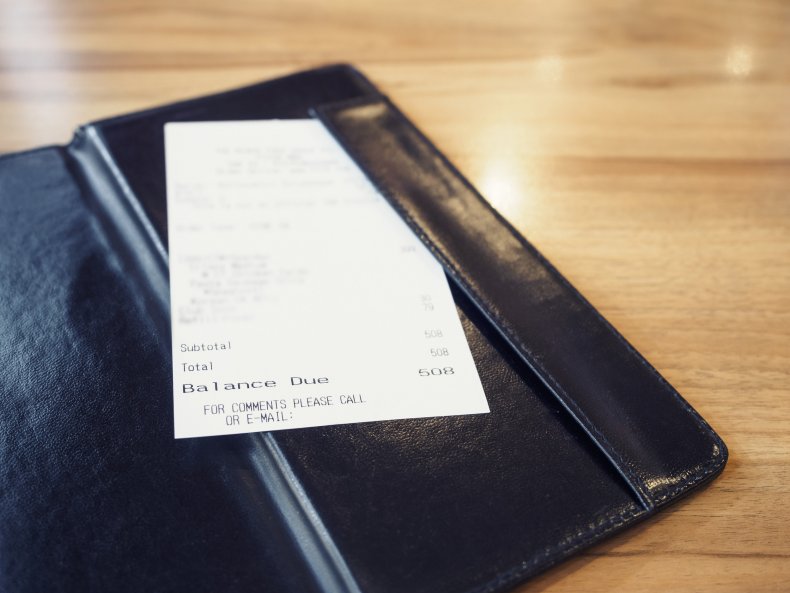 News Nation reported that the fees some customers may have noticed on their receipts are meant to balance out the rising costs of food and other restaurant costs.
Twitter user @LaureenNarro, however, was critical of the message she found at the bottom of the receipt and called on restaurant owners to pay their employees a "decent wage without whining."
According to the State of California Department of Industrial Relations, starting in 2017, the minimum wage for all industries began to increase on an annual basis.
As of January 1, 2022, the minimum wage for employers with 25 employees or less was $14 per hour. Employers who had 26 or more employees paid their employees at least $15 per hour.
"Dear restaurant owners, please don't do this on your receipts," @LaureenNarro wrote in her tweet. "It's effin' propaganda. Do you create and call out a 'surcharge' when the cost of coffee beans goes up? Or eggs and butter? No you do not. Pay workers a decent wage without whining."
Though money from surcharges typically addresses rising costs that restaurants face, @LaureenNarro said the message at the bottom of her receipt did not reference inflation.
"I'm angry when workers' wages are called out as a specific expense because other expenses aren't called out, like coffee beans or profit margins," she told Newsweek. "When owners do this, they do it for a specific reason—that's to stir up anger toward workers. That's what bothers me."
User @LaureenNarro said she has previously seen these surcharges listed on menus at other restaurants. She said it was possible that the charges were advertised at this restaurant as well, but did not see them listed and did not specifically look for them.
She declined to name the restaurant that she dined at and said the food and service were "excellent."
"I want people to go there and leave a really big tip," @LaureenNarro said.
Many fellow Twitter users agreed with @LaureenNarro's sentiments.
"I love how they make it clear 'it's because wages are rising, but it's not money we'll put into wages, it's just for my own pockets,'" one tweet read. "Dude."
"How do they have the balls to say it's to say it's to cover the cost of minimum wage but NOT give it to the staff?!" a Twitter user wrote.
Some said that seeing that message at the bottom of their receipt would prompt them not to return to the restaurant.
"Why not just raise prices a tad? Oh wait to villainize the workers," another tweet read.
User @LaureenNarro said she was gratified to find that many fellow Twitter users agreed with her and that the tweet opened a conversation about working in restaurants, work in general and low wages.
Other viral posts have sparked a conversation about wages.
A viral video shared on TikTok featured strangers who disclosed how much money they earned at their jobs.
Another viral TikTok video sparked a debate after it showed a job advertisement for a supervisor job that paid $11 per hour.
One post was shared on Reddit, which showed a leaked email from a regional manager for Applebee's. The manager suggested that the high gas prices may serve as an advantage as it would increase application flow and lower the average wage.