Resurfaced Clips of Diana 'Struggling' With Prince Harry Go Viral
An "adorable" viral video which shows Princess Diana struggling to keep a young Prince Harry in check during formal royal functions is being shared on TikTok.
The video posted by TikTok account theroyalfaamily which has over 42,000 followers has been viewed nearly 400,000 times.
The compilation features clips from royal events throughout the 1980s and 1990s including a special Buckingham Palace balcony appearance for the 50th anniversary of the Battle of Britain in 1990 and the VE Day anniversary in 1995.
The video shows the princess batting Harry's hand down and in one clip pulling him away from a car window as he sticks his tongue out at the press. The text over the clips reads: "The struggle Princess Diana had with Prince Harry is so adorable."
A number of comments on the clip state the belief that the notoriously humorous Diana would have secretly enjoyed her son's naughty antics.
One commenter under the video which has received 44,000 likes posted: "I'm sure she was secretly so happy about all of that."
"She's trying to hold her laugh in, in the first clip," another said.
Another commenter reflected that the prince is still the same today as he was in childhood: "and even pushing 40 he still hasn't grown up," it reads.
Princess Diana was known to encourage her children's naughty antics—away from the public glare.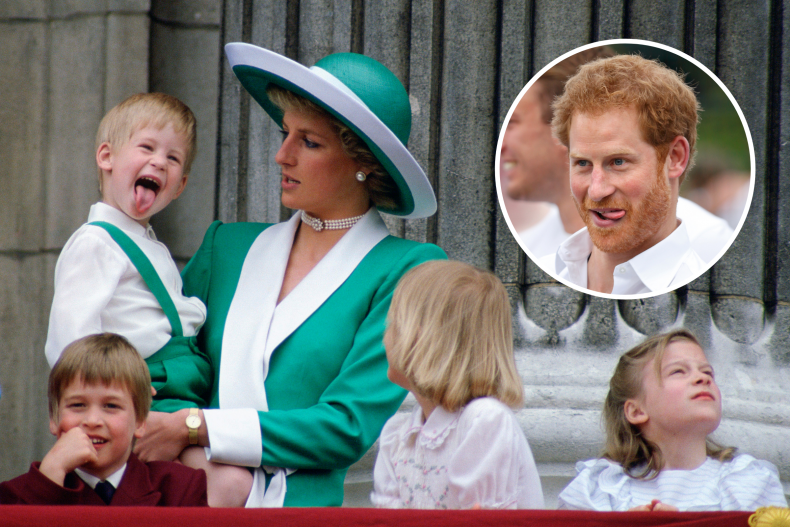 In a documentary commemorating the 20th anniversary of Diana's tragic death in a 1997 Paris car crash when Harry was just 12-years-old titled, Diana, Our Mother: Her Life and Legacy, the prince said:
"Our mother was a total kid, through and through...One of her mottos to me was 'you can be as naughty as you want, just don't get caught.'"
Royal author Robert Jobson states that Diana considered Harry "hilarious" in an extract for his book William at 40: The Making of a Modern Monarch published by the Daily Mail.
Jobson provides the assessment that while Harry was the "mischievous" brother, Prince William would often play "tattle-tale, bringing news of his little brother's exploits to their nanny or police officer's attention."
"Their mother, however," he continued, "seemed to think much of Harry's behavior was hilarious."
"The truth is that the princess actively encouraged Harry's mischievous nature, which was in some ways akin to her own."
This year marks the 25th anniversary of Diana's death and Harry has opened up about his feelings that his mother is always with him and how she plays a part in the life of his young family today.
"For me, it's constant and it has been over the last two years," the prince told Today show host Hoda Kotb at the Invictus Games in the Netherlands in April when asked whether he felt Diana at these milestone events.
"More so than ever before. It's almost as if she's done her bit with my brother and now she's very much helping me. She's got him set up now she's helping me set up. That's what it feels like."
He ended his comment to Kotb by saying: "He's got his kids. I've got mine. Obviously, the circumstances are different but I feel [Diana's] presence in almost everything that I do now. But definitely more so in the last two years than ever before, without question. She's watching over us."
Harry is due to travel to Britain for Queen Elizabeth II's Platinum Jubilee celebrations at the beginning of June with Meghan Markle and his two children, Archie, 3, and Lilibet, 11 months.
The visit will mark the first time the prince will introduce his daughter to the queen, who she is named for.