Prince Harry Says 'Everything I Do' Makes Diana Proud as Debate Rages
Prince Harry has spoken about his mother in an interview with People, saying that he hopes and believes that "everything I do makes her proud."
The comments were made before the prince's NBC Tonight show interview with Hoda Kotb, during which he made comments about Queen Elizabeth II, his brother and his mother which have sparked heated debate.
Speaking to People about his mother and the 2022 Invictus Games in The Hague, the prince said: "I certainly hope and believe everything I do makes her proud."
"In the 12 short years I was lucky enough to have with her, I saw and felt the energy and lift she got from helping others, no matter their background, ailment or status. Her life and theirs was better for it, however short theirs or hers was."
He then closed by saying, "I honor my mother in everything I do. I am my mother's son."
Princess Diana was killed in a tragic Paris car crash in 1997 when Harry was aged just 12 and Prince William was 15.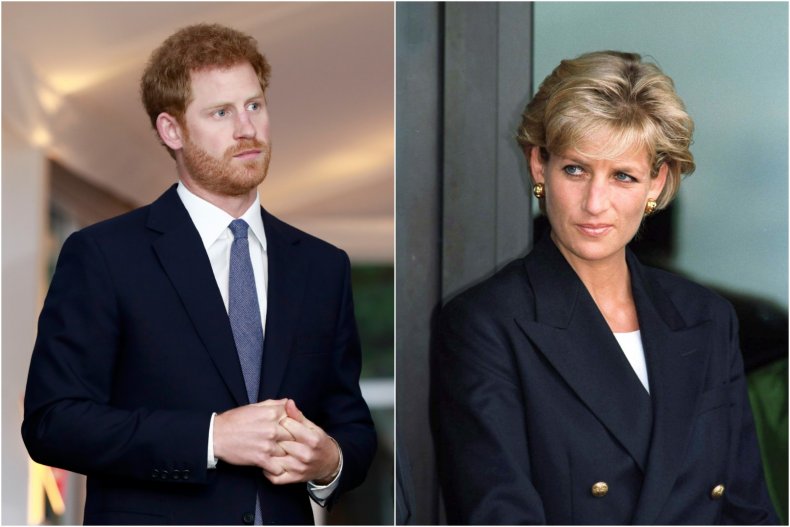 The comments have been released by People following an interview given by Harry with Tonight show host Kotb, during which he said that he felt the spirit of his mother "constantly" with him.
He continued to add: "It's almost as if she's done her bit with my brother and now she's very much helping me. She's got him set up now she's helping me set up. That's what it feels like."
Then, in reference to his brother, Harry ended "he's got his kids. I've got mine. Obviously the circumstances are different but I feel [Diana's] presence in almost everything that I do now. But definitely more so in the last two years than ever before, without question. She's watching over us."
Harry faced a wave of backlash following his Today show interview from people who took umbrage with its content. The comment which sparked the most debate was made regarding the queen's safety.
Discussing his under the radar visit with Meghan Markle to see his grandmother at Windsor Castle on the way to the Invictus Games, Harry told Kotb: "I'm just making sure she's protected and has got the right people around her."
Social media users and broadcasters voiced their displeasure at this statement with claims that the prince was "delusional" and lacked "respect" for the 96-year-old monarch and the institution she serves.
"If Prince Harry was really so concerned about the "right people" being around the Queen to "protect" her, then why the hell did he leave it NINE MONTHS to check on her because of a pathetic row with the government over security?" broadcaster Dan Wootton wrote on Twitter, adding: "The bloke becomes more delusional by the day."
Following the interview's broadcast, GB News host Eamonn Holmes joked that the royal family could throw the prince and Meghan over the Buckingham Palace balcony should they try and make a Platinum Jubilee appearance in Britain.
He said of Harry: "Gotta be photographed, gotta be on that balcony, he's bringing a book out where he's slagging off Camilla and maybe William and his father. Why wouldn't they just throw him over the balcony, and her [Meghan] with him?"
This comment itself landed Holmes in hot water with claims on social media that he was inciting "murder," "violence" and "hate."
Another aspect of the prince's interview which provoked criticism was his apparent unwillingness to categorically state that he misses his father and brother after moving to the United States.
"Do you miss your brother, your dad?" Kotb asked towards the end of her interview with Harry, to which he responded, "At the moment, I'm here focused on these guys [Invictus Games competitors] and these families and giving everything I can, 120% to them to make sure that they have the experience of a lifetime.
"That's my focus here. And when I leave here, I go back, and my focus is my family, who I miss massively. Of course I do. They're two little people."
Former editor of The Sun newspaper, Kelvin MacKenzie, tweeted he believed Harry's comments showed himself to be "stupid and self-involved."
He wrote: "Prince Harry is such a pratt. When asked by NBC if he missed his father and brother he refused to respond, guaranteeing negative headlines around the world. All he had to say was yes and move on. Instead he confirms he's as stupid and self-involved as we all feared."
Despite the negative reaction from some, the prince still has strong support, with social media users praising his intentions towards his grandmother and his own family in the U.S.
In response to the negative reaction to Harry's interview author, Dr Shola Mos-Shogbamimu, posted: "The Queen doesn't hate Prince Harry but British Media wants her to hate him. They're delusional. She won't. They hate Meghan (we know why) & by extension Harry. They're mad the Queen met with #HarryandMeghan. No 'Palace sources' leaks. Harry is RIGHT to protect his grandmother."
Prince Harry is in the Netherlands for the 2022 Invictus Games which closes on Friday and will be hosted next year in Dusseldorf, Germany.
The Sussex's visit to the games was shadowed by a Netflix film crew recording material for a documentary series produced by the couple titled Heart of Invictus.
Queen Elizabeth II turned 96 on Thursday with a Buckingham Palace spokesperson confirming that the monarch traveled from Windsor Castle, where she met with Harry and Meghan last week, to her country estate in Norfolk.
This location has long been one for quiet reflection valued by the Queen as it was the home in which her father died in 1952 and was where her late-husband Prince Philip spent much of his retirement.