Prince Harry Says Diana Has Moved From Helping William to Helping Him
Prince Harry has spoken about how he believes his relationship with the late Princess Diana has strengthened over the past two years since stepping down as a full-time working member of the royal family. He has spoken of his feeling that his mother has "done her bit" with his brother Prince William and that she is now "very much helping me."
Speaking to Hoda Kotb in a special interview for NBC News' Today show from the Invictus Games in the Netherlands, Harry told the host how he has felt the presence of his mother constantly over the last two years, the period in which he has stepped down as a working member of the royal family and welcomed his two children, Archie Harison Mountbatten-Windsor, 2, and Lilibet Diana Mountbatten-Windsor, 10 months.
Speaking of his children and of the wider success of the Invictus Games which Harry founded in 2014, Kotb asked the prince, "In these moments do you ever feel your mom's presence?"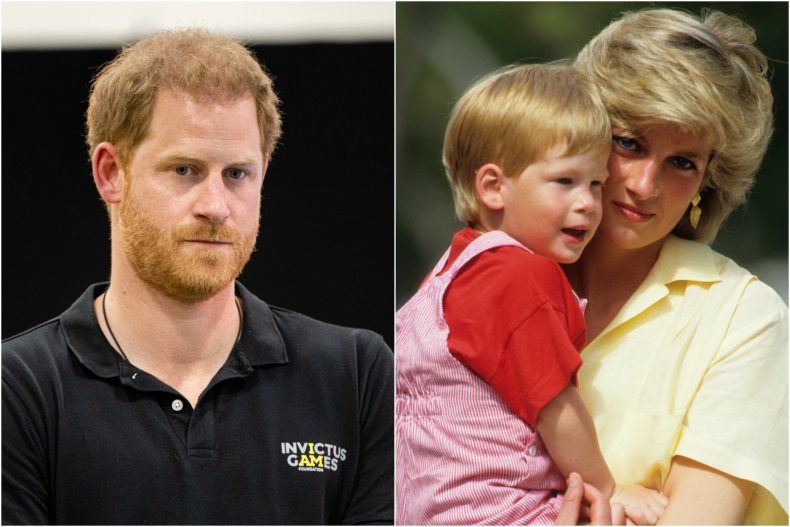 "For me, it's constant and it has been over the last two years," he responded.
"More so than ever before. It's almost as if she's done her bit with my brother and now she's very much helping me. She's got him set up now she's helping me set up. That's what it feels like."
Harry and older brother William have reportedly endured a strained relationship in the wake of the Sussexes' decision to step away from the royal family and the couple's bombshell interview with Oprah Winfrey in 2021 in which allegations of racism were made against an unnamed member of the royal family, after Meghan told viewers that William's wife Kate Middleton had made her cry.
Speaking to Winfrey about his brother in 2021, Harry said that their relationship was "space at the moment," going on to add, "I love William to bits. We've been through hell together and we have a shared experience, but we are on different paths."
"He's got his kids. I've got my kids," Harry told Kotb in an extract from his interview with the Today show. He continued to describe the brother's circumstances as "obviously different," but said that he feels Diana's "presence in almost everything that I do now.... more so over the past two years than ever before. She's watching over us."
Kotb offered some comfort to a reflective Harry, saying, "I'm sure she's proud of you," to which he replied, "I'm sure she is."
The prince's interview with Kotb forms part of a wider series of media engagements undertaken alongside the Invictus Games. His wife, Meghan, joined him for the opening events. The couple were followed at the games by a Netflix camera crew recording a documentary series titled Heart of Invictus, produced by Archewell Productions—the entertainment arm of the Sussexes' foundation.
Harry and Meghan made an under the radar visit to the U.K. on their way to the games in the Netherlands last week. A spokesperson confirmed after the fact that the couple had visited Queen Elizabeth II, who turns 96 on Thursday.
In his interview with Kotb, Harry made explicit reference to this visit stating that the monarch was "on great form," adding, "Both Meghan and I had tea with her so it was really nice to catch up with her."
A further comment regarding the queen during the interview provoked criticism in the U.K. after Harry said that he wants to "make sure she's got the right people around her." This comment has been interpreted as a criticism of some of the monarch's staff who were reported to have been a roadblock between the prince and his grandmother.
This follows a claim made in the 2021 interview with Winfrey that Harry was uninvited from a meeting with his grandmother during the "Megxit" period without explanation.
On the comment regarding the "people around" the queen, royal biographer and commentator Robert Jobson tweeted:
"Prince Harry says on US TV he is making sure the Queen is 'protected and has the right people around her'. How so? I think you'll find that Prince Charles and Her Majesty's children and William are DOING just that and supporting the Queen, with actions—and not just words."
During the Today show interview with Kotb, Harry also mentioned his wish to visit the U.K. with his children so that they can meet their great grandmother. The prince told Kotb, "There's lots of things with security issues and everything else," but that he was "trying to make it possible that I can get my kids to meet her."
The queen celebrates her 70th year on the throne this year with special platinum jubilee events planned throughout the summer. Traditionally members of the extended royal family including Harry, have been included in the public celebrations.
The 2022 Invictus Games in The Hague, Netherlands closes on Friday in a special ceremony attended by the King of the Netherlands. The 2023 events will be held in Dusseldorf, Germany.