Meghan Markle Confirms First Visit to Europe Since Oprah Interview
Meghan Markle will make her first official visit to Europe since stepping down as a full-time working member of the British royal family, a spokesperson for the Sussexes has confirmed.
Meghan will accompany Prince Harry to the Netherlands for the "first few days" of the Invictus Games held at the Hague from April 16-22, the spokesperson told Town & Country.
It is not known if they will be accompanied by either of their two children, Archie Harrison and Lilibet Diana. Newsweek has reached out to Meghan and Harry's representatives for comment.
The Invictus Games have played an important role in the relationship between Harry and Meghan with the prince inviting his then-girlfriend to attend the event in 2017—marking one of their first public sightings together. Since then, Meghan has attended every Invictus Games alongside Harry.
This announcement comes as Harry and Meghan have faced increased criticism in the U.K. for not attending the memorial service for Prince Philip last month and for apparently not visiting the 95-year-old Queen Elizabeth II as she faces increasing health and mobility issues.
Meghan has not publicly visited the U.K since the broadcast of the Sussexes' bombshell interview with Oprah Winfrey in March 2021. The interview saw Meghan correcting the record to say Kate Middleton made her cry before her wedding. The couple also revealed they felt unsupported during their time as working royals and that an unnamed member of the royal family made racist comments about the potential skin color of Harry's future children.
Harry has returned publicly to Britain twice since then to attend his grandfather's funeral in April 2021 and to unveil a statue to his mother, Princess Diana, in July that same year.
A Royal Lay Over in Britain?
In anticipation that the royals would be visiting the Invictus Games, of which Harry is a founding patron, royal experts told Newsweek that Harry "should" stop off in Britain to see his family either on the way to, or return from, the Netherlands.
Royal commentator Richard Fitzwilliams told Newsweek, "The queen is 96 on April 21, it would make sense if Harry—either going to or from the games—saw her."
Ian Lloyd, author of The Queen: 70 Chapters in the Life of Elizabeth II, added, "He should call in. It would be very embarrassing if he didn't."
Both voices agreed however, that the prince's ongoing legal battle with the U.K. Home Office over security would be a roadblock to a family visit.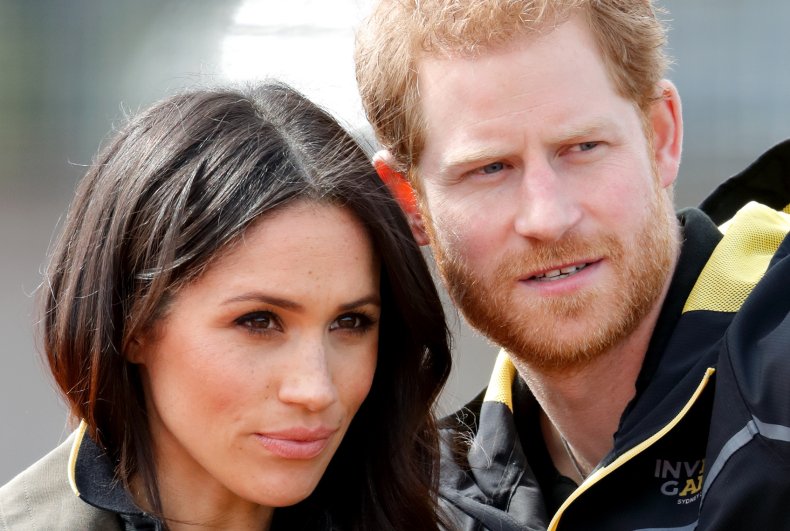 Harry has been in an ongoing dispute with the Home Office regarding his security arrangements when visiting the country, stating in court documents that the protection afforded to him since stepping down as a full-time working member of the royal family is inadequate and will prevent him from making future visits home.
A statement in court documents filed in connection with the case read: "The U.K. will always be Prince Harry's home and a country he wants his wife and children to be safe in. With the lack of police protection, comes too great a personal risk."
Given this statement Lloyd and Fitzwilliams feel a public return to the U.K. would be contradictory. Lloyd told Newsweek, "If he is seen to be in and out of the country with either no security or American security, then the British security will say, 'You seem to be coping quite well anyway.'"
However, both also raised the point that Harry was under no obligation to inform the public if he did or did not make a visit to the U.K. Fitzwilliams told Newsweek, "He has no obligation to let anyone know he was to or has already made a private visit. In theory he can do exactly as he wants to."
Netflix Docuseries Production
Harry and Meghan's presence at the games coincides with an important development in their professional lives as their production company, Archewell Productions, documents the events and competitors for a docuseries headed by Harry titled Heart of Invictus.
The series is being produced in partnership with The Invictus Games Foundation and forms the first major output from the Sussexes as part of their multi-million dollar deal with streaming giant Netflix signed in 2020.
Harry said of the series in a statement: "As Archewell Productions' first series with Netflix, in partnership with the Invictus Games Foundation, I couldn't be more excited for the journey ahead or prouder of the Invictus community for continuously inspiring global healing, human potential and continued service."
Dutch Royals To Attend Also
No official announcement has been made through the Invictus Games as to the events that Harry and Meghan will be attending. Members of the Dutch royal family will be in attendance.
King Willem-Alexander of the Netherlands has confirmed his attendance at the Games' closing ceremony and his highly popular aunt, Princess Margriet, will attend the opening ceremony.
The 2022 Invictus Games were due to take place in 2020 but were postponed due to the coronavirus pandemic. This will mark the fifth time they have been held overall.