Royal experts have told Newsweek that Prince Harry risks upsetting "family values"-oriented fans if he appears to snub the queen by not visiting her if he makes the trip to Europe for the Invictus Games next month.
Ian Lloyd, author of The Queen: 70 Chapters in the Life of Elizabeth II told Newsweek:
"I think he needs to be aware that in America they quite like family values and so he would need to be aware that if he apparently snubs the queen by not visiting, I don't think it would go down well in Britain or in America."
Lloyd's commentary follows speculation as to whether or not Harry will make a stopover either to or from the Invictus Games which are due to be held in the Netherlands later this month.
Harry is a patron of the games which he helped to found as a platform for injured and ill former servicemen and women to display their physical and mental strength.
Though no announcement that Harry is definitely attending the games has been made, there is a strong case for him making the trip to the Netherlands as a patron, especially considering that he is producing a documentary series about the event and athletes in association with Netflix.
Royal commentator Richard Fitzwilliams told Newsweek that it would "make sense" to use the opportunity afforded to Harry with the games to stop over at Windsor Castle.
"We know that he is very fond of his grandmother," Fitzwilliams said, "and it is an opportunity which I think he ought to take."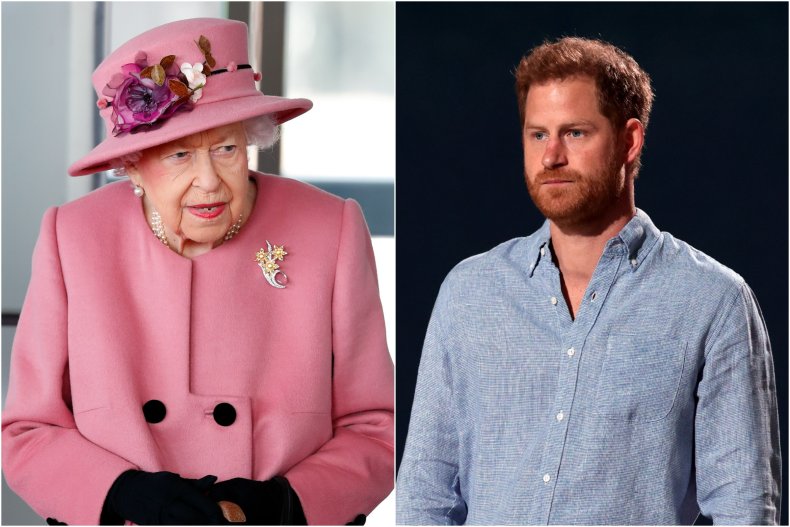 Fitzwilliams too voiced concerns over the public image of Harry and Meghan Markle should they be seen to have too many fractures with close members of their family, he said:
"On the one hand Meghan is estranged from her family—apart from her mother—and they've both become estranged from the royal family. It begins to look strange.
"No one knows what may happen in the coming months, and with the relationships between the Sussexes and the royals being as they are—there's a rift, we know there is. It would be within everyone's interests if the rift was at least partially resolved."
Prince Harry has not visited the U.K. since the unveiling of a statue of his late mother Diana, Princess of Wales, at Kensington Palace in July last year. It was during this trip that Harry alleges he was chased in a vehicle by photographers in a serious parallel with the security threats endured by Diana during her lifetime.
In September 2021, following this event Harry filed a claim for a judicial review against the U.K. Home Office with regards to the security detail assigned to him and—importantly—his family when they visit Britain.
A statement released by Harry's legal team at the time of filing the lawsuit included a section which stated:
"The U.K. will always be Prince Harry's home and a country he wants his wife and children to be safe in. With the lack of police protection, comes too great a personal risk."
In response to the lawsuit, the Home Office holds the position that the prince and his family are assigned adequate protection as he holds "exceptional status" according to court documents filed last year. The case is ongoing.
The first major absence of the prince, since this lawsuit was launched, occurred in March when it was announced that he would not travel to the U.K for the service of thanksgiving at Westminster Abbey for the life of his grandfather, Prince Philip.
Of his absence Lloyd told Newsweek, "his failure to attend the memorial service for Prince Philip was quite a notable absence when you think he was the only one of the eight grandchildren not to make it."
Fitzwilliams too felt that Harry's position in this regard was extreme, saying: "You can understand Harry's position after the terrifying experience with his mother," but that "not attending the service of thanksgiving to Prince Philip was extraordinary."
Pressure grows for Harry to visit Britain as the queen turns 96 this April following a series of health scares and increasing issues with her mobility.
This being the monarch's Platinum Jubilee year, experts wonder if Harry, Meghan and his two children Archie Harrison and Lilibet Diana, will take part in the family, if not the formal, celebrations.
Fitzwilliams told Newsweek: "The queen is nearly 96 and she hasn't met Lilibet. I would have thought that given the queen's health has obviously been uneven and [she] has mobility problems, you would certainly think that he would make an effort to [see her]."
On Harry potentially paying a visit to Europe for the Invictus Games and bypassing the U.K altogether, Lloyd said, "He should call in. It would be very embarrassing if he didn't... The problem is the case regarding security with the Home Office," but "he's got to balance the fact that he hasn't seen his grandmother for a while and she hasn't seen Lilibet."
No official announcement has yet been made on whether Harry or Meghan will visit Britain for the Jubilee events this summer as the legal case surrounding their security is ongoing. The Invictus Games, of which Harry is a founder and a patron, are due to be held in the Hague, Netherlands, between April 16-22.