Prince Harry Labeled 'Delusional' and 'Lacking Respect' After Interview
Prince Harry's recent interview with NBC News' Today show host, Hoda Kotb has provoked criticism online from commentators who object to comments made about his grandmother Queen Elizabeth II.
Harry took part in the interview as part of a wider series of media interactions during the 2022 Invictus Games currently being held in The Hague, the Netherlands.
The prince has dominated headlines since making an unannounced visit to the queen at Windsor Castle with wife, Meghan Markle, on their way to the games last week. The visit marked the first time the couple had publicly visited the U.K. since their stepping down as full-time working royals and their bombshell interview with Oprah Winfrey.
Speaking to Kotb in an interview broadcast on Wednesday, Harry made a number of comments regarding his family including that he felt the need to make sure that the queen was "protected" and "had the right people around her."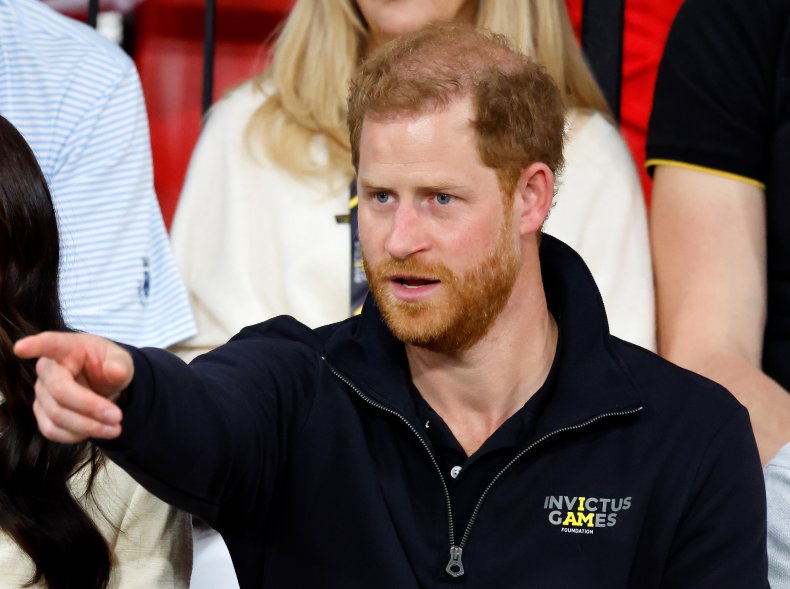 This comment in particular provoked a large reaction on Twitter.
Royal biographer and commentator Robert Jobson posted a comment reading, "Prince Harry says on US TV he is making sure the Queen is 'protected and has the right people around her'. How so? I think you'll find that Prince Charles and Her Majesty's children and William are DOING just that and supporting the Queen, with actions—and not just words."
Following up with: "Such an odd statement by Harry that he is making sure the Queen is 'protected'. I hope it is not left hanging, and the obvious follow up questions of 'why, how and from who?' are asked. I hope US interview it is not an another Oprah where brash statements by H are unchallenged."
Broadcaster Dan Wootton also posted regarding Harry's commentary asking if the prince felt that the queen needed protecting why did he not visit her sooner?
He wrote: "If Prince Harry was really so concerned about the 'right people' being around the Queen to 'protect' her, then why the hell did he leave it NINE MONTHS to check on her because of a pathetic row with the government over security?
The bloke becomes more delusional by the day."
Political analyst and commentator for the Daily Telegraph, Nile Gardiner said that the comments made by Harry go deeper than causing family upset and undermine the monarchy itself, tweeting: "Staggeringly tasteless, out of touch interview from Prince Harry after the relentless attacks on the Royal Family coming from the Meghan/Harry household in California..."
He later added: "The biggest issue here is the fundamental lack of respect shown towards the Queen and Monarchy by Meghan/Harry, who have actively undermined Royal Family..."
The comment made by Harry that he wanted to "protect" and make sure that the queen "has the right people around her," was not the only one to provoke an online reaction.
When asked whether he would be attending the monarch's platinum jubilee celebrations this summer, the prince responded: "I don't know yet. There's lots of things with security issues and everything else. This is what I'm trying to do, trying to make it possible that I can get my kids to meet her."
The response comes amid Harry's ongoing lawsuit against the U.K. Home Office over security arrangements which he feels do not adequately protect himself or his family.
Regarding the statement made to Kotb, Australian news anchor Peter Ford suggested the need for urgency as the monarch celebrates her 96th birthday on Thursday. He posted:
"Trying to make it possible". The Queen is 96 tomorrow. I think I'd speed up the quest a bit. Presumably no need to wait for next British Airways sale."
It was confirmed by Buckingham Palace on Wednesday that the queen has travelled to her country estate in Norfolk where she will spend her 96th birthday quietly. This follows the monarch's recent pulling out of two major Easter engagements and a series of health and mobility issues over the last year.
Writer Sarah-Louise Robertson expressed sympathy for the queen amid the media bombardment. She posted to Twitter: "After hearing Harry's latest comments, I imagine the Queen is yet again muttering 'recollections may vary'. May she have a peaceful birthday break at Sandringham with her friends away from all the madness and the fracas he's caused."
The response on Twitter was not wholly negative. Writer, Daniel Falconer posted in support of the prince's simply showing concern for his grandmother.
He said: "Of course the media is hyper focused on Harry's words when discussing his meeting with the Queen. He wants to protect his grandmother: why is that a bad thing? You can want to protect family and not be with them. The media is a wild and evil thing at times."
During the course of their interview Kotb asked Harry if he had missed his family after being away in the States for so long.
"Yes, I think especially over the last two years for most people, have they not missed their families? Right? The inability to be able to get home and see them," he responded.
"But do you miss your brother, your dad?" the journalist asked more explicitly, to which the prince seemed to avoid giving a straightforward answer.
"At the moment, I'm here focused on these guys [Invictus Games competitors] and these families and giving everything I can, 120% to them to make sure that they have the experience of a lifetime. That's my focus here." he said.
"And when I leave here, I go back, and my focus is my family, who I miss massively. Of course I do. They're two little people."
This suggests that there is still a long way to go before a mass royal reunion is on the table.
Harry is at the Invictus Games as the event's founding patron. The games are due to close on Friday with a special ceremony attended by the prince before he is expected to return to California where he now lives.