Returning to Work? New Stimulus Legislation Could Ensure a $450 Per Week Raise—Here's Why
Those hoping to return to work in the coming weeks could receive a sizable, albeit temporary, raise from the next round of economic relief legislation, now under discussion between Senate Republicans and the White House.
Some Senate Republicans and White House officials have proposed providing an incentive for Americans to return to work during the coronavirus pandemic, particularly to cushion the blow for those who have been earning more while collecting unemployment benefits. Senator Rob Portman, an Ohio Republican, first proposed the idea earlier this month.
"Right now, individuals receiving unemployment benefits are getting $600 per week on top of their respective states' unemployment benefit thanks to the CARES Act," he said in a July 2 press release. "Given that more than 10 million unemployed Americans are still categorized as 'temporary layoffs,' we need to be sure that there's no financial disincentive for these individuals to get back into the workforce when those jobs become available again."
Portman continued, "That's why my return to work bonus proposal is more important than ever. This proposal will provide $450 a week for individuals returning to work, meaning they'd receive their wages plus this $450 bonus."
He said he would work with his Senate colleagues to include the measure in the next relief package.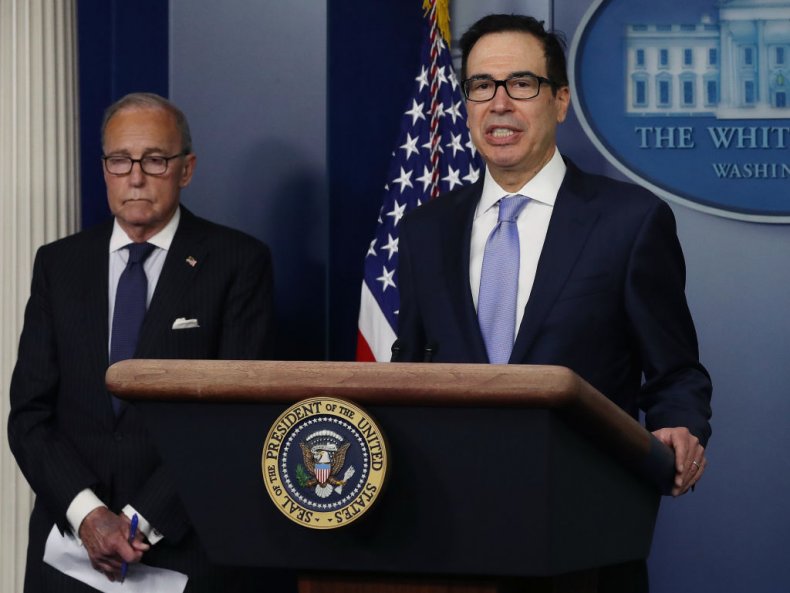 White House adviser Larry Kudlow, the director of the National Economic Council, said on Sunday that the measure would be part of the new GOP/White House proposal.
"The check is there, the re-employment bonus is there. The retention bonus is there," Kudlow told CNN's State of the Union. "There will be breaks, tax credits for small businesses and restaurants."
Newsweek reached out to Portman for comment, but his office did not respond in time for publication.
Some leading Republicans have repeatedly expressed concern about disincentivizing Americans to return to work because of the extra $600 in federal unemployment insurance provided during the pandemic. As low-wage workers were disproportionately affected by state lockdowns, many workers began earning more not to work than they did at their jobs.
Unemployed workers will no longer receive the extra $600 from the federal government next month. But because jobless claims still remain at historic levels, the White House and Republicans have proposed a reduced federal supplement as a bonus to return to work. It's unclear how long the extra $450 per week would be paid out to those returning to work, but Treasury Secretary Steve Mnuchin has said that extra federal unemployment payments will be reduced to 70 percent of previous pay.
The Republican legislation is expected to be unveiled Monday, after facing some significant internal backlash. It's unclear whether the package will be able to move forward before the Senate goes on its August recess, as there still appear to be significant hurdles to getting all Republicans on board.
GOP Senators Rand Paul of Kentucky, Ron Johnson of Wisconsin and Ted Cruz of Texas have strongly criticized proposals expected to be included in the legislation.
"Senator Cruz has said that when it comes to CARES II, as the package currently stands, he's a 'hell no.' As he explained earlier this week, the answer to solving our economic crisis shouldn't be spending trillions and trillions of more money we keep borrowing from China," a Cruz spokesperson told Newsweek last Thursday.
It's also unclear how Democrats will respond to the Republican proposal. The package is expected to cost about $1 trillion, while the Democrat-controlled House of Representatives passed a much larger $3 trillion package in May. But Republicans and the White House quickly dismissed the bill as a Democrat "wish list."
"House Democrats have been anxious to negotiate since we unveiled the #HeroesAct two months and ten days ago," Speaker of the House Nancy Pelosi, a California Democrat, tweeted on Sunday. "Republicans' delays in continuing our nation's response to this crisis is causing suffering for American families."