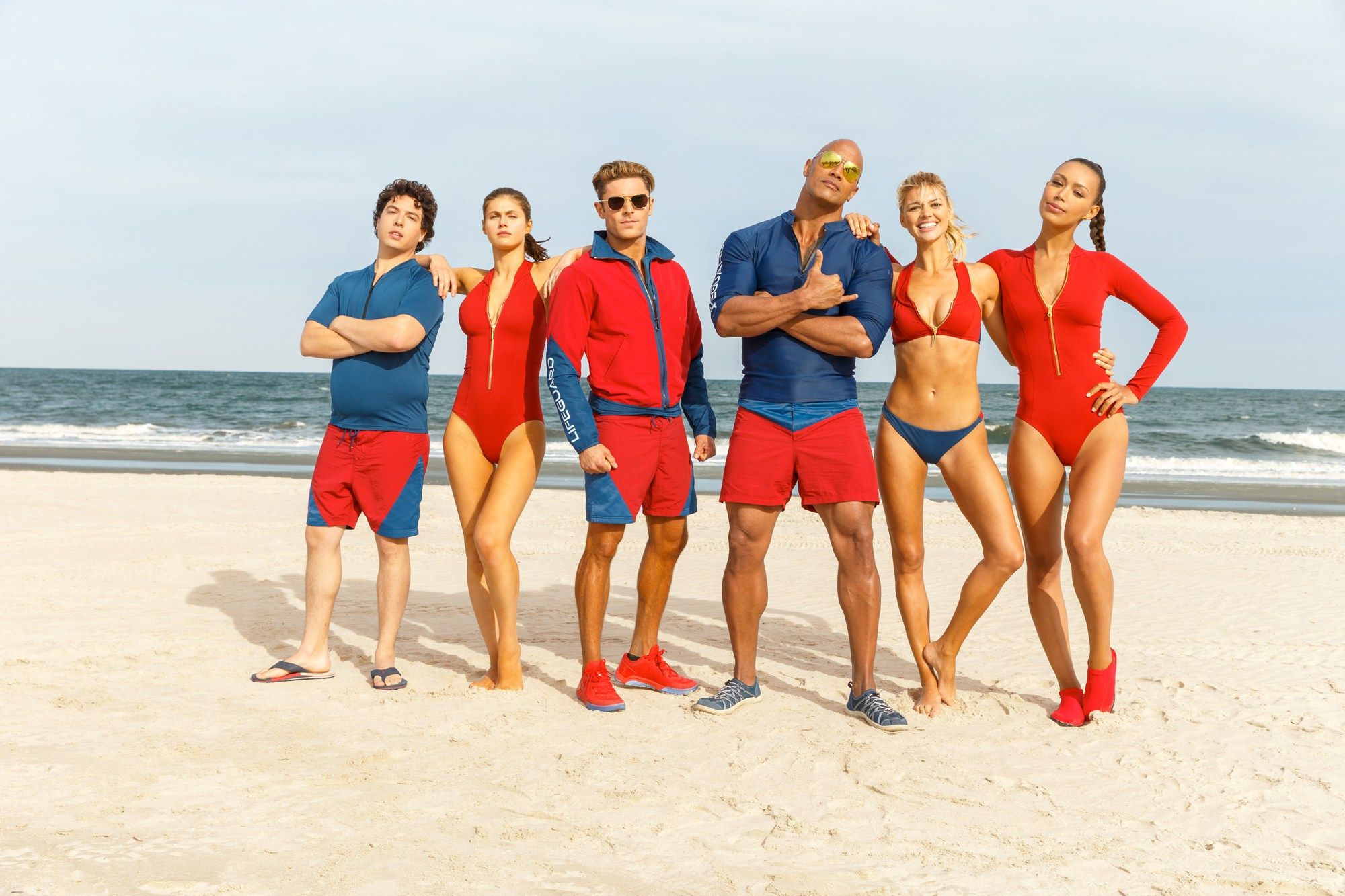 Take the box office might of Dwayne "The Rock" Johnson, the impossibly perfect abs of Zac Efron, throw in a few lingering shots of modelesque women in too-tight swimsuits running along the beach in slo-mo, and you have yourselves a movie. Probably.
That seems to be the creative process behind Paramount's Baywatch, a movie about Miami lifeguards that, incidentally, cannot save itself from floundering in a sea of clichéd humor and overused movie tropes.
In this reboot of the long-running television series starring David Hasselhoff and Pamela Anderson, Johnson takes on Hasselhoff's role of Mitch Buchannon, the lieutenant lifeguard of this Miami beach where all except one of the guards—a portly Ronnie (Jon Bass), who (surprise!) is the comedic foil for the group—look like they're ripped from the pages of a swimwear catalog. No-nonsense Buchannon clashes with a new recruit forced upon him by the powers-that-be, Efron's arrogant, disgraced Olympic swimmer Matt Brody, in the hope he will attract publicity for the beach. Alpha male preening aside, the broader plot here is that a new drug is riddling the shore and appears to be part of a criminal plot that threatens the future of the bay.
Johnson assumes an additional role of executive producer on Baywatch and you can see what he's trying to achieve here: taking a once-beloved franchise and revitalizing it for a modern audience. He is, after all, the man once dubbed "franchise viagra" for adding a welcome new dynamic to the Fast & Franchise ensemble and steering the 2013 sequel to a terrible G.I. Joe movie to respectable box office numbers. But this Seth Gordon-directed, Damian Shannon and Mark Swift-penned blockbuster attempts to borrow from the Fast & Furious playbook a little too desperately—self-satirizing humor, machismo muscle flexing, improbable stunts and beatdowns set to a thumping hip-hop soundtrack. The action, like a motorcycle hurtling down a pedestrian-filled pier and vaulting into the sea, does little to service the plot, except to say "look at our giant budget."
Baywatch's R rating allows for envelope-pushing humor, à la Deadpool, but instead the script settles for crass penis jokes in the first half and somehow manages to limbo under an already low bar by descending into groan-inducing one liners in the second: "It's night, night, bitch," says Buchannon after disposing of one of villain Priyanka Chopra's henchman.
Johnson, who had a solid comedic turn in 2016's Central Intelligence opposite Kevin Hart, does his best in a one-dimensional role as Buchannon but is hampered by his juvenile dialogue. Efron is the strongest member of the cast; he plays Brody with a Ryan Lochte-like level of obtuse narcissism and smarm. The part, though, is not a great challenge for Efron, who has played perhaps one too many frat bros for an actor who is innately talented. At least the leading men get some sort of life raft on which to float. The female protagonists—played by Kelly Rohrbach, Alexandra Daddario and Ilfenesh Hadera—are paper thin characters with little to differentiate them than the male character they are paired with. Chopra's big bad, Victoria Leeds, meanwhile, is a painfully dated caricature: the glamorous, wealthy villain who uses her feminine wiles to enact her master plan while hired meatheads do the grunt work. This antiquated depiction of women in 2017 is inexcusable.
Baywatch fans of the 1990s may get a thrill out of hearing that famous theme music, or seeing David Hasselhoff and Pamela Anderson in shoehorned cameos. But this is rather a cautionary tale. Sometimes things are better left in the past. Not even Zac Efron's abs can distract us from the fact that we are treading in shallow, shallow waters.
Baywatch is released May 25.