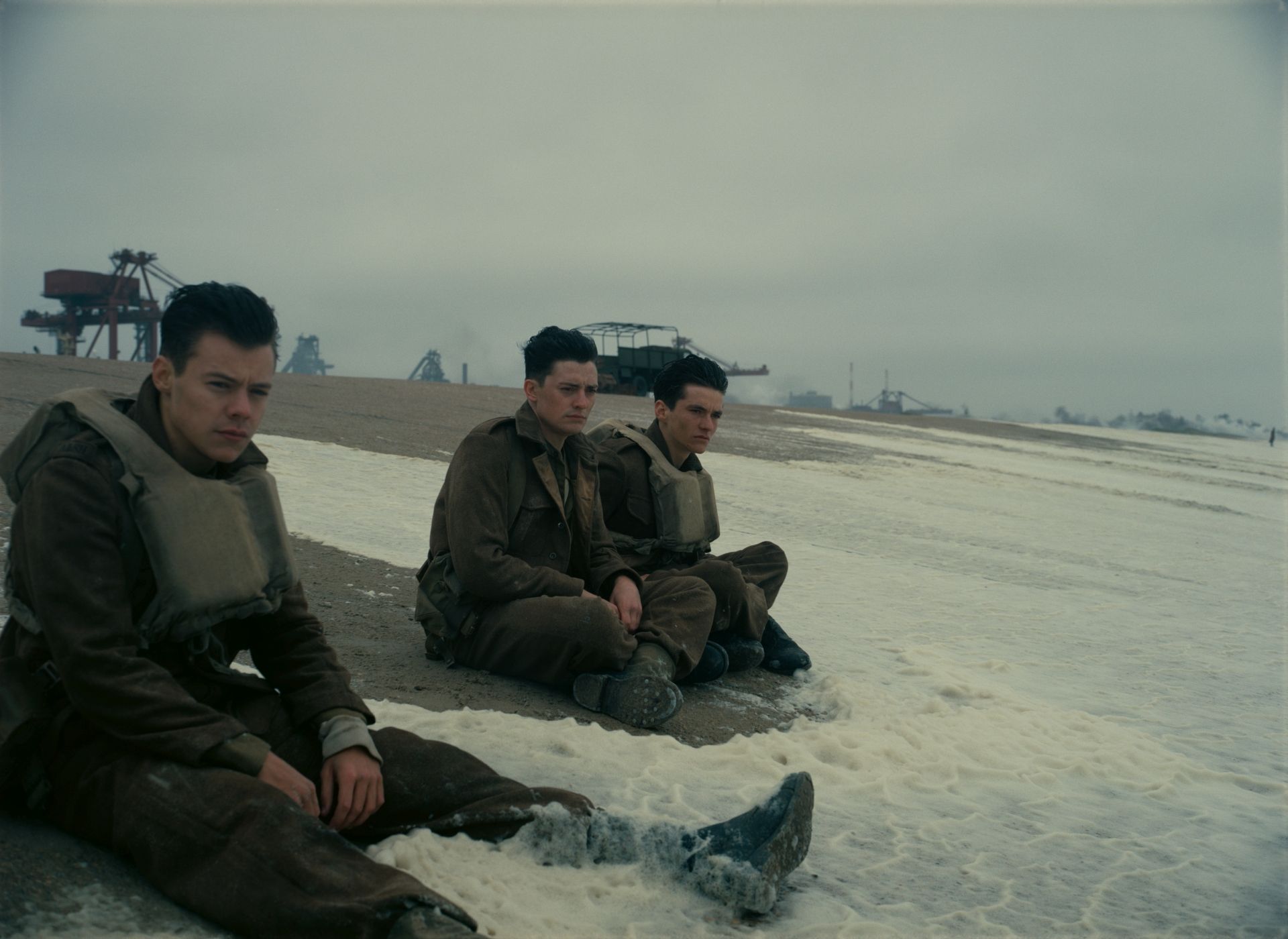 Christopher Nolan was never going to make a standard war film. But the British director's Dunkirk, about the evacuation of Allied troops from the beaches of Dunkirk in France during World War II, is another example of the skillful artistry that positions Nolan as one of the greatest movie visionaries of the 21st Century.
Nolan's take on the wearied war genre is reminiscent of his adept direction of The Dark Knight trilogy of Batman movies, revered by fans and critics for bringing gritty realism to the superhero genre, and of the intellectual mind-melt Inception, a film that shook up science fiction. Here, the auteur achieves his vision of a pulsating war epic that visually and sonically simulates a palpable battlefield experience; he does so by utilizing very little dialog and instead relying on a jarring mix of diegetic (thundering explosions) and nondiegetic sounds (a ticking clock throughout) that tingle every last nerve-ending until you're writhing in your seat. Think of it more as a virtual reality experience—Nolan's film is the closest a Hollywood film has achieved to replicating that craze—than popcorn-chomping summer fun. (In fact, maybe don't order any snacks—your stomach will thank you later.)
The screenplay, also written by Nolan, is a fictional account of the real-life Dunkirk evacuation of 1940. It follows the story of the British soldiers stranded in the north of France and surrounded by the German army and the rescue efforts to bring them back to Britain. Told from three perspectives—the effort to evacuate by land, sea and air—characters played by Tom Hardy (Royal Air Force pilot Farrier), relative newcomer Fionn Whitehead (Tommy, a British army private) and former One Direction singer Harry Styles in his film debut are all trying to survive German bombardment and make it home.
Dunkirk's plot is fairly uncomplicated. The thrill is in the deeply exhilarating pace at which the action unfolds. Nolan's frenetic—and beautifully shot—action sequences and the film's paranoia-inducing, Shepard tone-tinged score by his longtime collaborator, composer Hans Zimmer (who also scored The Dark Knight films, Inception and Interstellar), make for a relentless ride. The only respite from white-knuckled armchair-gripping comes near the end of the film.
Review: 'Spider-Man: Homecoming' Is the Best Spider-Man Movie to Date
The cast is led by British acting veterans Mark Rylance, Kenneth Branagh and frequent Nolan actors Tom Hardy and Cillian Murphy. Each turn in commendable performances, but the stars—if there are any—are the young discoveries in Nolan's cast. Whitehead's innocence as young private Tommy tangibly evokes the realities of the war: Many of the soldiers were just young boys whose lives were upended. Jack Lowden, recently seen in BBC's stellar adaptation of War & Peace, maximizes his minimal screen time as RAF pilot Collins with a starry presence that I'm certain will lead to bigger and buzzier parts. And what to say of Harry Styles, the former pop boy band singer-turned-self-styled great hope for British rock'n'roll? So legend goes, Nolan cast Styles in his debut film role without being aware of his global superstardom. That, I find hard to believe. But whatever surreptitious reasons may be behind his casting, what isn't hard to believe is that Styles is utterly capable, engrossing even, in his role as self-centered army private Alex.
It's difficult to decide whether Dunkirk is a masterpiece or a torturous exercise in how to shred nerves. It's an experimental film that audiences will either love immediately or hate and I suspect it will take some decades of hindsight for film scholars of the future to determine its true cinematic merits. In the here and now, however, I say this: Though every muscle in my body tensed for the entire duration of Dunkirk and I might need several Xanax to calm myself, it was an experience worth having.
Dunkirk is released July 21.