What Ric Flair Has Said About Being Released by the WWE
Ric Flair is bringing his career in wrestling to a close for now, with WWE announcing he has been released from his commitments to the franchise.
This was confirmed by a short statement from WWE which read: "We have come to terms on the release of Ric Flair as of today, 8/03/2021."
With so much of wrestling based around the fights and feuds on camera, many fans were left wondering whether any behind-the-scenes drama had caused The Nature Boy to leave the world of WWE, possibly bringing to an end a wrestling career that has run since 1972, and that has led many to call him the greatest professional wrestler of all time.
How Ric Flair Reacted to Being Released by the WWE
Writing on his Twitter page, Flair released a statement (which for some reason had the start of every word capitalized) that read, "I am officially able to respond to all the press related to my requested release from WWE, which they have given me.
"I want to make it really clear with everyone that I'm not upset with WWE at all. They solely are responsible for putting me in the position of life that I'm in right now, where I'm seen in the brightest light ever.
"We have a different vision for my future. I wish them nothing but continued success! Thank you for everything! Nothing but respect!"
He went further in an interview with People magazine: "We just didn't see eye to eye on some business opportunities that I wanted to pursue, so I asked for my release. There has been no animosity and everything has been on friendly terms."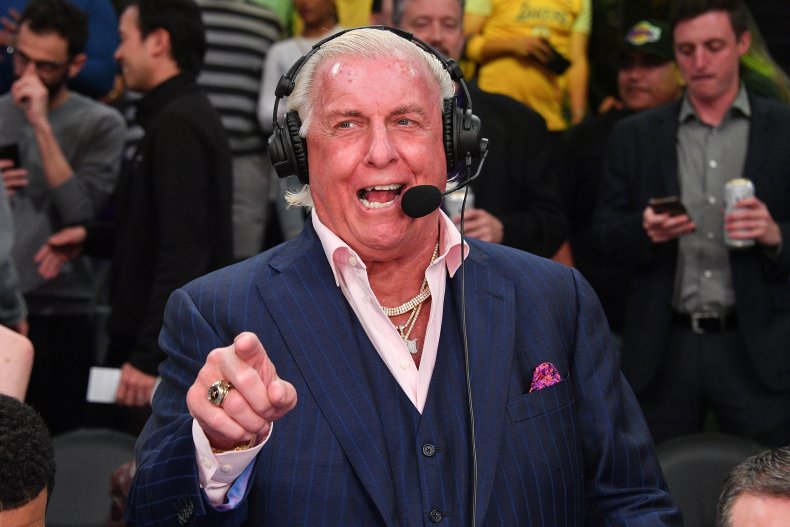 Speaking to the magazine, Flair denied rumors that he had asked to be released due to what the pieces called "conflicting storylines" with his daughter Charlotte Flair.
Asked what he will be doing next, he hinted at a number of non-wrestling projects. "I will be moving forward to pursue other exciting endeavors such as my own line of wine... as well as comic books."
However, he also shared plans to launch what he called "my own network," suggesting that his days in the world of wrestling may continue.
This release also came a few months after the 72-year-old made complaints public about a romantic storyline involving 31-year-old Lacey Evans and his daughter Charlotte, which was dropped after the former became pregnant in real life. "We made the best of it but... I didn't like that one," he said on an episode of the Ariel Helwani MMA Show.
Flair's exit from WWE has led to speculation he will move to rival All Elite Wrestling. Though Flair has made no comments on this, AEW's Evil Uno tweeted: "Ric Flair should join Dark Order. For real though. Let's party Wooooo Man!"