WWE 'Monday Night RAW' Results: Asuka Defends Championship Against Charlotte
As the WWE builds toward the Extreme Rules pay-per-view and SummerSlam after that, Monday Night RAWis set to give fans a handful of title matches that can change the landscape of the promotion's flagship show.
First, we have RAW Women's Champion Asuka defending against Charlotte Flair. Asuka coming off her successful defense against Nia Jax in recent weeks will now look to take out "The Queen." Asuka has yet to defeat Charlotte since both women have been on the main roster, but can "The Empress of Tomorrow" finally get that monkey off her back or will we see another title reign for Charlotte?
Don't forget that Nia Jax can still be lurking in the shadows after her controversial loss last week when referee John Cone seemingly had a "fast count."
The other championship match scheduled for tonight is the between the RAW Tag Team Champions, The Street Profits and The Viking Raiders. Both teams have been competing in various activities for weeks, but now it's finally time to see who is better in the wrestling ring.
And finally, Sasha Banks and Bayley--the Women's Tag Team Champions--will defend against The IIConics. Peyton Royce and Billie Kay were the ones who ended Sasha and Bayley's first reign as tag champs, but will we see it happen again tonight?
Rey Mysterio is set to return to Monday Night RAW tonight to meet with Seth Rollins. The "Monday Night Messiah" has made Rey and his family's life a living hell in recent weeks and after Dominick Mysterio got the jump on Rollins and his crew, this week will likely see the escalation in the feud.
Christian was the latest victim of Randy Orton last week when "The Viper" took out Edge's best friend. Orton is the most dangerous he's ever been, but what's next for him and does it involve another superstar?
A lot can go down on Monday Night RAW. Here's everything that happened on the June 22 episode of RAW.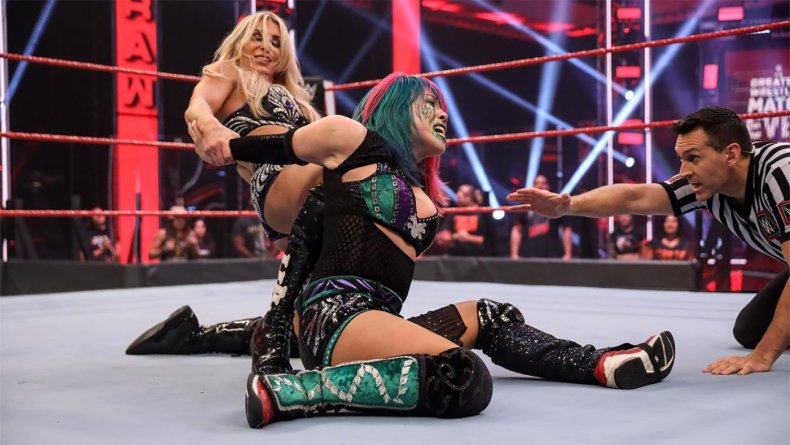 WWE MONDAY NIGHT RAW RESULTS
Drew McIntyre Promo
Drew McIntyre starts the night. He talks about how R-Truth put his title on the line last week, but he still retained. Drew says that he wants to look to the future not the past.
Dolph Ziggler interrupts Drew. Ziggler informs everyone that since AJ Styles was traded to SmackDown, he and his tag team partner, Robert Roode were traded to Monday Night RAW.
Ziggler says that he doesn't want to see McIntyre lose the title. Dolph says that when Drew came to WWE, he would have failed without him. Dolph says that he was brought to Monday Night RAW because of him. Dolph says that Drew needs a challenger for Extreme Rules and McIntyre owes him a title match.
McIntyre says that Dolph has nice revisionist history. Drew says that since he and Dolph split, Ziggler has lost a lot. He calls Dolph an entitled jackass, but he's right he needs an opponent for Extreme Rules. He asks Dolph if he really wants this match. Ziggler says he does and McIntyre makes it official.
Nia Jax Promo
Nia comes out with a chair and sits in the middle of the ring. She says that she's not surprised Charlotte got another title shot tonight, but Nia says she was screwed out of her match last because of the referee
R-Truth comes out and interrupts. He says that Nia must be confused because she's out there when he has a scheduled match against Akira Tozawa for the 24/7 Championship. Truth says unless Nia is actually Akira in disguise.
Jax says she's not in the mood for this.
Tozawa shows up behind the commentary desk while the ninja surround the ring and run after Truth.
Nia says she's not leaving when Charlotte Flair comes out. Charlotte says that Nia dropped the ball and now Jax is throwing a fit. Nia says that Charlotte got the opportunity because she's Ric Flair's daughter.
Charlotte retorts and says that Ric's newest title is "Charlotte's dad."
Jax says that Charlotte is delusional if she thinks that her father didn't help her. Charlotte says that Ric Flair didn't end Asuka's undefeated streak or win all those titles.
Nia Jax says that Charlotte never defeated her and the one time they went one-on-one, she defeated Flair.
Charlotte attacks Nia and the two have a scrum in the ring before referees break them up.
Backstage
Montez Ford say they end the "anything you can do we can do better" series tonight. It all comes down to their match tonight
The Viking Raiders come out and Angelo Dawkins say they'll be friends forever, but when the bell rings it's all business.
Ivar says that, as a friend, there will be nothing that keeps The Viking Raiders from winning the titles back
Both teams walk out of frame, but before commercial Zelina Vega is seen with a smile.
The Street Profits (c) vs The Viking Raiders - RAW Tag Team Championship Match
Ford pins Erik after a Frog Splash
After the bell, both teams shake out of respect. As the Street Profits celebrate, Andrade and Angel Garza slide in and attack the champs. The Viking Raiders come in for the save as Garza and Andrade smile
Seth Rollins Backstage
Rollins says he didn't choose to be the "Monday Night Messiah" the same way that Mysterio wasn't chosen to be a sacrifice. Seth says that he has accepted his role for the greater good while Mysterio has been defiant. He says the greater good is coming for us all and there's nothing Rey can do about it.
Backstage
Charlotte is seen leaving the trainer's room with tape on her shoulder. Charlotte says she won't postpone her match and she'll be fine to lift the RAW Women's Championship
Charly Caruso walks over to Zelina and her crew. She asks what provoked the attack on The Street Profits. Angel says you have to be willing to take risks when you know what you want. He starts to flirt with Charly when Zelina pulls him back. Vega says that they are a united front and they made their differences and turned them into a strength
Andrade says that they are coming for the tag team titles
Asuka (c) vs Charlotte Flair - RAW Women's Championship Match
Asuka wins via submission after an Asuka Lock
After the bell, Nia Jax is interviewed in the back. She's asked about her actions helping Asuka in this match. Nia Jax says that it would be a real shame if someone were to kick the queen while she's down.
Edge Video
Edge appears in an undisclosed location. Edge says that Randy may have won at Backlash, but he won't say that he's the best wrestler. Edge scoffs that Orton hit him with a low blow to win the match
He's disappointed he didn't see the low blow coming and that he didn't do it first. Orton was awakened by their match, but Edge is awakening the "Rated R Superstar" to not just hurt Randy but to humiliate him.
Randy Orton Interview
Orton says that a viper will attack and defend itself. He says that Edge and Christian tried to have their comebacks at the expense of him. He struck at them but he'll do what he has to do to defend his family and livelihood.
Randy says he wants Edge and Christian to have a full recovery and have a long life as long as they do it far away from him.
Charlotte Interview
Charlotte is asked backstage about her match. Charlotte gives credit to Asuka for targeting her arm because that's the only way she would win
Charlotte is suddenly attacked by Nia Jax who leaves Flair on the floor
R-Truth (c) vs Akira Tozawa - 24/7 Championship Match
Before the match starts, Lashley comes out with MVP and takes out Tozawa's ninjas and then puts Truth in a Full Nelson.

After they leave, Akira comes out from under the ring and pins Truth to win the title
Natalya Interview
Natalya comes and says that Nia hurting Charlotte proves that the women's division needs her leadership and she'll make an important announcement when she has her match with Liv Morgan tonight.
Liv Morgan vs Natalya
Natalya comes out with Lana
Natalya wins via submission after a Sharpshooter
The finish was set up when Lana distracted Morgan
Big Show Interview
Show says that while his attention is on his Netflix show he's going to go out there because of what happened to his friend last week. And while everyone sees him as a nice guy, he's going out there as a heartless giant.
Randy Orton Segment
Ric Flair is the master of ceremonies. He starts things off by warning Nia Jax that when Charlotte gets healthy she'll be sorry
Flair says that Orton is the greatest performer today. He brings up how Orton put Edge and Christian back into retirement and introduces him.
Orton says that it's surreal to have one half of Evolution in the ring. He says that it felt good to take out Edge and Christian. He says that he feels the fire to become the "legend killer" again and that's not nostalgic.
Big Show interrupts. He says that Orton is going to pay for what he did to Edge and Christian. He says that Orton continues to latch on to performers that make him better because he lacks the motivation to make himself better.
Orton says that he is motivated and Show better not push him. He calls Big Show a legend and a future Hall of Famer. Randy rolls out of the ring when Big Show is ready to fight
Bayley and Sasha Banks (c) vs The IIConics - Women's Tag Team Championship Match
Banks submits Royce with the Bank Statement
After the match, the duo get on the mic. Sasha Banks says that she can't help but get a little jealous to see Bayley with both belts. Banks wants to experience that as well and wants a match for the title.
Banks is officially challenging Asuka for the RAW Women's Championship at Extreme Rules
Asuka comes out and says that Sasha is not the boss of her and she accepts the challenge. Bayley sucker punches Asuka and the duo beat down the champion.
Backstage
Liv Morgan is backstage sulking when she's approached by Ruby Riott. Ruby tries to talk to her, but Liv cuts her off and says that she doesn't want Ruby talking to her and walks away.
VIP Lounge
Apollo Crews is MVP's guest and talks about his US Championship reign. He offers his services to Apollo to help him keep his title. Apollo declines and asks how MVP is planning to get the title off of him.
MVP says that one way or another the US Championship is coming home.
Shelton Benjamin, who is Apollo's opponent tonight, comes down and before the match starts MVP gets on the mic and distract Crews to allow Benjamin to strike before commercial.
Apollo Crews (c) vs Shelton Benjamin - US Championship Match
Crews wins via pinfall after a toss powerbomb

After the match, MVP stops Crews on the ramp allowing Bobby Lashley to hit the champ with the Full Nelson
Rey Mysterio Segment
Rey comes out with his son. Rey says that the hardest thing was when he couldn't reach Dominik last week and no matter how big his son gets, he will always be his father.
Rey says now that Dominik fought for him it's his time to fight for him. Rey needs to get revenge on Seth Rollins, but he needs to do it himself.
Dominik says he understands where Rey is coming from, but he's not going anywhere. He tells Seth that this is what a family looks like, and this family wants to fight
Seth Rollins comes out and says that he's been trying to make Rey understand, but two eyes are better than one. Seth comes down with Murphy and Austin Theory when Aleister Black and Humberto Carrillo come down and take out Seth's people.
The faces surround Seth Rollins and they are about to do to Rollins what he did to Rey when Murphy and Theory save him. Murphy and Theory hold down Rey and make him watch Seth as he tries to take out Dominik's eye when Black and Carrillo save him with chairs.