Dr. Rick Bright Raised Alarm About Coronavirus Response Because 'American Lives Were at Stake,' His Lawyer Says
Former top U.S. health official, Dr. Rick Bright, who claims his pushback against promoting a coronavirus drug led to his removal from his post, felt compelled to raise his concerns about hydroxychloroquine and a shortage of medical supplies because "American lives were at stake," his lawyer has said.
Until last month, Bright led the Biomedical Advanced Research and Development Authority (BARDA), which is trying to develop a vaccine against the disease.
He says he raised the alarm about the lack of medical supplies in January and was concerned by the touting of hydroxychloroquine as a COVID-19 treatment. Bright was removed from his post in April. President Donald Trump described Bright as a "disgruntled" employee.
Bright gave evidence before a House of Representatives health subcommittee in which he outlined how there was no "standard, centralized, coordinated plan" for the coronavirus.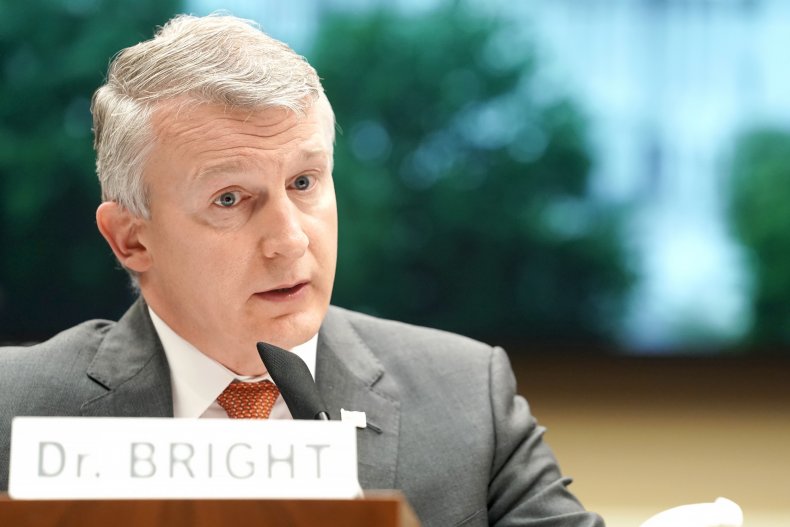 After Thursday's hearing, his lawyer Lisa Banks told CNN that Bright had been raising concerns with the leadership of the Department of Health and Human Services (HHS), of which BARDA is a branch, about the lack of Personal Protective Equipment (PPE) in January and February.
She said that he found "they just didn't have the same sense of urgency for whatever reason."
"He was speaking up all along. He understood that we had a significant supply chain problem with respect to masks and he was beating the drum early on at all levels of HHS... trying to get domestic production ramped up and to try to keep us from exporting masks," she told anchor Anderson Cooper.
Banks also said how concerned her client was at the promotion of hydroxychloroquine as a COVID-19. "He is a scientist, he is a public health official, he is a public servant. He has wanted from the beginning to allow science to lead this fight.
"He has been preparing for a pandemic his entire career and when faced with an environment in which politics trumped science, he had to push back," Banks said.
"He has never been a whistleblower before, he has never had to push back like that or file a complaint but here he had to because American lives were at stake," she added.
During Bright's testimony he warned that the U.S.'s opportunity to deal with the coronavirus was "closing" and that "without better planning, 2020 could be the darkest winter in modern history."
Bright says he was removed from his post because he wanted Congress to allocate money on scientifically vetted solutions, and not in drugs, vaccines and other technologies "that lack scientific merit," according to the BBC.
However after the hearing, HHS Secretary Alex Azar insisted that officials did follow Bright's recommendations and that his allegations "do not hold water."
"Everything he was complaining about was achieved, what he talked about was done," Azar said.
Meanwhile, Trump told reporters: "I don't know him. I never met him. I don't want to meet him. But I watched him, and he looks like an angry, disgruntled employee who, frankly, according to some people, didn't do a very good job."
Newsweek has contacted the White House and the Department of Health and Human Services (HHS) for comment.
The infographic below, provided by Statista, shows the confirmed COVID-19 cases across the U.S. as of May 14.