Aramis the cat was described as "a very, very lovable goofball." His owners had to put him down due to not being able to afford an urgent medical procedure.
The owner of the cat goes by "schmidty98" and posted his story on Reddit's "Work Reform" forum. The post was upvoted over 24,000 times and included five images of Aramis. It was titled, "Having to put down your pet because you can't afford the $5000 surgery because you're already swimming in debt really, really sucks. RIP Aramis, one of the goofiest cats that ever lived."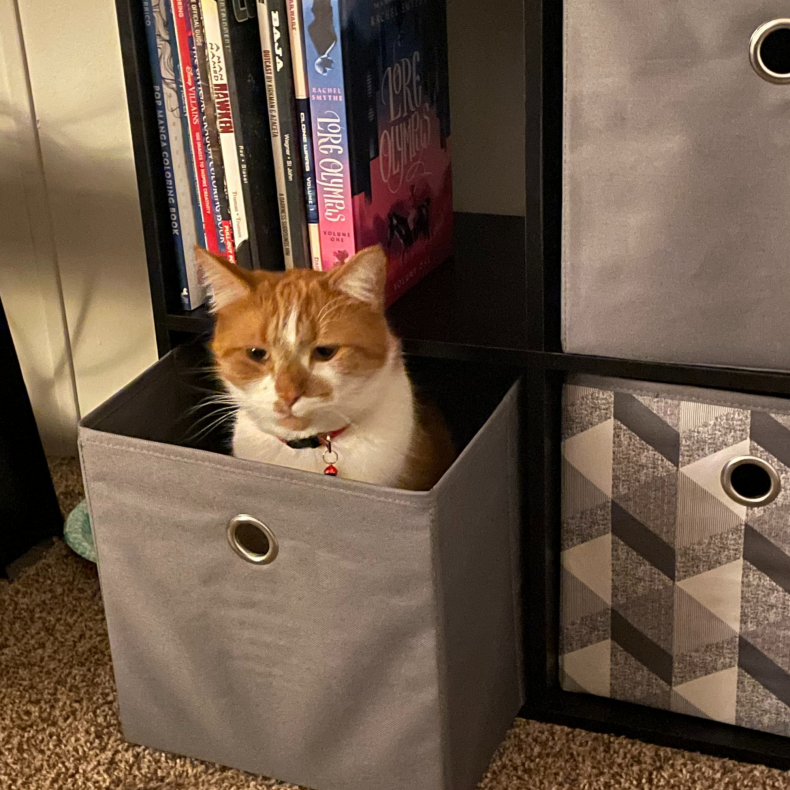 Newsweek spoke to the cat's owner, 22, who requested to remain anonymous. He told the story of how the 3-year-old domestic shorthair originally found his way inside his and his wife's home.
"We got [Aramis] from my mother-in-law a year ago," he told Newsweek. "He was thrown out of his previous owner's home for some reason or another, so she was watching over and feeding him as an outdoor cat.
"However, she was growing more and more concerned about him as he was too friendly with strangers and, frankly, not smart enough to survive as an outdoor cat. So she began asking around for someone to take care of him."
His mother-in-law did not want him to go to a shelter due to their rural Midwestern city already having an overpopulation of cats. He said that instead of risking the cat being put down in the shelter for being there too long, he and his wife decided to take him into their home.
The pair lives in the Midwest and already had another cat, D'artagnan, and a dog named Toddley who was at a shelter for over a year before his wife took him. He said his wife has had the cat and dog for longer than she's known him.
D'artagnan came from a home of 60-plus cats and was born with feline leukemia.
The pair had Aramis for a year. Everything was fine until about a couple of nights ago, he said when they noticed Artemis "was acting unusually lethargic" and having issues urinating.
They took the cat to the vet, where they were informed that he had a urinary tract infection (UTI). He's had UTIs in the past, but this time physicians were unable to clear the blockage due to a separate malady in the kidney.
"They described it as a possible growth, but they were unsure of what it was and did not have the equipment to perform the needed scans," he said. "They said that the only course of action would be to transfer him and get those scans that might help him, and they recommended having $5,000 in hand."
The couple, however, has CareCredit—a type of credit used to pay for out-of-pocket expenses not covered by medical insurance—but was only approved for $1,100.
The owner said he works as a graphic designer for a printing company while his wife works in a factory that supplies decals to automotive companies. They both make an average of about $17 dollars an hour or roughly $50,000 per year total.
"[Posting about Aramis] was honestly more out of a frustration that we just didn't have the option to cover an emergency $5,000 cost like that," he said. "It's primarily due to the fact that we are just starting out. Me and my wife have only been married for about six months now."
A spokesperson for the American Society for the Prevention of Cruelty to Animals (ASPCA) told Newsweek that while data relating human debt to animal outcomes is unavailable, a 2015 study did investigate the different reasons pet owners "rehome" their pets.
According to the research, "while some of the reasons people re-home their pets are complex and difficult to change, many reasons may be easily resolved through affordable, accessible veterinary care, pet-friendly housing and access to other supplies and resources."
Pet owners that make annual salaries of less than $50,000 are more likely to rehome their pets due to cost- and housing-related issues. About 40 percent of the same owners surveyed said free or low-cost veterinary care would have been most helpful, followed by free or low-cost training or behavior help at 34 percent; access to pet-friendly housing at 33 percent; free or low-cost spay/neuter services at 30 percent; free or low-cost pet food at 30 percent; free or low-cost temporary pet care or boarding at 30 percent; and assistance in paying pet deposits for housing at 17 percent.
Thousands of Redditors were empathetic toward Aramis' owners, including many of whom shared their own stories of struggling to pay debts while taking care of animals of their own. Others said they had to make the same heart-wrenching decisions involving putting pets down because the costs just became too obscene.
"I think it just shows a general frustration with the fact that everything always comes down to money in this country—even when people are willing to help, in sad cases like Aramis' where there just isn't enough time to get the resources together to help him," his owner said, adding that he and his wife likely won't get a new cat anytime soon. "Many people recommended doing a GoFundMe to acquire the funds he needed. However, with the issues he was having by the time we would have acquired enough funds, his kidneys would have likely already failed."