'About to Get Robbed': Lost Couple End Up on the Infamous Skid Row in L.A.
A couple walking through L.A.'s infamous Skid Row after getting lost on their way to a club were helped by a good Samaritan, who feared they were a target for criminals.
Da'Ron Burgundy regularly shares TikTok clips as he goes live from the streets of California, as he styles himself as a tour guide willing to "visit the places you're too afraid to go."
Burgundy, who shares his videos to his account, @da.ron_, came across a well-dressed couple while out in the early hours of the morning.
Posted last week, Burgundy, who offers in-person and virtual tours of various areas, including Skid Row, captioned the clip: "Maybe I was wrong, but it looked like it was about to turn bad."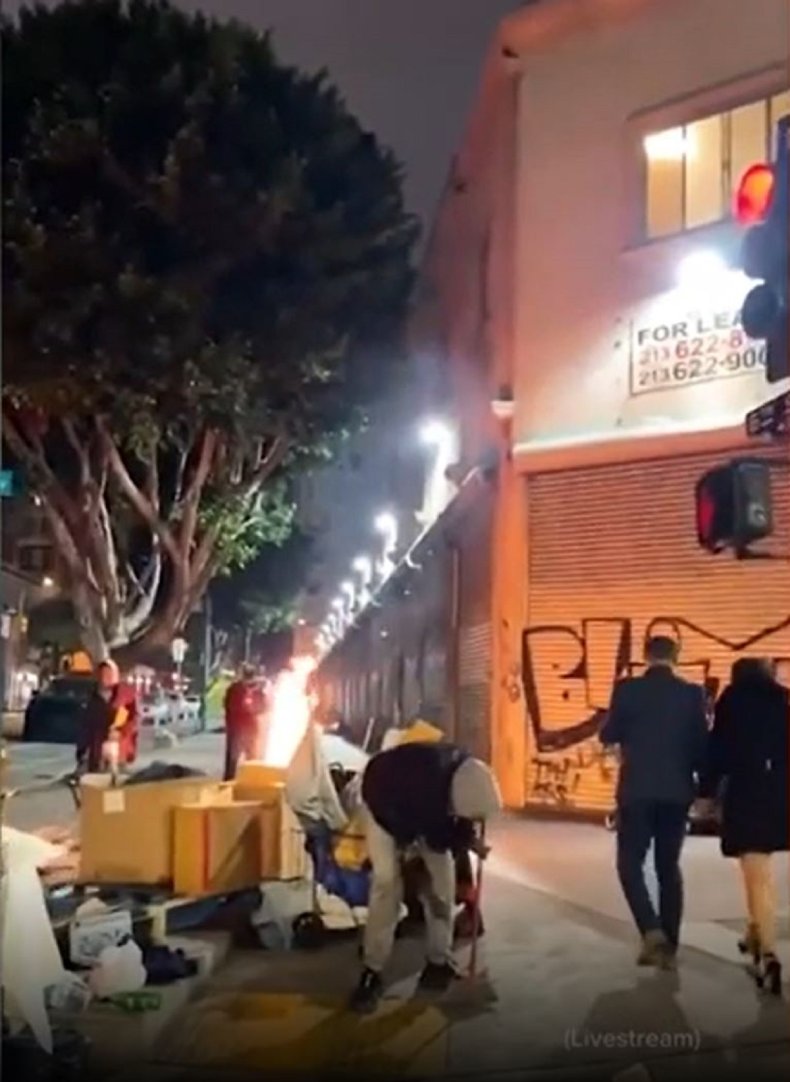 The video, which says in the on-screen captions "England in L.A.," alluded to the fact the man was from across the pond, as he spoke with a British accent.
Burgundy pulled up to the pair, with the woman in heels, and man in a suit, as he asked: "Hey you guys alright?"
The woman revealed they're a "little lost," as the on-screen captions said: "Tour de LA through Skid Row and we saw this couple. 1am-ish."
Burgundy told Newsweek: "People make mistakes, get lost, and end up in the wrong areas all the time. International phone and service I believe was the culprit here.
"It's an easy mistake to make and on an evening full of malarkey, it was just a near perfect storm for disaster. For whatever reason, the stars aligned and put myself and about 3200 Sheeshsters (people on my livestream) to watch over them and I'm just happy it didn't turn out worse."
The couple, standing on a street corner, were later revealed to be trying to get an Uber to a nearby club, Elevate, as Burgundy filmed the surroundings, showing tents and makeshift homes on the sidewalk, as numerous pairs of eyes watched the couple.
"Yeah I can tell," Burgundy told them, as he warned: "You guys are about to get robbed. Walk that way. Just keep walking that way. You got people watching you back there."
"I know," the woman admitted, as Burgundy films a trio of people on bicycles who had congregated on the other side of the street.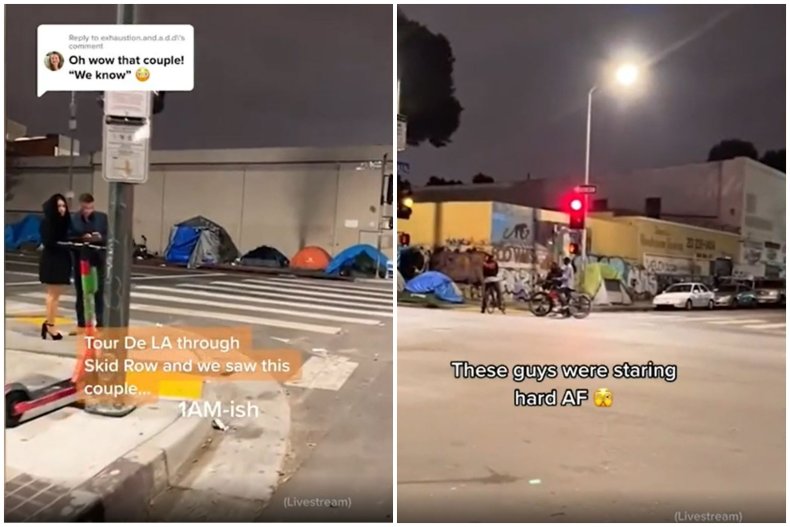 Again explaining more backstory, the on-screen captions said: "These guys were staring hard AF. Pretty sure they were talking [emoji] to me."
As they hurriedly left the area, the woman said: "I told you that, he's not listening to me.
"There's one guy, now there's two guys, now there's three guys on a bike. And I feel like they're prowling like vultures."
"I saw the set-up," Burgundy confirmed, as the woman continued: "Then you said the same thing, said you guys are about to get robbed."
The man said he was waiting for an Uber, as Burgundy replied: "Trying to get an Uber in Skid Row huh? That's not good."
As he revealed their location the woman said: "That's Skid Row? told you. I told you it was getting worse with the homeless."
Burgundy admitted people sleeping rough was a "strong indicator" they were in that part of town, as he "escorted them to a better pick-up spot," before telling them to be safe and trust their instincts.
The video has been seen more than 6 million times, and can be viewed here, as people voiced their surprise at the couple getting so lost late at night, in a potentially dangerous area.
Andrew Kramer remarked: "L.A. looks like Gotham city."
Mackenzie Stith commented: "I can't even imagine getting lost on skid row at 1am."
Not Your Momma said: "You literally saved their lives... no joke. You're a good man!"
Hunter Ryan thought: "They was definitely getting set up."
Charlie Vazquez joked: "That guy saved a little Bruce Wayne from becoming Batman."
While The Fox asked: "How the HELL were they sooooo casual in skid row???? bruh zero instincts. How you manage that?!?!"
Although Charlie Curtis-Beard pointed out: "Crazy thing about skid row is that it's right next to downtown. right next to it. so it's probably really easy for people to accidentally wander in."
Jasmeme noted: "Wow they were so lucky you were there."
And in response to people asking how they ended up there, Burgundy clarified in the comments: "I think it was international phone problems. We both had the same destination in our phone, his said 6 min, mine 17min. Navi problem not working right."
Skid Row in the sunshine state has an infamous reputation, with the area, covering around 50 square blocks, home to thousands of people experiencing homelessness.
A document from the Land Use, Construction & Housing Committee in L.A. called the situation "chronic."
"The population living on the streets is variously estimated by the Los Angeles Homeless Services Authority, the Los Angeles Police Department and others, and numbers are estimated to range from 2,000 to 4,500 or 5,000 persons, with the numbers changing both seasonally and throughout the month," they said.
In addition, around 8,000 people live permanently, or semi-permanently, in hotel rooms, while thousands more live in shelters and "transitional facilities."
One of the most famous hotels, The Cecil Hotel, is in Skid Row, and was the subject of a Netflix series released in 2021, named Crime Scene: The Vanishing at the Cecil Hotel.
There are other issues synonymous with the area, as the Los Angeles Police Department acknowledged drugs is a big problem, saying: "Many of the individuals living in the Skid Row area are also narcotics users.
"It is well known that gang members and associates from areas throughout Los Angeles County have traditionally controlled narcotics sales in the Skid Row area."
Update 4/13/22, 5:13 a.m. ET: This article was updated with comment, photos and video from Burgundy.