Robert Mueller Will Not Testify Next Week, Democrat Jerry Nadler Says as He Threatens Subpoena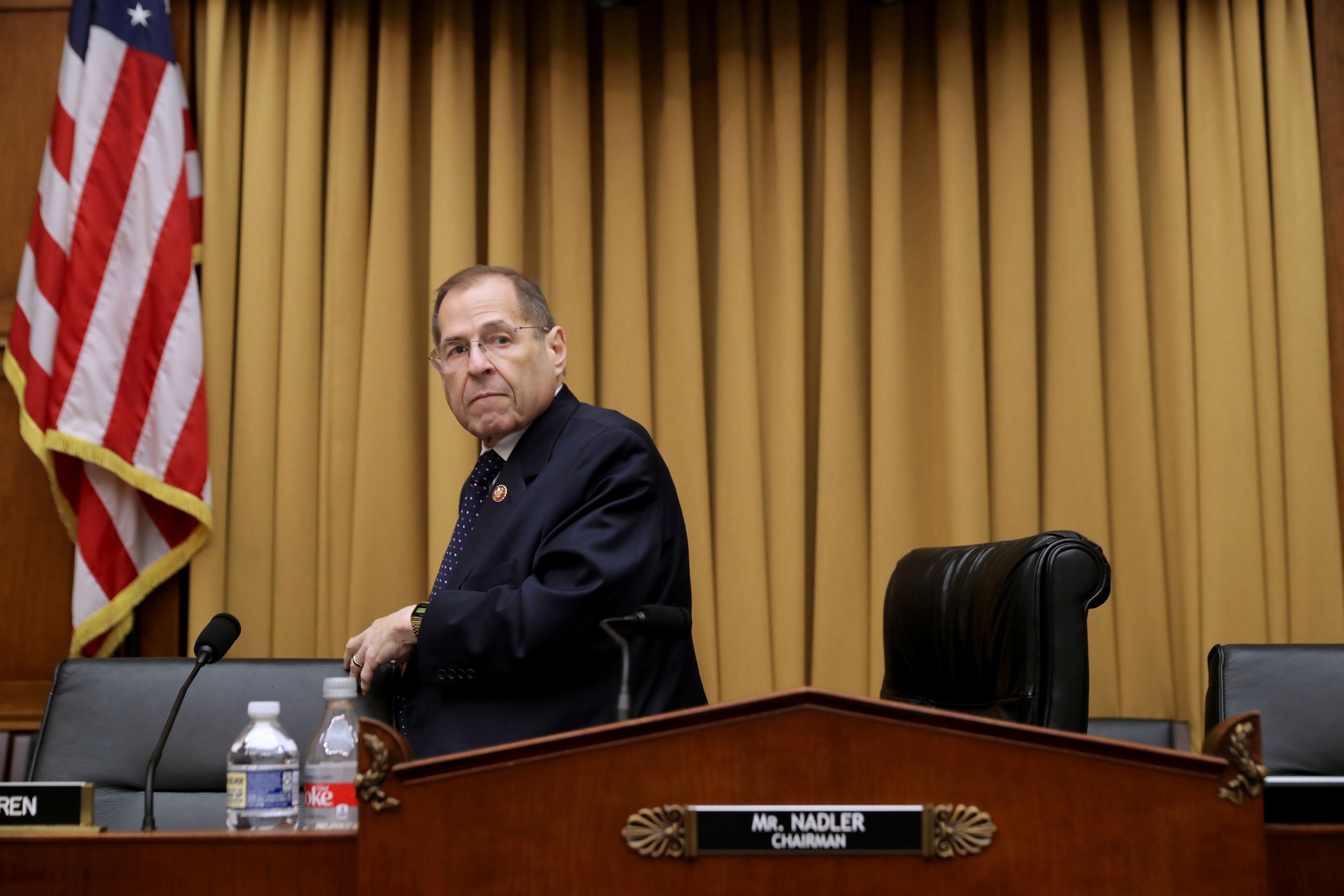 A top House Democrat said Friday that Robert Mueller will not be testifying next week before a key committee investigating President Donald Trump in the wake of the special counsel's report, a sign that tensions between the Justice Department and Democrats will continue.
House Judiciary Committee Chairman Jerrold Nadler was hoping for a May 15 testimony date for Mueller. But this week's committee vote to hold Attorney General William Barr in contempt of Congress for refusing to comply with a subpoena for the unredacted Mueller report and its underlying evidence appeared to complicate negotiations to haul Mueller in before the committee.
"It won't be next week, but we're negotiating with [Mueller]," Nadler told reporters off the House floor. "We're talking to him and the Justice Department."
The New York Democrat would not discuss the details of ongoing negotiations with Mueller and the Justice Department but said the reason for Mueller not yet testifying was because it "just hasn't evolved, I think." Although Nadler has not spoken with Mueller directly, he reiterated his vow to have Mueller testify at some point.
"He will come at some point. If necessary, we'll subpoena him, and he will come," Nadler continued.
He believes that Mueller will soon no longer be a Justice Department employee, due to the conclusion of the 22-month-long Russia investigation into election interference. When Mueller returns to being a private citizen, any pressure exerted on him not to come before the Judiciary Committee should be relieved, the chairman suggested.
"Is there a benefit? No, but he may prefer to do that because then he's freer from the instructions of the Department of Justice," Nadler said. "But that should be only a matter of weeks anyways. They keep telling us it's a matter of weeks. Beyond that, I don't know."
Barr said several times publicly since the report's release that he does not object to Mueller testifying to Congress, and the president once appeared to feel the same way. But over the weekend, in a tweet bashing Democrats wanting to hear his testimony, Trump said Mueller "should not testify. No redos for the Dems!"
The move by Nadler to proceed with holding the nation's top law enforcement official in contempt only exacerbated the escalating feuds between House Democrats and the White House. President Donald Trump has—at the advisement of Barr—since asserted executive privilege over the full Mueller report in an attempt to prevent Democrats from obtaining it. Democrats argue it's a futile move and one that will lack legal muster in court because the White House provided documents and allowed officials to testify to Mueller's team.
Barr's contempt citation from the Judiciary Committee will still need to be approved by the full House for lawmakers to then enforce it. This would make Barr only the second attorney general in American history to be held in contempt of Congress.
Nadler suggested leadership may hold off on putting the measure up for a floor vote until they are able to bundle contempt citations that may arise from other committees, an idea first floated publicly on Thursday by House Speaker Nancy Pelosi. The Treasury Department, after heeding the legal advice of the Justice Department, refused Democrats' demands for Trump's tax returns last week, and former White House counsel Don McGahn has so far refused to cooperate with the Judiciary Committee, leading to a warning from Nadler that he, too, could soon face contempt if he does not appear to testify.
"I think it's a great idea," Nadler responded to the idea of bundling contempt citations. "Given the unprecedented situation, in which the administration is essentially stonewalling all subpoenas—we've never had this before in American history, so far as I know—there are obviously going to have to be from our committee, and certainly from other committees, contempt citations to enforce subpoenas."