Trump's Lawyer Isn't Keeping President Quiet During Mueller Investigation, Ty Cobb Says in New Interview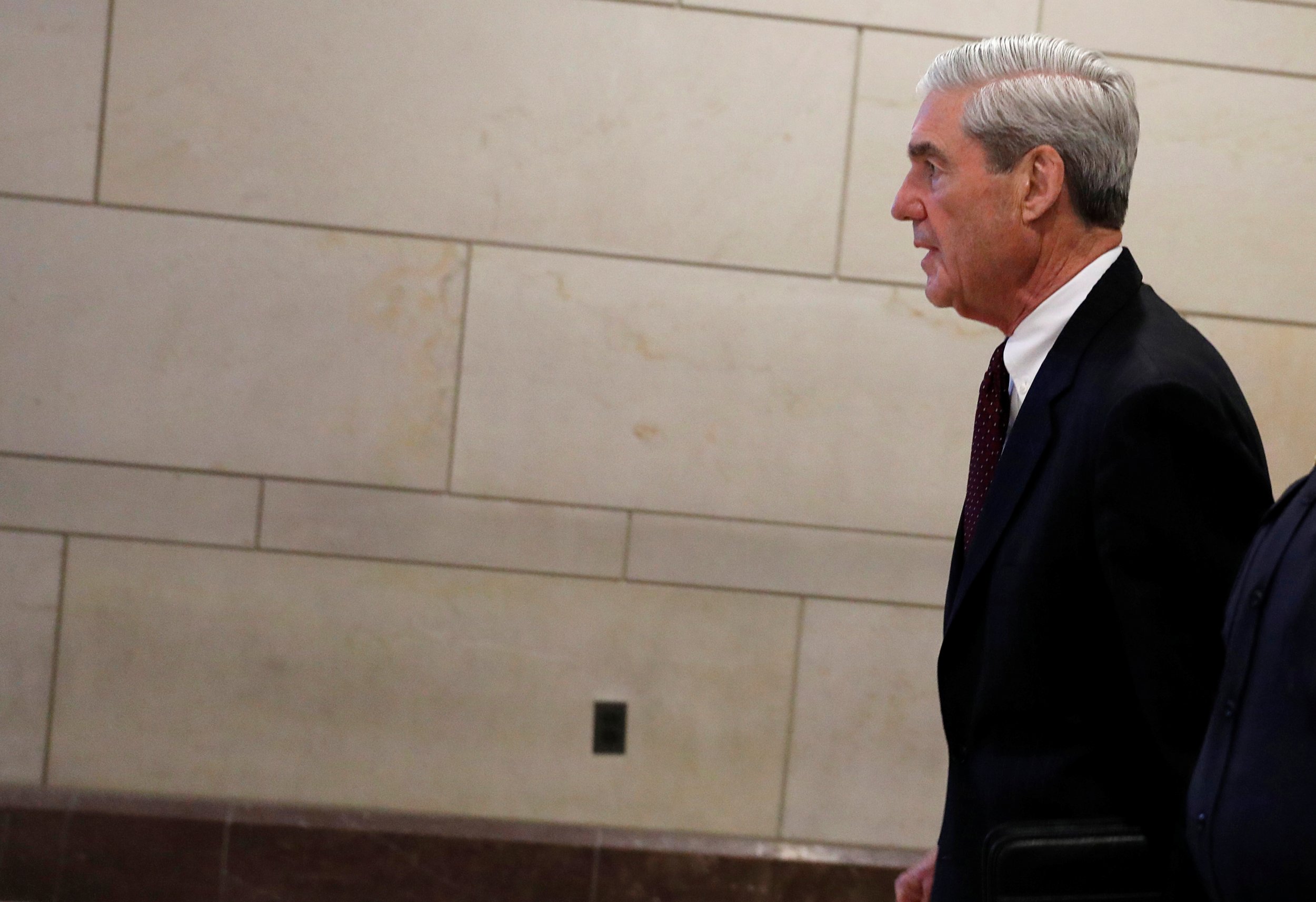 While President Donald Trump has referred to the Russia collusion investigation as a "witch hunt," he has so far refrained from publicly criticizing the person heading up the probe, special counsel Robert Mueller. As the Russia investigation has advanced, with charges having been filed against four members of Trump's campaign, news outlets in recent days have said it is Trump's lawyers who are convincing him not to bash Mueller.
But one of those lawyers, Ty Cobb, told Newsweek he's not the one tempering the president, and said reports to the contrary are "overblown."
"The president understands we have a great deal of respect for Mueller, and the president has been determined to handle this in a transparent, collaborative way with the special counsel," Cobb said. "Certainly I don't deserve any credit for modulating the president's comments with regard to Mr. Mueller."
Related: Meet the lawyers defending Trump and his associates
In recent days, The Washington Post and Bloomberg have credited Trump's legal team with keeping him from attacking Mueller publicly. Bloomberg further reported that Cobb and John Dowd were chosen for the president's legal team at least in part because of previous connections they have to Mueller.
Cobb, who was a partner at the firm Hogan Lovells until he joined the White House in July, has known Mueller for more than three decades, Bloomberg reported, citing three unnamed sources. Dowd, who was added to Trump's legal team early this summer, joined the Marines the same year as Mueller, and they both served in Vietnam, according to the report. Before the Russia investigation, Dowd and Mueller reportedly did not have a personal relationship but knew each other through Washington legal circles. Earlier in their careers, the three men were all federal prosecutors.
But Cobb told Newsweek on Thursday that he doesn't think he was hired to defend Trump because of any connection to Mueller, and that any connection he has doesn't go deep. "We had a couple of lunches together when he was in private practice, and I did know him as a prosecutor when we were both prosecutors 35 years ago," he said. "Being a friend of Bob Mueller's basically means you may get your phone call returned. You're not going to get any favors."
He added, referring to his hiring, "The fact that we knew each other may have contributed, but I never represented that we were buddy-buddy."
Selecting defense lawyers at least partly because of their relationships with a prosecutor is common practice, according to Patrick Cotter, a former federal prosecutor who is now a white-collar defense attorney at the firm Greensfelder, Hemker & Gale, P.C. "It is a positive thing to be an attorney who has prior experience with the prosecutor who is investigating your client," Cotter said. "It creates a level of trust, and that trust is important because it can allow you, for instance, to get things like a little more time to respond to something, as opposed to some prosecutor who's never met you in your life."
Publicly, Trump's lawyers have said they are cooperating with Mueller. While that relationship has appeared tested, the lawyers have seemed to go out of their way to maintain the narrative. After news reports said another of Trump's lawyers, Jay Sekulow, was calling for a new special counsel to investigate the existing one, Sekulow devoted much of his radio show on Tuesday discrediting the reports. Instead, he said, he wanted an investigation into conflicts of interest at the FBI and the Department of Justice. His spokesman, Gene Kapp, said by email that his call for an additional special counsel "has nothing to do with Mueller."
On Thursday, Cobb echoed that call for a second special counsel—which Republican lawmakers have also made. Their aim is to look into "outliers" at the Justice Department and the FBI. Cobb reiterated that any second special counsel should be unrelated to Mueller.
Outside of the legal team, Trump and his allies and supporters have been more critical of the Russia probe. Without naming Mueller, the president has called the investigation a "witch hunt" and "costly," and made comments that could be seen to discredit the FBI and the Justice Department. He also told The New York Times in July that he might fire Mueller if the special counsel strayed too far from his mandate.
Beyond the White House, one Republican in the House of Representatives introduced an amendment to limit the special counsel's probe, and three other Republicans introduced a nonbinding resolution calling for Mueller to resign. At a House Judiciary Committee hearing on Wednesday, Republican lawmakers alleged anti-Trump biases among Mueller's team. Fox News host Jeanine Pirro, a Trump confidant, has said on her program that a former member of Mueller's team should be in "handcuffs." Such attacks have escalated as the Russia investigation has moved forward and led to charges being filed against four people who were involved with the Trump campaign.
Trump's lawyers have said they expect the probe to end quickly. After Mueller's team on December 1 announced a charge against Michael Flynn, Trump's former national security adviser, Cobb said in a statement, "The conclusion of this phase of the special counsel's work demonstrates again that the special counsel is moving with all deliberate speed and clears the way for a prompt and reasonable conclusion." On Thursday, Cobb said he expects the probe to wrap up shortly after the New Year. He said that the White House has produced all the requested documents and that the special counsel team has finished interviewing White House personnel.
Peter Carr, a spokesman for the special counsel, declined to comment or confirm details from the Bloomberg article. Dowd could not be reached for comment.