Will Trump Fire Mueller? Deputy Attorney General Says He'd Follow Request if 'Good Cause'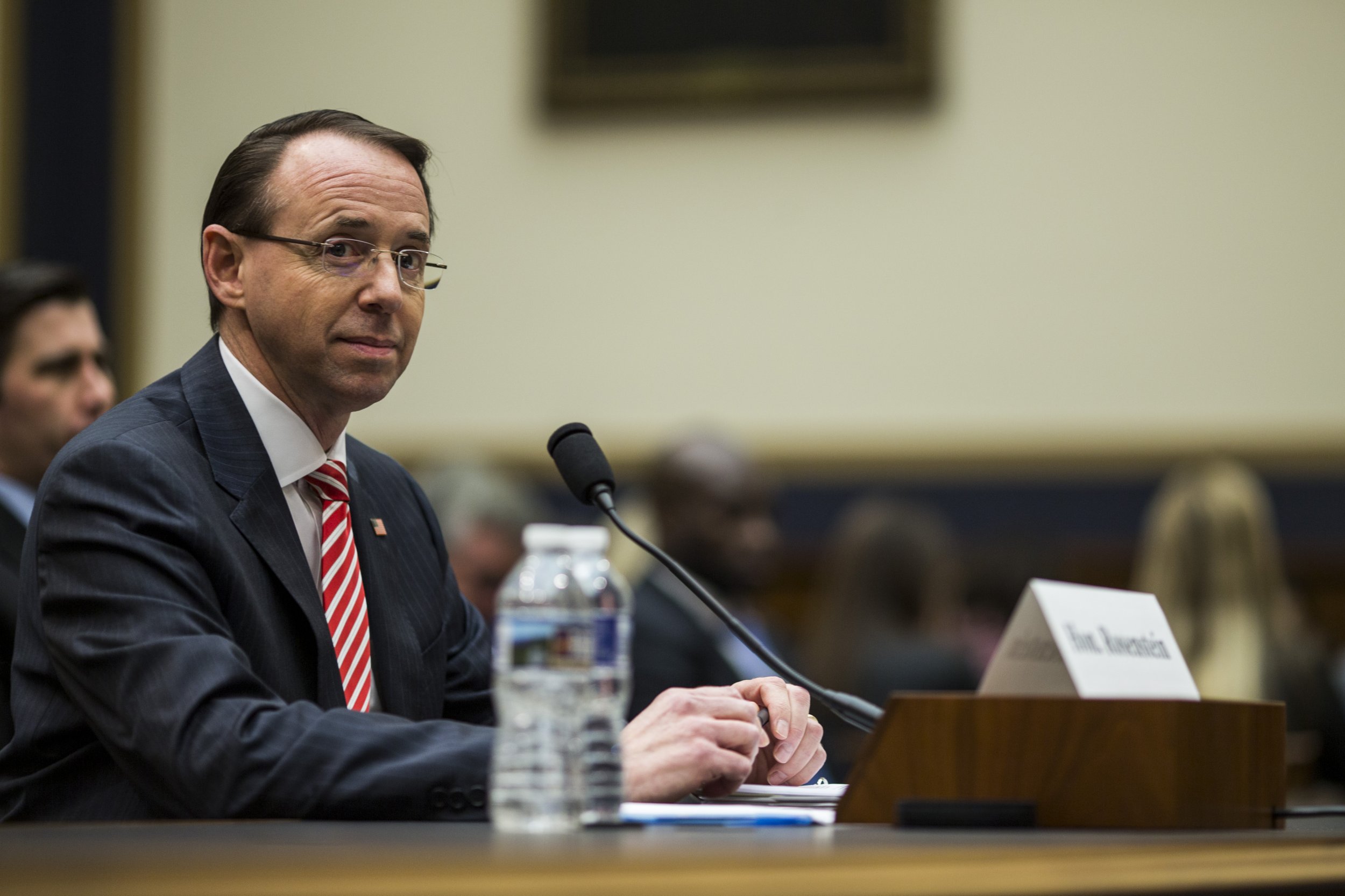 Speaking before the House Judiciary Committee on Wednesday, Deputy Attorney General Rod Rosenstein said he would follow an order from President Donald Trump to fire special counsel Robert Mueller if it was warranted. He added that he would not act if Mueller did nothing wrong.
Rosenstein is overseeing the special counsel investigation into Russian meddling in the 2016 presidential election and possible coordination with Trump's presidential campaign. As that investigation has moved forward and charges have been filed against four people involved in the campaign, Trump and his allies have increased their attacks on the credibility of the probe.
Related: After Trump insults FBI, deputy AG addresses "critics"
On Wednesday, Rosenstein testified that if Trump asked him to fire Mueller, "I would follow the regulation. If there were good cause, I would act. If there were no good cause, I would not." He said he had not thus far seen good cause to act and later added, "I won't take any action unless he's violated his duties."
He went on to praise Mueller: "I think it would be very difficult, congressman, for anybody to find somebody better qualified for this job."
If Rosenstein should ever refuse to act on an order to fire Mueller and then resigns or is removed, the decision would go to Associate Attorney General Rachel Brand. If she were to refuse, the attorney general can designate an official to take charge, such as the solicitor general or an assistant attorney general. Otherwise, the decision would go to the United States attorney for the Eastern District of Virginia, according to an executive order from March that outlines the order of succession. The Justice Department announced Dana Boente's resignation from that position in October, but Boente is staying until his successor is confirmed. Trump has not yet nominated a potential successor.
The hearing on Wednesday was meant to be about general oversight of the Department of Justice, but committee members focused their questions largely on the special counsel probe and on allegations of anti-Trump bias at the Justice Department and the FBI, which Rosenstein also oversees.
Committee members asked Rosenstein about Peter Strzok, an investigator Mueller removed months ago because of text messages he exchanged that were critical of Trump. Strzok had been an FBI official who oversaw the bureau's probe into Hillary Clinton's use of a personal email server while secretary of state. On Tuesday night, the Justice Department released the Strzok text messages to certain reporters, despite their being part of an ongoing Justice Department inspector general investigation. Rosenstein said at the hearing that the department had deemed the release appropriate.
Rosenstein testified that no one had asked him to remove Mueller, but Republicans in the House of Representatives have introduced an amendment to limit his probe, as well as a resolution calling on Mueller to resign. During the hearing, Representative Steve Cohen, a Democrat, said about Mueller, "Everybody respects that man in this country," prompting another committee member to interject, "I don't." The identity of that member was not immediately clear.
On Monday and Tuesday, Trump's lawyer, Jay Sekulow, called for a new special counsel to be appointed to investigate alleged conflicts of interest at the FBI and Justice Department.
FBI Director Christopher Wray faced similar questions about anti-Trump bias when he testified before the same congressional committee on December 7. He told the committee, "The FBI that I see is tens of thousands of brave men and women who are working as hard as they can to keep people that they will never know safe from harm."
The House Judiciary Committee and House Oversight and Government Reform Committee are jointly investigating the handling of the Clinton emails probe by the Justice Department and FBI.