Trump Won't Scare Mueller Away From Pursuing Him in Russia Investigation, Associates Say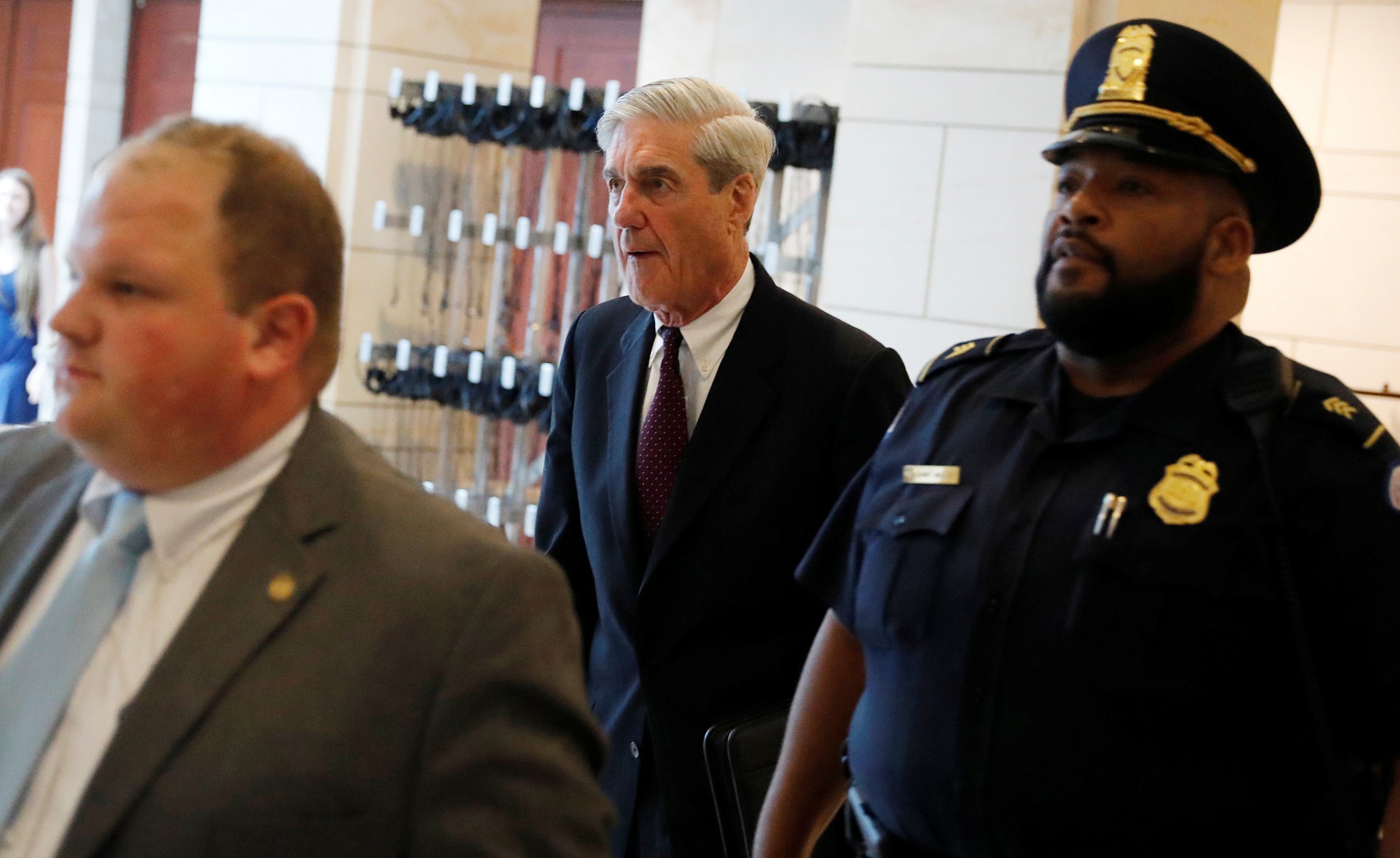 Updated | About a month after the September 11, 2001, attacks, agents at the FBI's Washington, D.C., headquarters wanted to watch football. They were working a Sunday shift at a command post established in response to the attacks, taking calls from field offices across the country. There were television monitors everywhere. "I had the bright idea that, you know what, the 49ers are playing," said Frank Montoya Jr., a former FBI agent and official. "I'm from the Bay Area, so I wanted to watch." So they put the game on in the background while they worked.
When Robert Mueller, then FBI director, walked into the office and saw the football game on the television, he wasn't happy, Montoya recalled. "Americans are expecting us to protect them," Mueller said, according to Montoya. "How can you protect them if you're distracted this way?"
The episode was typical of how Mueller led the bureau, according to those who worked under him: laser-focused on the mission and immune to distractions. And that's how those who know him said he remains, as the special counsel investigating Russian meddling in the 2016 presidential election and possible coordination with the campaign of President Donald Trump, even as supporters of the president question his credibility.
Related: Mueller's Trump investigation cost slammed by lawmaker
Mueller, a decorated Vietnam War veteran, has been the only director in the modern era of the FBI to serve all 10 years of the term. Actually, he served even longer; in 2011, when his tenure was set to expire, Congress introduced legislation to allow him to serve an additional two years. The legislation passed unanimously and former President Barack Obama signed it into law.
The September 11 attacks happened one week after Mueller became director, and he led the bureau through its aftermath. During that time, he shifted the focus of the organization from investigating crimes after they occurred to gathering intelligence to prevent crimes, including terrorism. He also helped keep the bureau together at a time when Washington was proposing to break up the organization.
As director, Mueller was tough but respected, according to former employees. "He was a difficult boss to work for because by and large there were no easy days with Mueller," said Ron Hosko, who worked at the FBI under Mueller's entire tenure, including as assistant director in charge of the criminal investigative division, and who is now president of the Law Enforcement Legal Defense Fund, a nonprofit. "He had an intensity that you would see of a prosecutor in court moving a case forward. He would be cross-examining you. You were the witness and you were going to get cross-examined until he was satisfied.... You better be on your best game."
That tough leadership style was largely necessary at the time, according to Hosko, but it didn't work for everyone. "I don't know that bureau people would be widely jumping up and down saying Bob Mueller is a hero," Hosko said.
Now as special counsel, Mueller is facing efforts to discredit him and his team. One Republican in the House of Representatives proposed an amendment to stem funding to Mueller six months after its passage and narrow the scope of the investigation to matters that occurred after June 2015. Three more House Republicans introduced a nonbinding resolution claiming Mueller "is compromised and should resign." The attacks have intensified in the past week and a half, since Mueller's office announced a charge against former national security adviser Michael Flynn, to which Flynn has pleaded guilty. One critic, Representative Matt Gaetz of Florida, has told Newsweek about the probe, "What they've been able to turn up so far is an intern who wanted the president to meet with Russian officials but was rejected, and a former national security adviser who has pled guilty to the very conduct that resulted in his firing." He was referring to George Papadopoulos, who has also pleaded guilty in the investigation, and Flynn.
Trump's legal team has said publicly that it is cooperating with the special counsel. But Trump has called the effort a "witch hunt" and "costly," and he has in recent weeks called the FBI's reputation "in tatters" and the United States justice system "a joke" and a "laughing stock." In July, Trump indicated to The New York Times that he would demand the firing of Mueller if the special counsel investigated subjects too outside of the Russia issue.
On Tuesday, Axios reported that the president's lawyers want a second special counsel to investigate the first one. But Gene Kapp, a spokesman for Trump's lawyer Jay Sekulow, told Newsweek by email that Sekulow wants an inquiry into "the apparent conflicts of interest" at the Justice Department and FBI, and that his call for a second special counsel "has nothing to do with Mueller."
Trump and his supporters and allies also have gone after members of Mueller's team. In early December, they latched on to news that months ago, the special counsel office removed an investigator, Peter Strzok, because he allegedly exchanged text messages critical of Trump. The opponents also have targeted Mueller prosecutor Andrew Weissmann, whom BuzzFeed reported emailed Sally Yates the day Trump fired her as acting attorney general for refusing to defend an executive order, praising her. Days later, The Wall Street Journal reported that Weissmann attended Hillary Clinton's election night event. The critics also have pointed to political contributions that members of the team have made. Fox News's Jeanine Pirro, a Trump ally, has said Strzok should be in "handcuffs."
Opponents have claimed that Mueller is conflicted, too. They have alleged he has a "close friendship" with former FBI Director James Comey, whose firing by Trump is reportedly under investigation. They have also pointed out that he led the FBI while Hillary Clinton's State Department helped approve the Russian purchase of a Canadian uranium mining company. The Wall Street Journal editorial board has at least twice called for his ousting. A spokesman for Mueller's office declined to comment on Monday.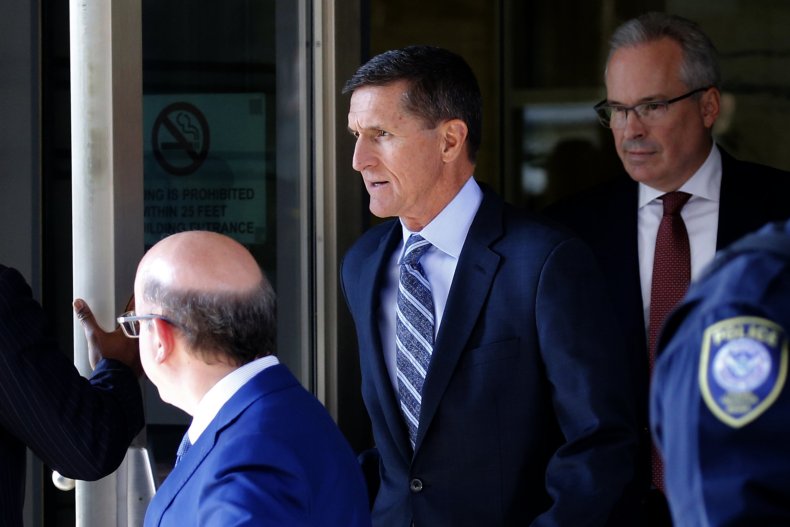 But those who know Mueller said it is unlikely that the criticisms will rattle him. "Bob's the most seasoned political figure in Washington, so I guess it just rolls off," J. Michael Luttig, a former United States Court of Appeals judge and now executive vice president and general counsel at Boeing, who described Mueller as a close friend, told Newsweek in June amid speculation that Trump was considering firing him.
Defenders also have pointed out that Mueller is a Republican who was appointed by four presidents to five Senate-confirmed positions, and that people from both sides of the aisle praised his appointment in May. On December 4, Deputy Attorney General Rod Rosenstein, who is overseeing the special counsel, told an NBC affiliate he is satisfied so far with the work of that office.
Hosko, the former FBI assistant director, said of his old boss: "I suspect that he is not deaf or blind to those criticisms. However, I see Mueller as looking forward and saying, 'I have a job to do. I was appointed for a purpose, and I'm going to fulfill that purpose.'" He added, "And I think that's how he viewed his FBI."
Montoya, the former FBI agent and national counterintelligence executive, said: "It's all political nonsense, and it's not affecting him at all. His focus is on the investigation."
Others agreed. "Bob Mueller's mind is 100 percent on the task, and I don't think there's anything that the rhetoric is going to do to distract him from his job," Gary Bald, who left the FBI in 2006 as Mueller's executive assistant director for the national security branch, told Newsweek in June. "Bob Mueller's just a perfect guy to pull all the facts together. He's not going to be swayed by anything that is going to come out from the president or the media or the Hill." Bald said on Tuesday he stood by the comments from the summer.
Bald added, "He is, in my view, untouchable by the turmoil."
This article has been updated to include a statement by Gene Kapp, a spokesman for Jay Sekulow.